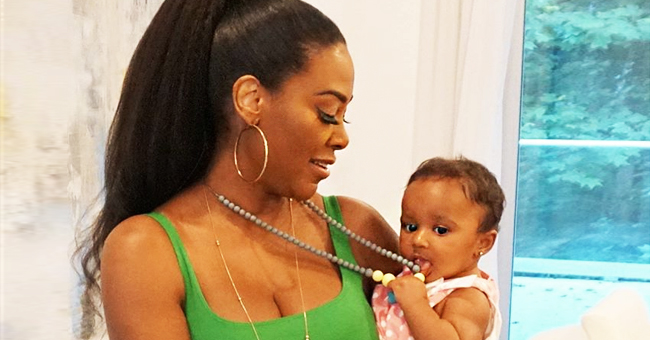 instagram.com/thekenyamoore
Kenya Moore Reveals Daughter Brooklyn Was Taken to Emergency Room at Night

Kenya Moore revealed that her baby daughter, Brooklyn Doris Daly recently spent the night in the ER.
"Real Housewives of Atlanta" star Kenya Moore gave her fans quite a fright when she revealed that she had spent an anxious night in the ER with her 8-month.old daughter, Brooklyn Doris Daly.
As we all know, nothing is worse than standing by helpless while our little one is ill...
KENYA MOORE SHARES ANGUISHED EXPERIENCE
On July 18, Kenya shared a cute video clip on Instagram of little Brooklyn on a playdate with a little friend, having a great time.
What shocked fans was the underhand revelation in the video's caption, which caught everyone by surprise,
"[Brooklyn] is something else. She is truly a light and loves everyone. We are so blessed to have her in our lives. Last night she was in the ER room and today she smiling, happy and back to her normal self what a blessing. I thank God every morning for her." wrote Kenya.
Brooklyn recently went along with mom on a play date with another celebrity baby, Pilar Jhena.
KENYA MOORE DOES NOT REVEAL REASONS FOR ER VISIT
Kenya mentions the sojourn in the ER in passing but gave no details, and did not reveal the reasons for Brooklyn's visit. Brooklyn certainly looks happy and healthy and happy in the clip but several friends and followers expressed their concern.
ANXIOUS FRIENDS EXPRESS CONCERN
Several of Kenya's friends and Instagram followers expressed their concern and good wishes for the little one's wellbeing in the comments.
"I was worried about my baby! I am so happy that she's back to her beautiful, sweet adorable happy self."
"Mommie I thank God for you she is truly an?sent to you from heaven so happy she's feeling better"
"Hope she gets well soon!"
PLAYDATE WITH ANOTHER CELEBRITY BABY
Brooklyn recently went along with mom on a play date with another celebrity baby, Pilar Jhena.
Pilar is the daughter of Kenya's former rival and new friend Porsha Williams, and the two little girls got along like a house on fire.
Kenya Moore is now back on "Real Housewives of Atlanta" so Pilar and Brooklyn will have plenty of opportunities to get to know each other well.
BROOKLYN DALY - TEETHING TROUBLES?
Anxious fans are speculating on what led Kenya Moor's tiny Brooklyn Daly to spend the night at the ER, but the reality star may have already given us a clue.
Kenya shared a photo of her 8-month-old daughter stuffing mom Kenya's stylish looking beaded necklace into her mouth.
Kenya revealed that her accessory is a specially conceived teething necklace for babies. Brooklyn's little teeth are breaking through her gums and like all babies, she's suffering from tender and swollen gums. Teething can also cause a mild fever, and maybe this is why Brooklyn went to the ER?
Kenya isn't telling...
Please fill in your e-mail so we can share with you our top stories!