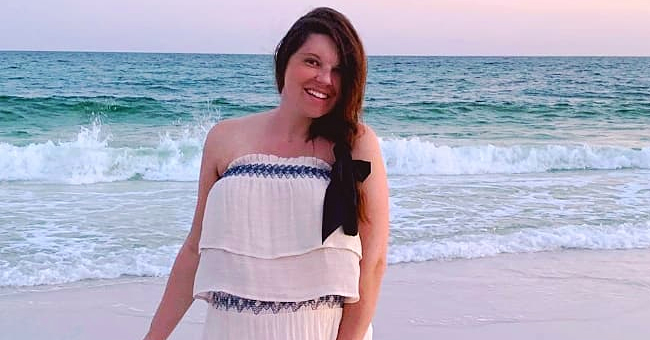 instagram.com/amyrachelleking
Amy Duggar Reveals the Coming Baby's Names Inscribed in Sand (Photo)
Amy (Duggar) King a family member of Counting On reality stars has revealed the name she and her husband chose for their son. They shared the name with a picture posted on Instagram.
Amy (Duggar) King, 32, is currently pregnant with a baby boy. On Saturday, she and her husband Dillon King revealed the name they had chosen for their son by writing it in the sand.
A photo shared on Instagram revealed that the boy would be named Daxton Ryan King. The couple also shared a number of beach photos including one that marked the start of Amy's third trimester.
THE NAME OF THE KING'S SON
Amy captioned the name announcement post writing:
"Baby K has a name!!! Baby Dax we cannot wait to meet you!! You already bring so much joy into our lives!! We love you so much Daxton Ryan!"
In the image, her pregnant belly and her feet were visible with the boy's name enclosed in a heart. She is the cousin of the Duggar family and the Jim Bob and Michelle Duggar's niece.
CELEBRATING PREGNANCY BY GOING FOR A BABYMOON
To celebrate the upcoming birth of their first child, the Kings have taken a trip to Florida for a babymoon. The couple married in 2015 in Arkansas.
In April, they shared that they were expecting their first child together. Speaking in an interview Amy said: "We are completely speechless, overly excited and ready for the next chapter as new parents!"
AMY ON BEING A MOTHER
She added: "I'm over the moon about becoming a momma! I just can't hardly wait." Being a mother isn't the only thing Amy has been focused on.
She's hard at work on her Springdale, Arkansas business called 3130 Clothing. Earlier this month, Amy announced that her brand would be expanding to include home products.
On her Instagram Story, Amy added a photo of herself looking down at her belly while sitting on the white sand. She wore a bikini and a wide-brimmed hat for the shot and celebrated the start of trimester by writing: "28 weeks today!"
Fans and the Kings have to wait a little bit longer as baby Daxton is only due in October.
Please fill in your e-mail so we can share with you our top stories!