Megan Rapinoe Fans Defend Her on the Internet after Troll Accuses Her of Arrogance
Megan Rapinoe is not just great at defense on the soccer field, she also has a team of fans ready to support her when people come for her online. 
The co-captain of the US women's soccer team is not your typical woman. She's openly gay, an activist, and unapologetic about her accomplishments in the sports world. 
Recently, she helped her team score a win against France in the quarter-finals of the World Cup, and her victory stance turned out to be controversial for some. A photo of it is found below.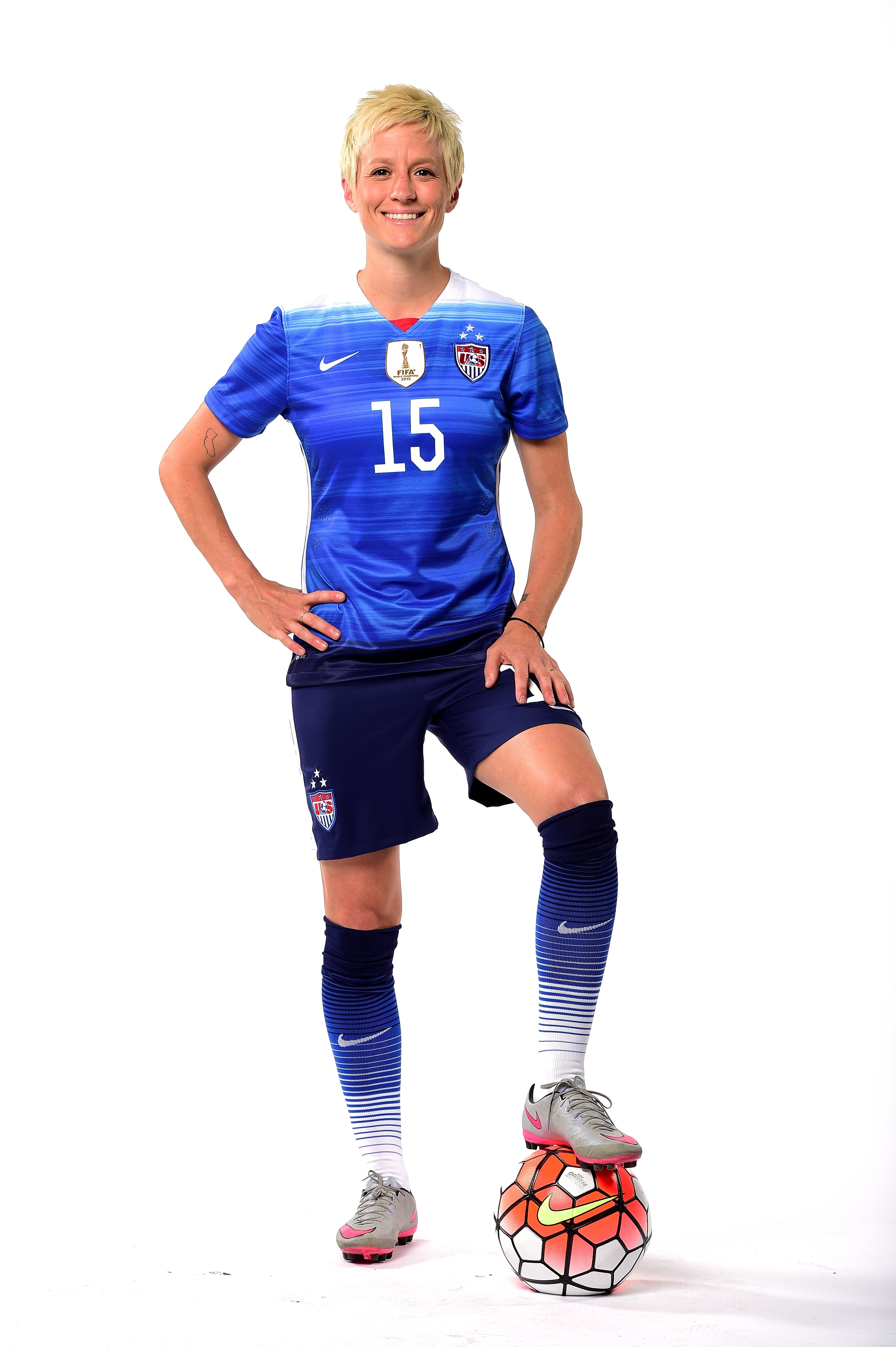 Rapinoe received praises from most people
According to CNN, there were many who deemed her outstretched arms and satisfactory expression as "iconic." Rapinoe posed similarly after the two goals scored against France. 
Sports analyst Bill Simmons said the photograph is "one of [his] favorite sports pictures of this decade." he credited Rapinoe with being an inspiration to his daughter and called her "unbelievable."
This is one of my favorite sports pictures of this decade. Thanks for being such an inspiration to my daughter @mPinoe - you were unbelievable today. pic.twitter.com/iMI9TGb1PT

— Bill Simmons (@BillSimmons) June 29, 2019
Others took the pictures and ran with it, creating memes and calling it a symbol of patriotism, with at least one person even suggesting that they tear down the Confederate monuments and replace them with Rapinoe monuments. 
From others, she received a lot of hate
On the other hand, there were those who expressed hatred with homophobic slurs on posters of Rapinoe, reported Bored Panda. Online, there were some who felt they had good reason to oppose the confident and dedicated athlete. 
TEAR DOWN THE CONFEDERATE MONUMENTS AND PUT UP MEGAN RAPINOE MONUMENTS ITS THE ONLY WAY TO HEAL AMERICA

— Clint Smith (@ClintSmithIII) June 28, 2019
While many celebrated her exuberance, one Twitter user named Jake stated: 
"We don't dislike Megan Rapinoe because she's gay we dislike her because she's an arrogant wanker end of debate." 
Her fans pointed out how the negativity was unwarranted and unfair
In the soccer star's defense, several people pointed out the fact that leading male athletes are typically allowed to show their pride without fear of retribution — especially if they have the winning stats to back it up. 
Rapino plays as the midfielder and winger and at the last World Cup, she was awarded the Golden Ball for the best overall player, the Golden Boot for top scorer and has made numerous appearances on talk shows and in magazines. 
Last month, she was the first openly gay woman to land herself on the cover of the Sports Illustrated's swimsuit edition. With all that in mind, it's no wonder people wrote lengthy posts defending her from the attack. 
One man said: 
"She's not arrogant she's confident and it absolutely [expletive] men up to see bold unapologetic confidence in a woman. She knows she's the [expletive] and she doesn't need anyone's validation to believe it and that makes men uncomfortable. Y'all praise actual arrogant athletes."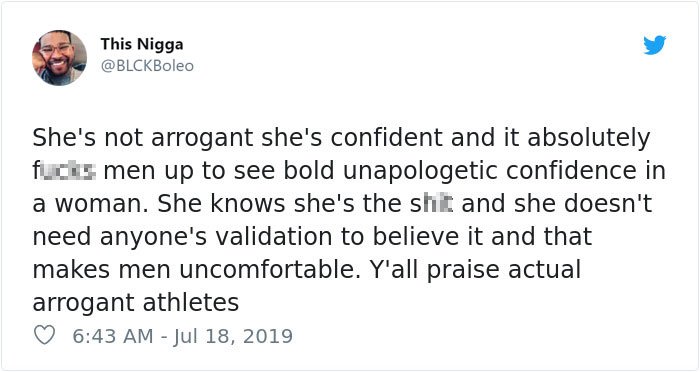 Another man also took to Twitter to tell off the hater, saying they disliked Rapinoe because "she embodies excellence you will never achieve [...] Be honest with yourself here." 
User Mrs Olson said: "Strong women have that effect on weak mean," and Katy Montgomerie claimed, "If she was just as arrogant but was a straight man you wouldn't hate her."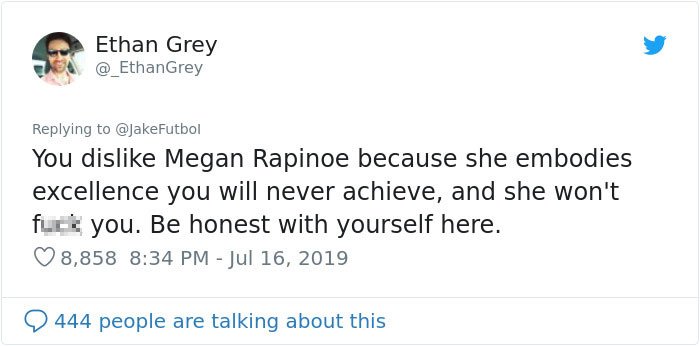 Louis Barfe got technical, highlighting how "there's a difference between arrogance and knowing you're the best in the world at what you do." Similarly, user Louisa said, "it's only arrogance if you can't back it up with action." 
The soccer star gives support to others just as her fans support her
Rapinoe can also back up her heavy activism with a lot of strong-willed action. For instance, it's well known that she was among both male and female athletes who knelt during the National Anthem in protest of racially motivated police brutality.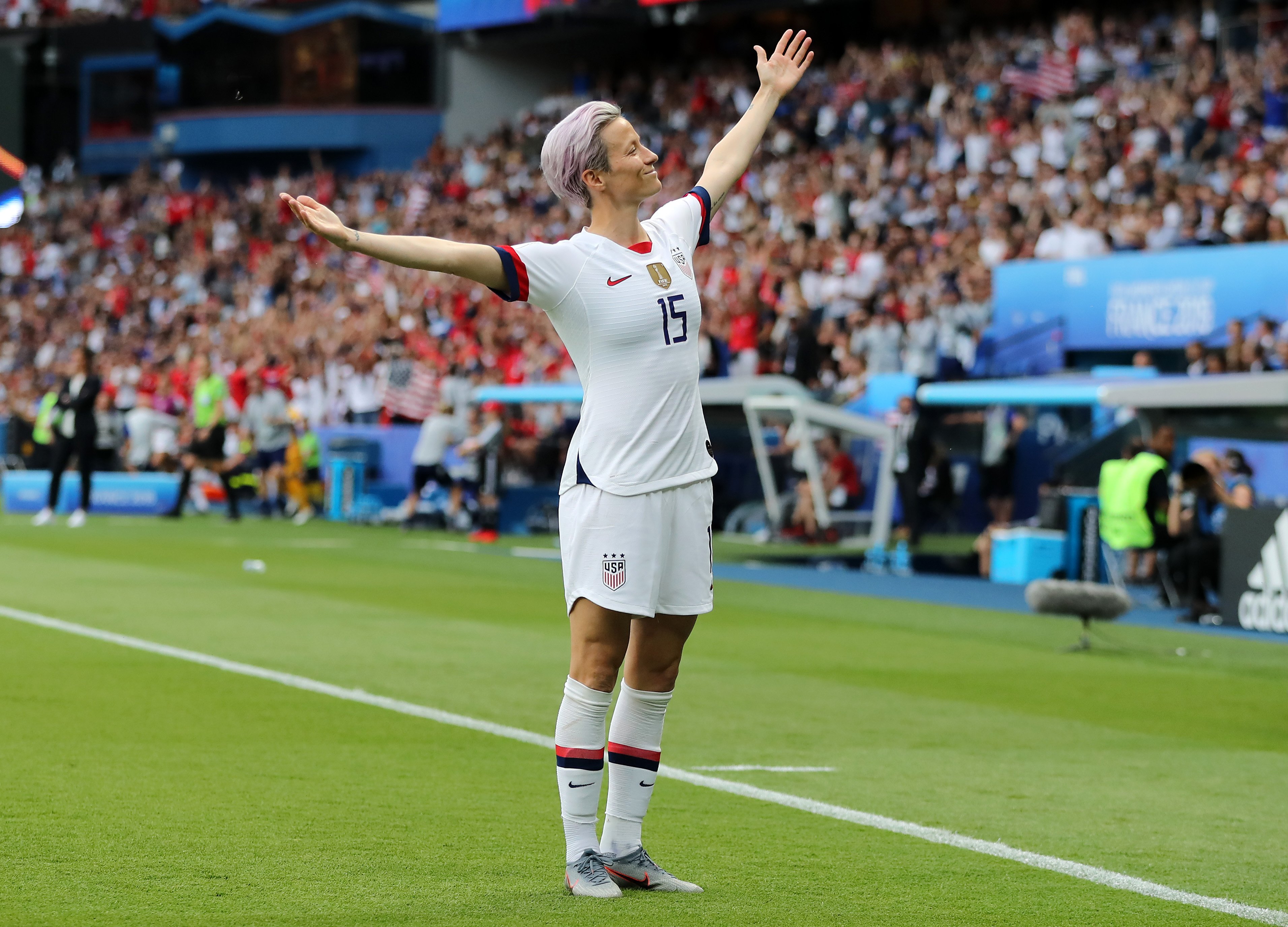 Rapinoe explained her reason behind her actions way back in 2016 saying "I haven't experienced over-policing, racial profiling, police brutality or the sight of a family member's body lying dead in the street. But I cannot stand idly by while there are people in this country who have had to deal with that kind of heartache."
She said it was out of respect, and not disrespect for the flag that she chose to kneel. In a similar fashion, we'd hope that people see past an attitude and let a woman bask for a moment in her greatness and well-deserved praise.