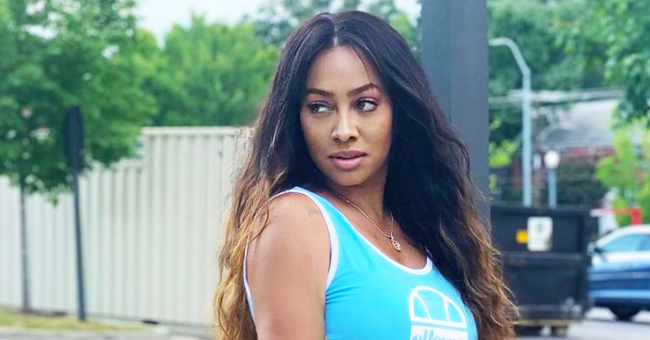 instagram.com/lala
La La Anthony Ditches Strip Club Party Amid Drama with Carmelo: Report
New development in La La Anthony's epic on-again/ off-again split from Carmelo as actress decides to skip party at a strip joint.
La La and Carmelo Anthony's relationship has become a seven-days wonder as the two alternatively seem to be splitting and reconciling at the drop of a hat.
The latest news from Page Six is that La La skipped out on a party in Atlantic City, and it was all because of Carmelo.
LA LA ANTHONY'S RUN-IN WITH CARMELO IN ATLANTIC CITY
According to reports, La La was at the Borgata with a group of friends which included her brother, Christian Vazquez.
The actress was at the tables when she spotted Carmelo with another woman. At that point, La La retired to her room.
The actress and the basketball player were seen together in LA after the Atlantic City incident
LA LA SKIPS PARTY AT STRIP CLUB
La La's group of friends moved on to Scores for some late night fun, but she elected to call it a night and gave her brother $10,000 in singles to party it up at the celebrated strip club.
CARMELO ANTHONY'S CHEATING HEART
Carmelo was caught on camera on a yacht in Europe with a model, Sara Smiri back in June, and the photos hit the headlines on La La's birthday. Cheating...The gift that keeps on giving.
SPLITTING OR STICKING?
Since the recent cheating scandal, La La and Carmelo have been living in separate houses, although they have been seen dining out together-
The actress and the basketball player were seen together in LA after the Atlantic City incident, so the question is: are they splitting, or sticking together?
The couple had just recently reconciled after yet another cheating scandal, and after it was reported that Carmelo had fathered a child on another woman.
Will La La forgive him yet again?
THE MIA BURKE SCANDAL
https://www.inquisitr.com/5543133/la-la-anthony-reportedly-skips-a-party-at-a-strip-club-after-rumors-continue-that-her-carmelo-are-splitting/
La La Anthony has certainly been through the mill with Carmelo. The couple who have been together since 2003 and share a son, Kiyan, 12.
The new cheating scandal comes just months into a reconciliation after La La and split for almost two years over yet another one of Carmelo's infidelities.
Carmelo allegedly fathered a child, a daughter, with his mistress Mia Burkes, who was rumored to be a stripper.
Carmelo has not confirmed the paternity of Mia Burke's baby girl-
Please fill in your e-mail so we can share with you our top stories!