Johnny Cash and June Carter's Iconic Love Story
Johnny Cash and June Carter are undoubtedly iconic musicians, with their melodies transcending generations and creating history. They were also one of the most iconic couples, sharing a love that lasted till death. 
Johnny Cash was one of country music's great talents and churned out hit after hit. Some of his greatest hits include the songs, "I Walk the Line," and "Folsom Prison Blues."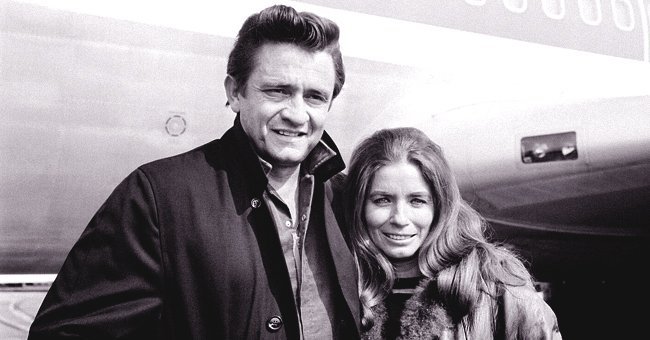 His love for music knew no bounds, but love took a whole greater meaning for him after he met with another great performer, June Carter. What followed was a love story that was both beautiful and ugly, but exemplary nonetheless. 
JOHNNY MEETS JUNE
Before meeting for the first time, the pair, who were both performers had heard about each other. June Carter was a member of her sister and mother's music group and performed with them. 
She later went on a successful solo career and began to tour with her friend and famous music protégé, Elvis Presley. Johnny Cash, on the other hand, was also a great performer at that time. 
Johnny and June enjoying the summer sun! ☀️ #HappySummer pic.twitter.com/ESzSLg8z2Q

— Johnny Cash (@JohnnyCash) June 27, 2019
Before their meeting, June had listened to Johnny on a jukebox several times, due to Elvis Presley's prompting. Coincidentally, it was at the backstage of Presley's concert that the future lovebirds would meet for the first time. 
They were both married at the time of their meeting, but it didn't stop them from having a strong connection at first sight, especially Johnny. Soon enough, they fell in love, with Johnny admitting that they were meant for each other.
THEIR MARRIED LIFE
Their relationship grew stronger, and they both divorced their spouses. After so many attempts from Johnny to engage June, the two eventually got married and became one in 1968. After two years of marriage, their first child, John, was born. 
🎸#MusicMonday pic.twitter.com/CdWTLSci4s

— Johnny Cash (@JohnnyCash) June 24, 2019
Marriage wasn't so rosy for the couple, as Johnny began to struggle with addiction. It was so terrible that it affected his relationship with people, work, and was also reducing his lifespan. 
June, however, stood with her husband in those periods, offering him much needed support and encouragement. Johnny attested to this fact when he said that she loved him despite himself, and had saved his life more than once. 
Addiction wasn't the only issue that Johnny had, as he also involved in extramarital affairs throughout his marriage, a fact the couple's son, John, hinted on in his book.
Despite all of these obstacles, the couple stood together through it all, proving that their love for each other was indeed unconditional and true. 
Remembering the lovely June Carter Cash, born on this day in 1929. pic.twitter.com/WFD6A9kRUI

— Johnny Cash (@JohnnyCash) June 23, 2019
THEIR DEATHS
After living together in matrimony for thirty-five years, the couple was soon separated by death. June died as a result of complications from surgery, while Johnny died from health complications, soon after the death of his loving wife. Their love remains forever iconic in the minds of many. 
Johnny Cash is a name that reverberates around Country music. Despite being a legend, there are still many facts unknown about the singer, one being that his hit song, "Ring of Fire," wasn't written by him.
Remembering June Carter Cash, who passed on this day in 2003. pic.twitter.com/gaDsyM8fIb

— Johnny Cash (@JohnnyCash) May 15, 2019
It was co-written by his wife, June and Merle Kilgore.  One thing known, however, is that he and June shared one of music's most iconic love stories ever.