Life and Sudden Death of 'The Waltons' Grandpa Will Geer
Actor, activist, and loyal friend, Will Geer had more in common with his on-screen persona of television's patriarch in "The Waltons" than met the eye.
"He was a 'Renaissance man'—he was a historian of the theater, and virtually all the performing arts. He was joyous, he was vigorous, and he was inventive," Earl Hamner, the novelist, and producer of "The Waltons," described Will Geer after his death.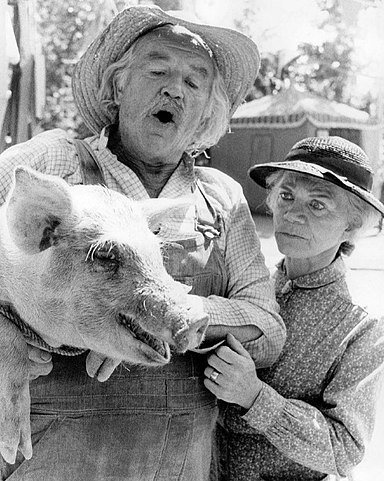 At the age of 76, Will died of respiratory arrest following a respiratory ailment on April 22, 1978, at Midway Hospital in Los Angeles.
Surrounded by his ex-wife Herta Ware, their daughters Ellen and Kale, their son Raleigh, and his lifelong friend Woody Guthrie - they recited Robert Frost poems and sang "This Land Is Your Land," written by Woody as he passed.
Woody and Will became friends during the 1930s after Will's acting debut in 1928 with "The Merry Wives of Windsor."
See Will Geer star in EXECUTIVE ACTION ('73) #LetsMovie pic.twitter.com/y51vtqENPS

— TCM (@tcm) December 1, 2018
After several maritime-related odd jobs, Will went to the Soviet Union in 1935 to appear in a film. When he returned, his acting prospects picked up exponentially on Broadway but also with stage roles in New England, Pennsylvania, West Virginia, and the Deep South. 
During a play in New York City in 1935, Will met his future wife in co-star Herta Ware, but they divorced a few years before his death.
Robert Redford and Will Geer in Sydney Pollack's JEREMIAH JOHNSON ('72) #LetsMovie pic.twitter.com/8Fv3eN1anN

— TCM (@tcm) June 17, 2018
The actor's memorial service got held at the Theatricum Botanicum in Topanga Canyon, California. He founded the Greek-style theater for fellow actors as an acting haven after being blacklisted in Hollywood in 1951. 
As one of many fellow actors, Will got banned because of his interest in liberal politics. Possibly also for his wife's family ties with Ella Reeve Bloor, a suffragist who founded the American Communist Party.
At the time of Will's exile from Hollywood, his master's degree from Columbia University in plant and animal husbandry came in handy again when he taught people how to grow vegetables. Will helped people do the same during World War I and II, and during the Korean War.
Will Geer was born March 9, 1902, to found the Topanga's Theatricum Botanicum—to bring Shakespeare in the round to inner city youth, in a wooded idle in that restorative site—where Woody Guthrie found safe haven. Support this work, the living arts. pic.twitter.com/3npvlxL7QY

— Van Dyke Parks (@thevandykeparks) March 9, 2019
After a few years, the acting roles started flowing again, and Will appeared in shows such as "Gunsmoke," "Mannix," and "Bonanza" while he also became a regular on "The Young Rebel."
The actor's Emmy award in 1975 for his performance in "The Waltons" put his annual earnings well within the six-figure range, but his success never went to his head.
Friends of the Geer's found Will to be as gruff and sentimental in private as the crusty patriarch he portrayed in "The Waltons."
Known to help out aspiring actors, Will often gave them money with sound advice, "Don't depend on others to get work. Get out and do it yourself," he used to say.
He also contributed to a variety of causes and once appeared before a House Select Committee hearing in Washington where he advocated the welfare of the aged. During testimony against mandatory retirement age measures, he said, "It's criminal, absolutely criminal that old people should be put on the shelf."
Will Geer, born March 9, founded Topanga Canyon's "Theatricum Botanicum"—a performance space to intro youths to Shakespeare and the California Dream. Join Inara George & the vast array of musicians who pop up there in concert, to keep that dream alive.https://t.co/dgGuoa4mrS pic.twitter.com/NegHLZxMkF

— Van Dyke Parks (@thevandykeparks) March 9, 2018
Will's daughter, Ellen, followed in her acting father's footsteps and made several appearances on "The Waltons."  After his death, she worked hard on keeping her father's dream alive and remained involved with his theatre company, Theatricum Botanicum. Since under the family's care, the company produces 4 plays each season.
"The Waltons" aired from 1971 until 1981 and quickly became a hit among Americans who watched the tight-knit family go through life's ups and downs.
However, Will's co-star's on "The Waltons" had private lives that didn't mirror their onscreen roles at all. The other cast members lived far from perfect lives that included disease, addiction, and family dramas.