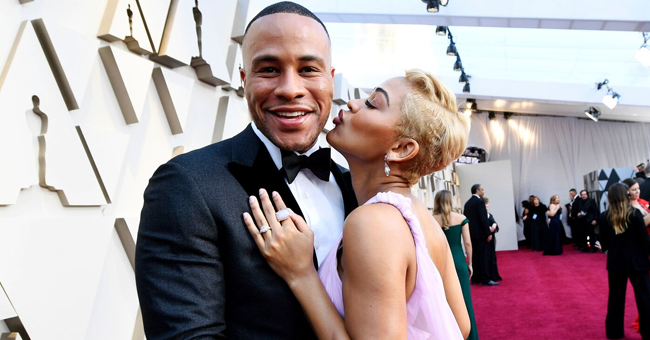 GettyImages
Meagan Good, 37, Talks Growing Her Family, Says She's Trying to Be in Best Shape for Future Kids
Meagan Good and her husband Devon Franklin are getting ready to expand their family in the future, the actress revealed in a new Instagram clip, as she encourages her fans to join her in a new fitness challenge.
Meagan Good and Devon Franklin gave their fans a faux pregnancy scare with a recent Instagram video shared on her page.
FALSE BABY ALARM
Although the video was created for Meagan to announce the start of a new 30-days fitness challenge in honor of her upcoming birthday, Franklin was captured rubbing her belly at the start of the clip, which led many people to believe Meagan was expecting.
But it was just a false alarm.
However, Good was quick to lift their fans' hope of seeing a kid in their family in the future, revealing that she wants to get in shape not only to show off her best figure on her birthday but also to prep her body for babies.
"I'm trying to really get in shape. It's about to be my birthday, and I'm trying to show people what 38 looks like," Good announced in the video. "And I'm trying to get ready for babies. I'm trying to be in the best shape of my life so that I can start from a good point and be in a good place when I get in the gym after that."
SOON, BUT NOT YET
Franklin showed his support to Meagan by showering her with praises, but he was quick to add that babies are coming, "not right now, but soon."
Meagan revealed that she's been off the gym for months and her stamina is low, but she's up for the challenge and is encouraging her fans to join her.
"Whatever you're trying to accomplish, for me it's my 38th birthday, and it's little people being born," she said. "Very soon. I gotta get there first."
Fans had mixed reactions to the clip.
"All this got damn belly rubbing I thought this was a pregnancy announcement... y'all not gone keep getting me excited and letting me down," wrote one user.
And another added:
"The way you look at him just says so much about your marriage! Y'all are a power couple, and I love it. I love you."
DeVon and Good have been married for seven years, and they're known for being an exemplary couple that bases their marriage on their faith. They even stayed celibate before getting married.
MEAGAN'S CHARACTER DEVELOPMENT
Last year on a visit to "The Real," Meagan was asked if she had future baby plans, to which she replied: "I'm going to take my time."
And continued:
"I had two monkeys a few years ago, and now I have two hairless cats. I'm kind of like a Never Never Land person—so I'm going to wait. In the right time. I'm gonna take my time."
However, earlier this year she visited the now-defunct "Steve Harvey Show" with her co-star Michael Ealy to promote the film "The Intruder," and while talking about kids once again, Meagan said she finally felt ready to be a mom.
"I'ma say this, and it's funny because I usually don't talk about it because I was one of those people who knew I would be a mother later in life," she said. "And we talk about it a lot. Like, [Michael Ealy] basically tried to convince me to start like last year. But now I think I'm in a place now where I'm actually ready."
In response, Harvey told Meagan she would be a wonderful mother because she's a wonderful person. "I receive that, thank you," Good told the seasoned TV host.
Devon and Meagan will probably make the most beautiful babies, and we can't wait.
Please fill in your e-mail so we can share with you our top stories!