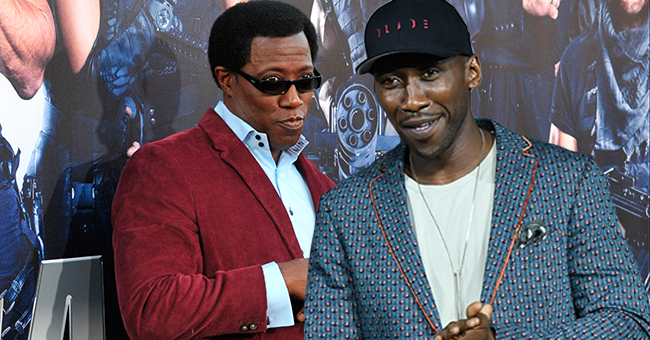 GettyImages Shutterstock.com
Original 'Blade' Star Wesley Snipes Responds to Mahershala Ali's Casting in Reboot

Wesley Snipes has broken his silence over the news that Mahershala Ali will be replacing him in Marvel's upcoming "Blade" reboot.
Following Marvel Studios' announcement that Snipes will not be returning to reprise his role of "Blade" for the fourth time, several fans seem to have been disgruntled. For the actor, however, "it's all good."
"To all the DAYWALKERS losing their minds right now, chillaaxx," Snipes said in a statement to ComicBook.com. "Although the news comes as a surprise, it's ALL GOOD. Such is the 'business' of 'entertainment!'"
NO HARD FEELINGS
The 56-year-old actor also assured that there were no hard feelings between him and the Marvel Cinematic Universe or Ali, 45:
"Much peace to the MCU crew - always a fan. Honor and respect to the grandmaster Stan. Congratulations and Salaam to Mahershala Ali, a beautiful and talented artist whose expressions I look forward to experiencing for many years to come. Inshallah, we will someday work together."
A WORD FOR THE FANS
"Most importantly to my loyal fans, the incredible outpouring of love is overwhelming," Snipes finished. "I am grateful for the never-ending support. So, 'nah fret nah worry, it's not de end of de story.' Welcome to the Daywalker Klique."
Snipes played Blade, a day-walking vampire hunter in the 1998 movie of the same name and went on to reprise the role in the 2002 and 2004 installments.
THE 'BLADE' LEGACY
Last year, in an interview with Entertainment Weekly, Snipes stated how grateful he was to have played the role and be part of a lasting legacy.
"I'm proud of 'Blade.' I'm thankful for it. I've been blessed with a wonderful opportunity, something that is now considered a part of the urban iconography."
END OF AN ERA
Snipes' run with "Blade" now comes to an end as Marvel Studios' President Kevin Feige announced on Saturday at Comic-Con that Ali would be starring as the title character in the film's next installment.
The two-time Oscar winner was on hand for the big announcement as he came on stage and put on a "Blade" cap as the crowd went wild. Exact details of the movie are not known, but it's likely to be released sometime after 2021.
NEW BEGINNINGS
Meanwhile, there doesn't seem to be any bad blood between Snipes and Ali. While Snipes' stand is quite clear from his statement, the "Green Book" star took to Instagram yesterday with a photo of Snipes in character, seemingly paying homage to his predecessor.
Several "Blade" fans also seem to be excited about Marvel's choice of Ali.
FAN REACTIONS
"Mahershala Ali as Marvel's Blade?!?!?!?! Are we kidding?!?!?!" one excited fan wrote. "It's the perfect casting!!! I am so excited!!! I love him!"
"Good morning to Mahershala Ali and whoever brilliantly cast him as Blade," another echoed. "I CANNOT wait. I need to know who's writing and directing immediately."
Please fill in your e-mail so we can share with you our top stories!