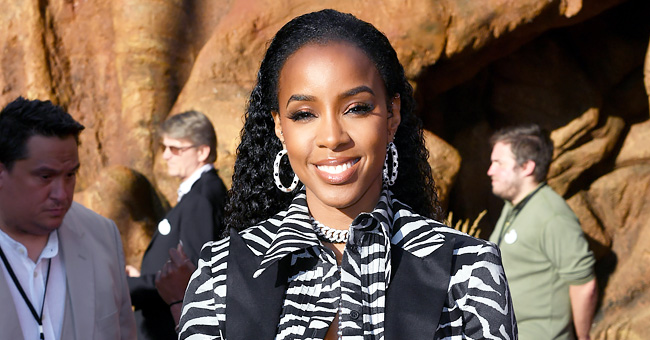 Kelly Rowland Shows off Great Physique in Yellow Swimsuit in Impromptu Backyard 'Shoot

Destiny's Child's singer Kelly Rowland, 38, flaunts her stunning figure in a skimpy yellow bikini.
In common with her Destiny's Child co-stars Beyoncé, and Michelle Williams, Kelly Rowland shares a phenomenal voice and a breathtaking beauty.
Kelly, 38, who is the mother of a 4-year-old. posted photos on Instagram that show that she is just as hot as ever.
KELLY ROWLANDS STRUTS HER STUFF
Obviously inspired by the summer, Kelly flaunted her divine figure in a lemon-yellow bikini in her backyard.
The sight of so much beauty obviously inspired her husband talent manager Tim Weatherspoon who couldn't resist capturing his wife's sexy poses for posterity.
"Backyard Summer Flicks Shadow brought to you by @timspoon," Kelly wrote.
It's been almost a year since Beyoncé Knowles, Michelle Williams, and Kelly Rowland stepped out onto a stage together
FAMOUS FANS PRAISE KELLY ROWLAND
Among the fans (and friends) who commented on the sizzling photos Kelly posted on Instagram were
Khloe Kardashian: '"You look incredible"
Leigh-Anne Pinnock " 'We see you in that @inaseashell [sic] you look incredible."
KELLY ROWLAND WEARS FRIEND'S SWIMWEAR LINE
The stunning ribbed bikini top and high-waisted bottoms are part of the newest swimwear line created by Little Mix singer, Leigh-Anne Pinnock. The label is a big hit for its inclusive sizes and design and affordable prices.
KELLY ROWLANDS - DEVOTED MOM
After a hectic early career as teen music idol, Kelly seems to have settled into her true metier: being a doting mom to her son Titan Jewell Weatherspoon, now 5.
Kelly shares Titan with husband and manager Tim Weatherspoon whom she married in 2013.
She reconciles her duties as mom and wife with her work as a coach on "The Voice Australia."
IS A DESTINY'S CHILD REUNION IN THE CARDS?
Fans keep dreaming about a Destiny's Child reunion tour, but the three stars are keeping mum.
At a recent red carpet event, Kelly Rowland was questioned about the possibility. and replied evasively.
"I don't know, it's not anything we really talk about," she said.
It's been almost a year since Beyoncé Knowles, Michelle Williams, and Kelly Rowland stepped out onto a stage together at Coachella, but fans want more, a lot more.
Ladies, we know you are all very busy with your successful solo careers and being moms, but we'd really love a Destiny's Child show...
Please fill in your e-mail so we can share with you our top stories!