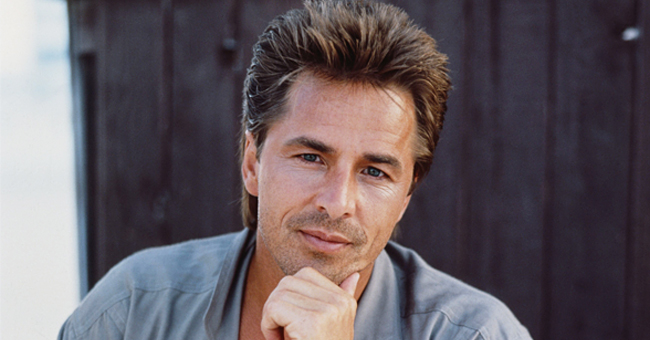 Getty images
Don Johnson Celebrated 20th Marriage Anniversary with Throwback Wedding Photos

One of the biggest stars in Hollywood, Don Johnson, took to his Instagram page to celebrate a significant milestone in his life; the 20th anniversary of his marriage to wife, Kelley Phleger.
Johnson is well known for his role in the fantastic series, "Miami Vice." One other popular fact about the actor is his two-time marriage to actress, Meredith Griffith.
20 YEARS OF BLISS
Although his previous marriage didn't work out, Johnson found love again in Kelley Phleger and twenty years and three kids (Grace, 19, Jasper, 17, and Deacon, 13) after, the couple is still going strong.
The actor recently posted a series of images of his gorgeous wife on Instagram in a bid to celebrate twenty years since walking down the aisle together.
The first image is solely Phleger smiling hugely in her pink wedding dress as she held a bouquet of flowers to her chest. The picture which had thousands of sweet comments from fans was captioned,
"My Bride. 20th Anniversary. Love you more today than ever! @kelley.johnson"
The second image captured the romantic moment the couple said their "I dos." In the photo, the bride and groom can be seen staring affectionately into each other's eyes as Phleger slid a ring into Johnson's finger in front of an officiating minister.
This, Johnson sweetly captioned:
"I do, I did, more to come ?"
STEPPING OUT IN STYLE
Although known to keep a low profile, the lovebirds were recently spotted at the premiere of the movie, "Once Upon A Time in Hollywood."
The pair was at the event to support Johnson's long-time friend (Quentin Tarantino) from the well-acclaimed 2012 movie, "Django Unchained." Johnson, who was proud of his wife of twenty years held on to her as they posed for pictures on the red carpet.
HE CHANGED FOR HER
During his younger years, Johnson was known to party hard, but all these changed after he met Phleger, who was a Montessori school teacher.
In an interview with DailyMail in 2017, the 69-year-old actor revealed that:
"People don't develop to the place where they can have long-lasting, mature relationships till they're in their 30s, and for some of us,' he adds, gesturing to himself, 'it takes even longer than that."
He also confessed that his previous ways led to a variety of poor choices; thankfully, he has now grown past it all.
THE REVIVAL OF "NASH BRIDGES"
Being a great family man is only one of the exceptional qualities possessed by Johnson. His work on the CBS show, "Nash Bridges" is being revived after eighteen years.
According to Hollywood Reporter, Johnson is heading back to San Francisco to shoot a two hour TV special which will be aired on USA Network.
Things seem to be working excellently for the brilliant actor, and his fans couldn't be more happy for him.
Please fill in your e-mail so we can share with you our top stories!