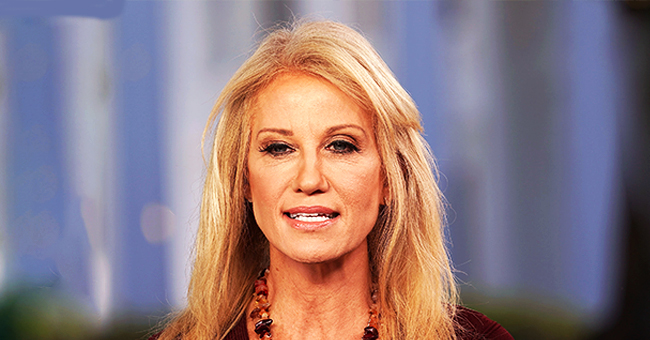 Getty images
Kellyanne Conway Is a Caring Mother of 4 Beautiful Children

Kellyanne Conway might have a personality that her critics find offensive, but beyond her public image, she is a caring and doting mother of four beautiful children.
Love or hate Kellyanne Conway; no one can take away from her the fact that she loves and cares about her four children. She shares twins, Claudia and George IV, and daughters, Vanessa and Charlotte, with husband, George Conway.
Kellayanne's social media is full of her children's pictures, including the one she took with the twins, and a Welsh Corgi, when they were still toddlers.
In another picture, the pollster, who is a baseball fan, went with George and their children to watch the Yankees play. The family-of-six had on baseball shirts and caps, and they all smiled for the camera while celebrating a perfect game.
Kellyanne, who was President Trump's campaign manager, and one of his advisers, tweeted a picture of herself and Claudia looking beautiful in dinner gowns at the inaugural dinner.
In another, the President's adviser tweeted a picture of Vanessa whom she predicted would one day become the first female POTUS. Despite her busy schedule, she still finds time to go on vacation with her children, and in 2017, she took them to see Mountain Rushroom.
Kellyanne once said that being a mum is the most relevant job she has, and she always puts her children first. She hopes to show working mums that it's okay to have a career and a home, and the pollster owes much of her success to George.
Since they met in the late '90s after an introduction from Ann Coulter, they've been inseparable, and their 2001 wedding had the most influential people in the Republican party in attendance.
They moved to Trump Towers afterward, where Kellyanne met the billionaire President, and at the time, she had no idea that the relationship they would build will make her the first woman to run a presidential campaign years later, successfully.
As beautiful as the former New York resident's life seem, there seems to be trouble in paradise since George stopped supporting President Trump and became one of his greatest critics.
In March, the corporate lawyer intimated on social media that the POTUS's mental state should be questioned, and Kellyanne said she does not share her husband's concern.
The couple's divided view appears to have driven a wedge between them as they never agree on anything concerning Trump's administration, but hopefully, for the sake of their children, Kellyanne and George won't let it affect their marriage, as that in itself, would be a colossal disaster.
Please fill in your e-mail so we can share with you our top stories!