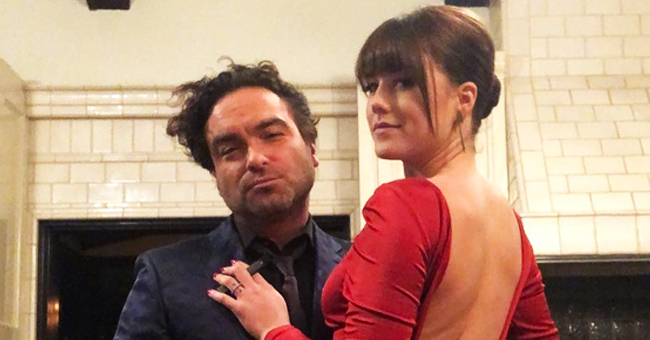 instagram.com/alainamariemeyer
Johnny Galecki and Girlfriend Alaina Meyer Are Expecting a Baby Boy (Photo)

Famous "The Big Bang Theory" star, Johnny Galecki and his girlfriend, Alaina Meyer, are due to welcome their baby sometime soon – and it's a boy!
The expectant couple, most especially Alaina, have used various social media platforms to document their experiences. Recently, the pregnant beauty shared snaps of herself on Instagram.
A NEW NAME REVEAL
Via the first snap, she shared that she was off to a metal concert and that, her unborn child, will, of course, get to enjoy it too. The photo features the svelte beauty dressed in a black/white ensemble.
It included a form-fitting black dress designed with a few gold buttons up it's front and a short length that reached just mid-thigh. She wore an elegant black and white striped jacket which had long sleeves and a puffy shoulder.
Alaina fondly wrote as she captioned the picture,
"Avery is off to his first metal concert."
That would make the first time Alaina and Galecki would be calling their baby by any name and fans were thrilled. So far, the image has amassed well over 7,000 likes, and numerous comments as netizens took to the comments section to congratulate and express awe over the choice of name.
FANS' REACTION
One user, @ghostiejess said:
"Love that we finally get a baby bump and a name OMG!!!! I am still stuck on names for the little one, but you know I have time."
Another @novelbytes commented:
"@alainamariemeyer I'm not sure if I've told you this (and I know I'm a stranger), but congratulations."
Another @weare.just.schmidt implored her to savor the sweet moments:
"Oh, it goes so fast! You Look beautiful! Enjoy your pregnancy!"
By the looks of things, Alaina is doing just that! Alaina and her famous actor lover only recently revealed that their unborn child is a boy.
The 44-year-old actor and the 21-year-old expectant mom threw an outdoor gender reveal party on Sunday with blue and pink decorated treats and a ton of blue paint.
'To all those who voted boy you were right!' Meyer captioned an Instagram story of her and Galecki covered in paint cuddled up on an outdoor sofa. The adorable couple has weathered all odds to become a fan favorite.
At first, their relationship seemed somewhat controversial because the svelte beauty is 23 years younger than Galecki. Now, they seem to have become a fan-favorite following the news of Alaina's pregnancy.
Please fill in your e-mail so we can share with you our top stories!