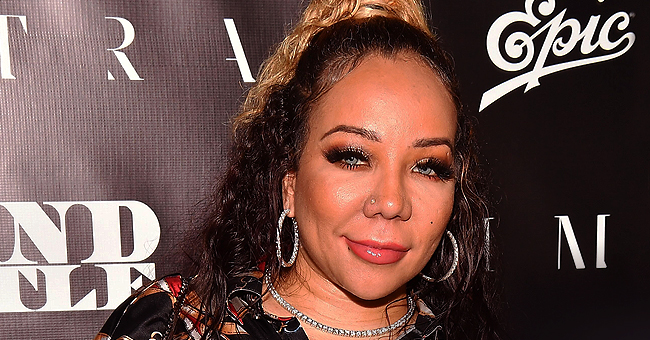 GettyImages
Tiny Reacts to Criticism over Staying with T.I. after Alleged Repeated Affairs
Tameka "Tiny" Harris has been widely criticized for choosing to stay married to T.I despite his constant extra-marital affairs. Now, the singer and reality star clapped back at those who are constantly giving her their unsolicited opinion.
Tiny Harris and T.I have been together for 18 years and married for almost a decade now. The couple has split on several occasions due to T.I's infidelities, and a few years ago, Tiny even considered filing for divorce.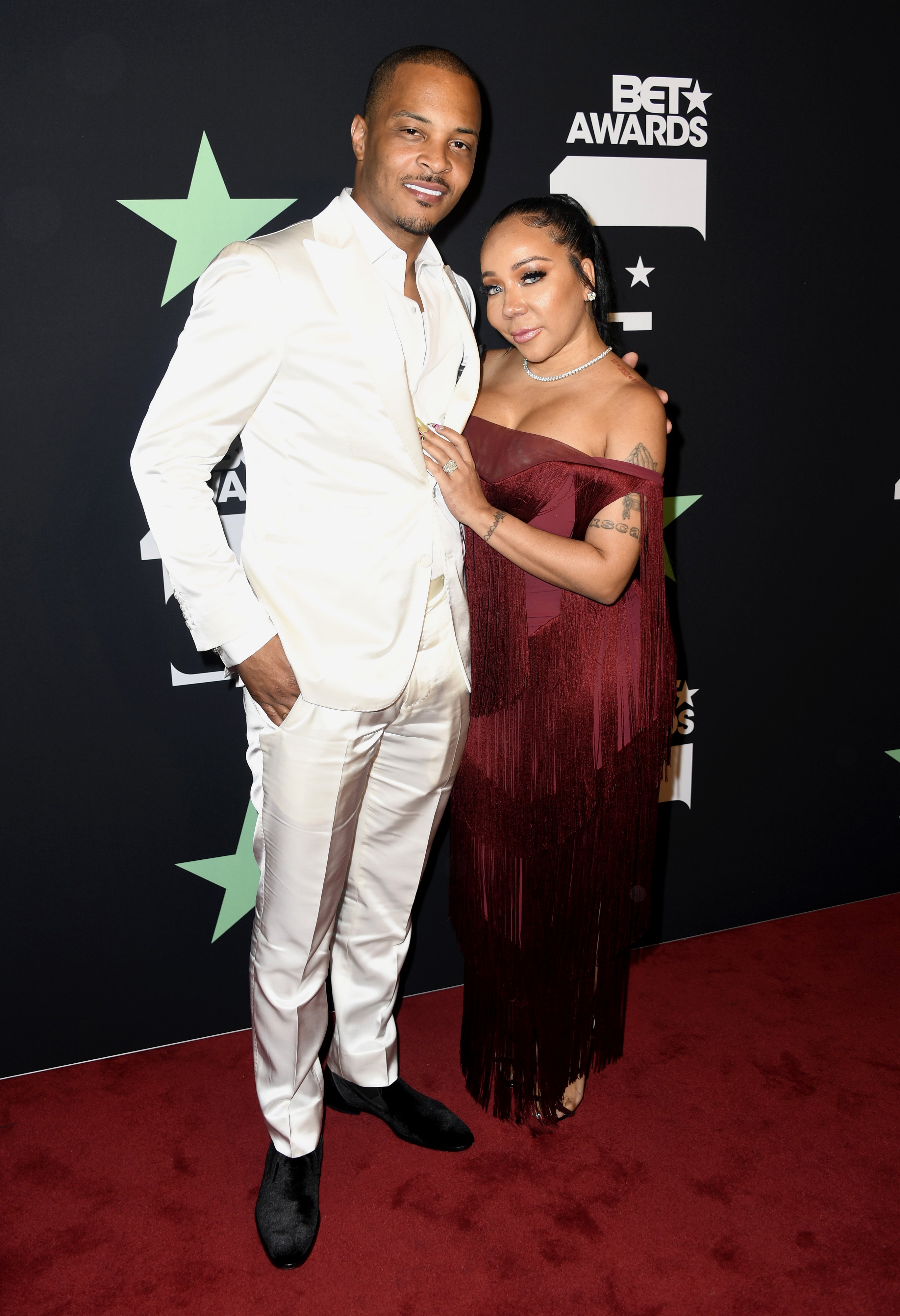 T.I. & Tameka "Tiny" Harris pose in the press room at the 2019 BET Awards on June 23, 2019.| Photo: GettyImages
However, after living separately for almost a year, they managed to find their way back to each other.
As of today, the couple is back on track as more in love than ever, but the cheating allegations against keep pouring every now and then.
FIRING BACK TO THE HATERS
Fans have slammed Tiny for staying with a serial cheater, and in a recent interview at Chicago's radio station WGCI, she finally addressed those women who continuously spew negativity about her marriage.
"I don't really pay that no attention because most of those women that are talking about 'oh you stayed with him after that?' they still with a man that's cheating probably everyday, and they living the worst life, I am ok," she said.
And continued:
"It's not like… 'I'm okay with you cheating,' but I know that in this industry, it's going to be tough to, you know, keep it all the way together. So, you know, if [the relationship issues are] workable if there's still some love there if we still feel like [being together] is what we wanna do, then this is what we should do."
MIXED REACTIONS FROM FANS
A clip from the interview shared by The Shade Room earned mixed reactions from fans. While some people believe fans need to leave Tiny alone and mind their own business, others think Tiny basically said she's okay with T.I cheating because he has money.
"Basically she's saying y'all running back to broke boys...." wrote one user.
Another added,
"Soo those who keepin it 100 with her automatically are assumed to be in a worse situation than her??... The speaker of truth really ain't got no friends."
While a third one supported Tiny saying:
"Your marriage was, and is definitely worth saving!!! We are all flawed, and everyone makes mistakes, but the power of forgiveness is amazing!!!"
T.I ON HIS BEST BEHAVIOR
Just a few days ago, T.I showed out on Tiny's birthday with a surprise birthday gift that proved diamonds are a girl's best friend.
In a video shared to Instagram, the "Friends & Family Hustle" star asked a bartender to put a diamond necklace at the bottom of his wife's drink before making a toast in her honor. And as Tiny proceeded to enjoy her drink, he caught her attention, asking her, "Was your last drink that heavy?"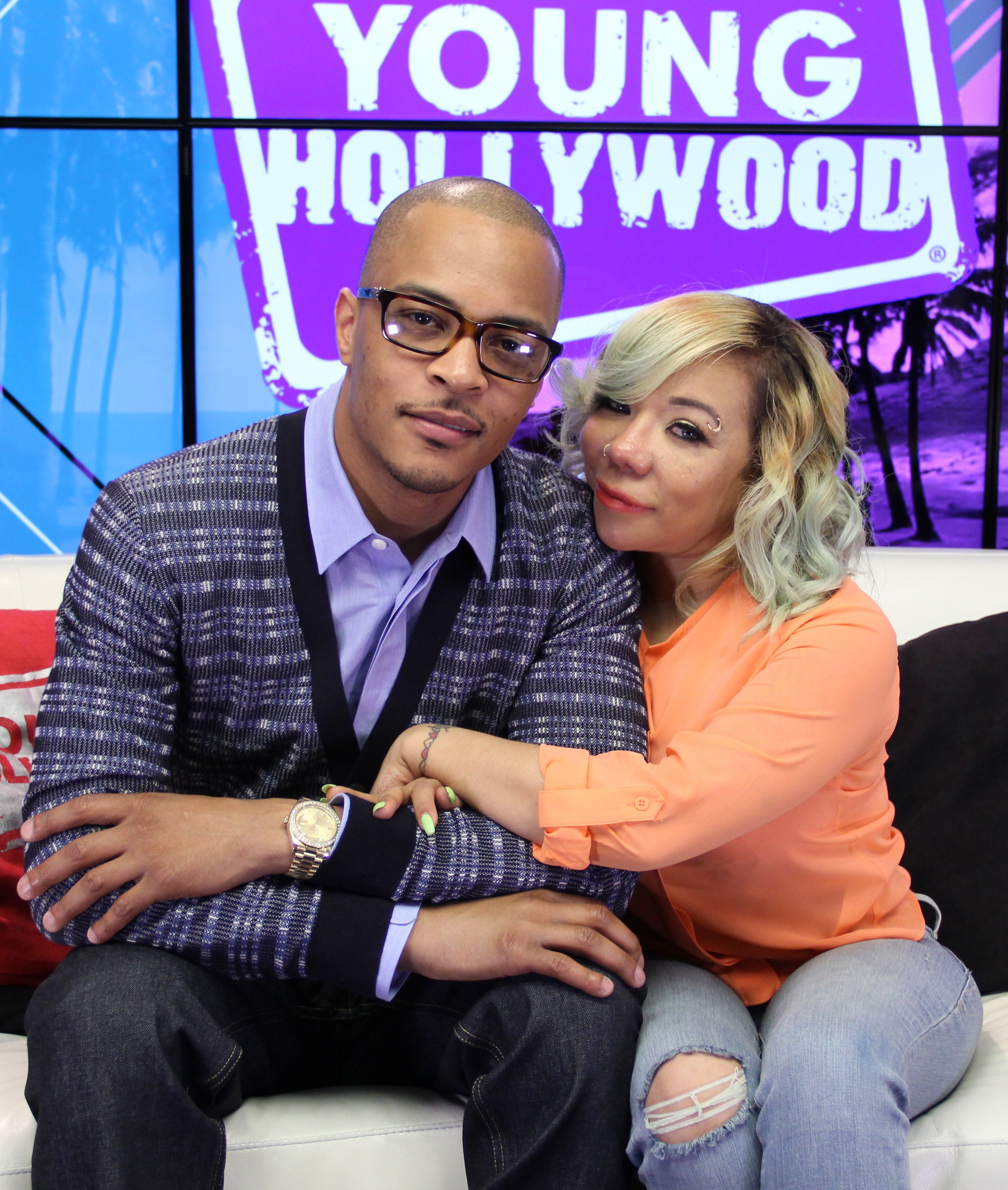 T.I. and Tiny at the Young Hollywood Studio on June 1, 2015. | Photo: GettyImages
As Tiny inspected the glass, T.I told her she should finish the drink to retrieve what was in the bottom. Later, Tiny pulled the expensive-looking gift and dried it with a napkin before flaunting the piece on her neck and giving T.I a hug.
In the caption, T.I celebrated his wife writing:
"All Bulls*** aside… It's a pleasure to Show Out & Pipe UP for the Queen, Each and every year…Happy Birthday, Mrs. Harris. We're all thankful & blessed to have you in our lives, reminding us that Life is for Laughter & Living!!! I'm fasho gon see to it that your cup runneth over with All my Love, Forever More."
It's become a tradition for T.I to show off his love for Tiny with expensive gifts.
Last year, he bought her a brand new custom Mercedes Benz convertible that he filled with Christian Louboutin bags.
The couple are parents to sons King, Major, and Heiress, and they also raised Tiny's daughter Zonnique, and T.I's children from previous marriages, Domani, Messiah and Deyjah.
Please fill in your e-mail so we can share with you our top stories!