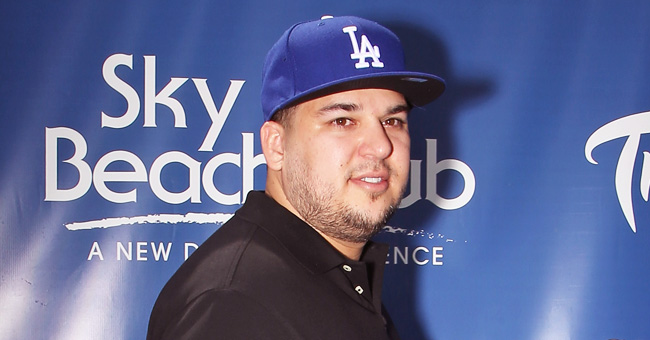 Getty Images
Rob Kardashian's Dating History: From Flings to Relationships

Rob Kardashian grew up in front of fans on the reality show Keeping Up with the Kardashians. As a result of his family fame, he has found himself in more than one high profile relationships.
Rob Kardashian tries his very best to stay out of the spotlight that shines on the Kardashian family. However, his love life has a way of dragging him back into it.
From dating Adrienne Bailon to the dramatic and often toxic relationship with Blac Chyna, his public relationships regularly make headlines. Riddled with public blow-ups, called off engagements and very intense spats with his baby mama fans love watching Rob navigate the treacherous waters of love.
Adrienne Bailon:
One of Rob's very first high profile relationship was with Adrienne Bailon. The singer turned actress and TV persona started dating the KUWTK star in 2007. They dated for two years before breaking up in 2009.
According to Adrienne, Rob reportedly cheated on her. However, that was not her only reason for backing out of the relationship. She went on to say that being associated with the Kardashian name was negatively impacting her career.
Angela Simmons
After the emotional split from Adrienne Bailon, Rob Kardashian and Growing Up Hip Hop star Angela Simmons had a short fling in 2010. They were together for only a few months.
The pair attended Lakers games and often went on day trips to the nail salon. They eventually parted ways in an amicable split.
Rita Ora
Two years later, Rob began dating singer and actress Rita Ora. They were only together for two months before he accused her of cheating on him with "20 dudes."
He took to Twitter to bash her before his sister Khloe Kardashian intervened. She told him to "be nice kid." In 2014, Ora refused to discuss their relationship on The Breakfast Club.
"It was a phase and a moment in my life," she said. "You know, onward and upwards."
In 2016, it was revealed that their breakup eventually led to Rob's spiral into depression.
Rihanna, Naza Jafarian and Karrueche Tran
After breaking up with Rita Ora, Kardashian had a slew of short-lived romances. He dated Rihanna in August 2012 but their sparked did not last long and she went back to her ex Chris Brown.
He was then linked to Naza Jafarian in 2013. Then in 2015, he was rumored to have dated Karrueche Tran. However, Rob denied the rumors.
Blac Chyna
Blac Chyna and Rob Kardashian started dating in January 2016. Their relationship was a problem from the beginning and ticked a few people off/
Chyna used to date rapper Tyga's who was dating Rob's sister Kylie Jenner at the time. Chyna had also been a close friend, Kim Kardashian in the past but they had parted ways.
However, the dramatic history between Chyna and his family did not seem to stop the couple from moving ahead with their relationship. By April 2016, after dating for just 10 weeks, the pair announced their engagement.
A month later they revealed they were also expecting their first child together. Their daughter, Dream Renee Kardashian was born in November that year.
However, by February 2017 the pair decided to end their relationship. After several online fights, damaged property, leaked images, and a slew of lawsuits, Rob decided to use the breakup as a springboard to adopt a healthier lifestyle and focus on raising his daughter.
Alexis Skyy
Rob eventually moved on and started dating Alexis Skyy. While there has been some drama with Alexis and Blac Chyna getting into some nasty spats, Rob and Alexis are reportedly happily in love.
Please fill in your e-mail so we can share with you our top stories!