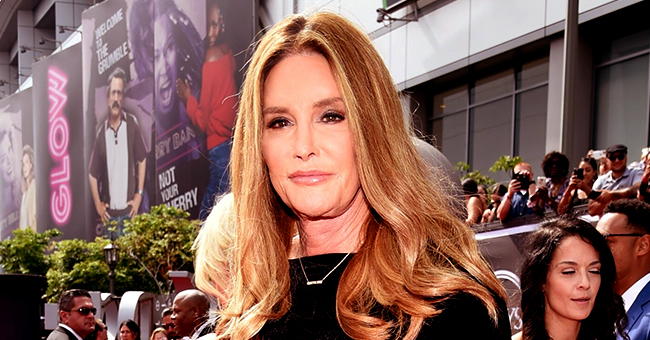 Getty images
Caitlyn Jenner Tries to Beat the Heat by Taking a Dip in Black Two-Piece Swimsuit
Caitlyn Jenner shared a new snap of herself wearing a tiny black swimsuit that did very much to accentuate her gorgeous figure.
The picture is just one day old, and it has already become trendy on the internet. While this can be said to be because of Jenner's already earned fame, a significant part of the attention is a result of the prideful display of her womanly curves.
This particular shot features the 69-year-old transgender woman enjoying a dip in the pool. She was accordingly dressed wearing the rather skimpy black two-piece swimsuit.
However, with most of her body engulfed in the clear water, the only parts seen are her face. It was bare of makeup, and she had her hair pulled back into a tight knot and her full cleavage barely covered.
"End of day swim. It's 92 in Malibu. Don't be fooled...I'm coated in SPF," the famous reality star wrote to caption the shot.
FANS CAN'T GET ENOUGH OF THE GORGEOUS DISPLAY
The picture quickly elicited numerous reactions from netizens and now boasts of well over 150,000 likes when it is barely a day old! The comments section, which boasts of thousands of comments, had Caitlyn's fans send compliments and words of support her way.
In admiration, one fan, @bhm_2 wrote:
"You'll always be my favorite Cait. You broke through when no one else dared. Big kiss."
Alongside three heart emoticons, another @kwhite87 said:
"Love it... such a beautiful person inside and out."
While one user, @bryinsd, apparently awestruck commented:
"I love a person that finds their true self later in life and goes on living their best! I love it!!!!"
That couldn't be truer! There are so many people out there who have found Caitlyn, whose story of transitioning into a woman is popularly known, very laudable and admirable.
"BEING MY AUTHENTIC SELF…"
A recently released Daily Mail article reports that Caitlyn is "living her fantasy." Via Instagram, the former olympic medalist who was formerly a man named Bruce, shared a video of herself clad in a black swimsuit and walking on the beachside.
The video was a simple one, but yet it oozed of high confidence and happiness thanks to Caitlyn's honest words. In the caption of the picture, she wrote:
"40 years ago my therapist asked me what my fantasy is. I told her, walking on the beach, being my authentic self."
Having nursed dreams of gender transformation for about 40 years, Caitlyn finally started her transitioning sometime in 2015. Never one to shy away from the media, she marked the start of her journey with an incredible Vanity Fair cover shoot.
Despite going through something still somewhat sensitive for many, Caitlyn's boldness and radiant personality have made her an inspiration to many who are going through a similar transformation.
Please fill in your e-mail so we can share with you our top stories!