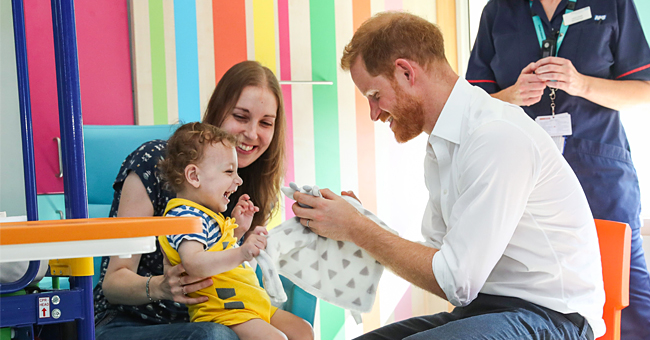 Getty images
Prince Harry Meets Little Kids at Sheffield Children's Hospital at the Opening of a New Wing

Prince Harry showed off his playful nature when he visited a hospital that his late mother, the beloved Princess Diana, also visited nearly three decades ago.
The Duke of Sussex stepped out for a three-part royal engagement day on Thursday and interacted with an adorable tot who couldn't get over Harry's full orange beard.
Harry went to the Sheffield Children's Hospital to open a new $49 million wing, reported the Daily Mail, and when he sat down with one-year-old Noah Nicholson, his fun paternal side shone brightly.
The duke was captured playing with the young boy who sat on a woman's leg. At one point he leaned over to rub Harry's beard. He next picked up a tiny shoe and looked to be preparing to hit the duke with it.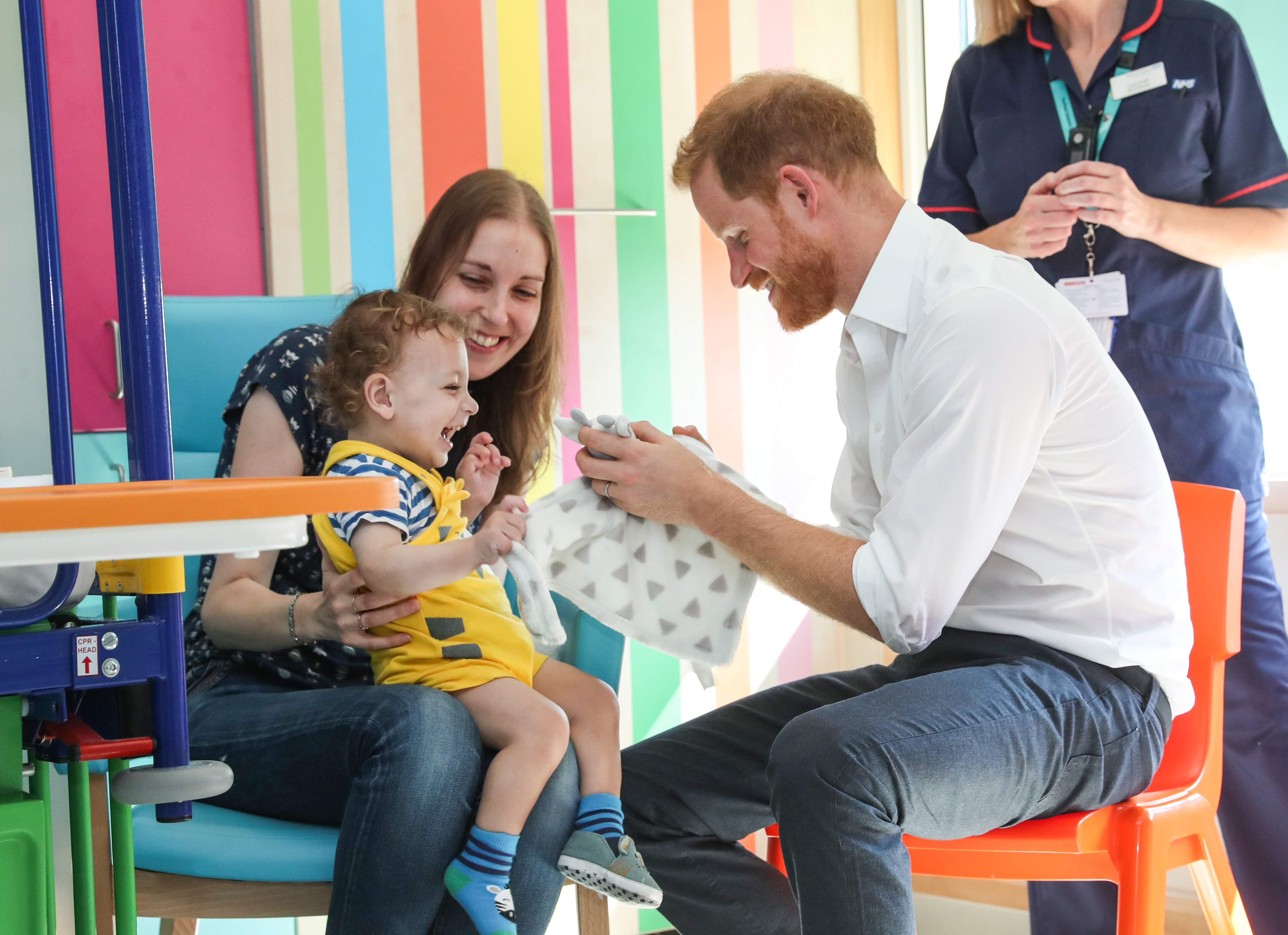 Prince Harry interacts with Noah Nicholson during a visit to Sheffield Children's Hospital on Thursday July 26, 2019 | Photo:Getty Images
"Don't throw it at me!" Harry jokingly said, which prompted a round of light-hearted laughter from other attendees. In the end, Nicholson did end up hitting a grinning Harry with a light giraffe comforter.
The day was made more special by the fact that Harry's mother Princess Diana had also visited the hospital years before him in November 1989. She signed the visitor's book at the time, as did Harry before he left.
Photographers caught shots of Harry giving a modest smile as he looked through the photos of the album. During his visit, Harry also talked to children on the wards.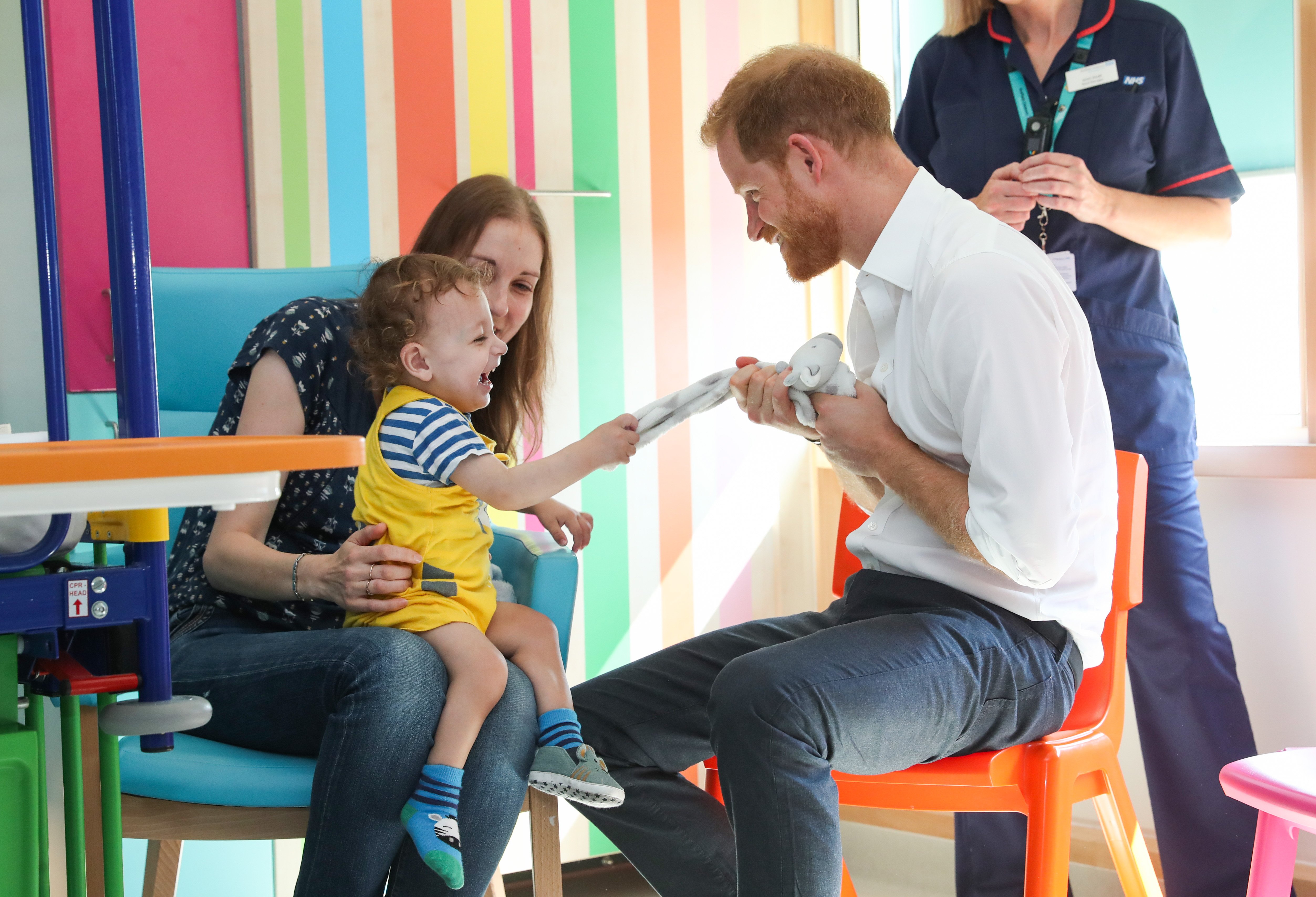 Prince Harry interacts with Noah Nicholson during a visit to Sheffield Children's Hospital on Thursday July 26, 2019 | Photo:Getty Images
At one point, he hugged the hospital mascot Theo, who wore a brown bear suit. Standard reported that nurse Julie Austin filled the suit and was also present for Princess Diana's visit back in 1989.
After the visit, Harry went to Sheffield Hallam University's Cantor Building where he viewed the virtual reality rehabilitation technology intended to help amputees train themselves in the use of prosthetic limbs.
The prince also looked at a racing car and spoke to students about new technologies intended to assist field workers throughout the world who face dangerous risks.
Harry finished off his day by visiting the English Institute of Sport. As a patron of the Invictus Games Foundation, he looked on during trials and interacted with athletes who will pursue a spot at next year's Invictus Games.
Harry's appearance at the children's hospital was reminiscent of the time he and wife Meghan Markle attended the WellChild Awards at the Royal Lancaster Hotel in London on September 2018.
The beloved pair were both present to speak to the gravely ill children at the pre-reception ceremony of the annual event. The awards show is meant to honor kids in various categories.
Harry presented the award for the Most Inspirational Child and delivered a heartwarming speech as he did. As a new father to May-born Archie Harrison, it's lovely to see Harry comforting other kids through play. We're sure he'll be a great dad.
Please fill in your e-mail so we can share with you our top stories!