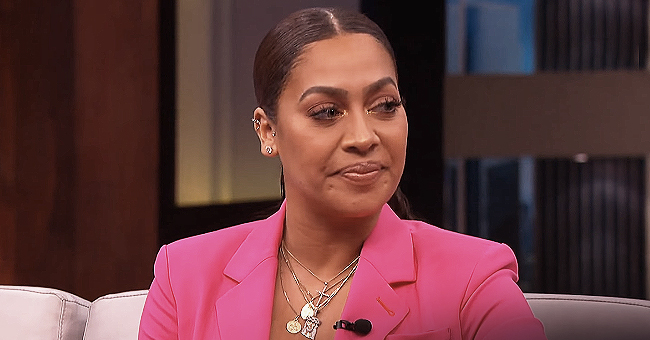 YouTube/Steve TV Show
La La Anthony Spotted without Wedding Ring, Reportedly in Talks with Divorce Attorneys

La La Anthony was phographed without her wedding ring. Is this the end of the line for cheating Carmelo?
La La Anthony is said to be consulting several attorneys about how to conduct her possible divorce from Carmelo after the most recent infidelity scandal.
The latest rift between the celebrity couple was occasioned by Carmelo being photographed on a yacht in Europe with a model, Sara Smiri - and the photos hit the headlines on La La's birthday. Bad timing, Carmelo...
LA LA ANTHONY SPOTTED WITHOUT THE RING
La La may be considering divesting herself of the shackles of marriage, and it looks like she'd already dropped the ring.
The actress was spotted moving through LAX in a black hoodie and slim pants, talking animatedly on her phone and wearing neither her wedding nor her engagement rings.
The general opinion is that Carmelo is definitely getting his walking papers this time!
SO CLOSE AND YET SO FAR
Even though they are living apart, the Anthonys has been spotted together recently after the scandal, inclusively, having dinner at a celebrated LA restaurant, and attending their 12-year-old son Kiyan's basketball game.
"Im still going crazy watching these videos‼️ Proud moment watching my son put up 16 points with 2mins and 17 seconds left in the championship game @usbahoops nationals today!" La La wrote.
TO SPLIT OR NOT TO SPLIT, THAT IS THE QUESTION
The Anthonys have been a couple since 2004, and married in 2010, and though they've had several rough patches, they always seem to get back together. In fact, the couple had just reconciled after a two-year split when the yacht scandal broke.
THE MIA BURKES SCANDAL
The Anthonys had split two years ago when Mia Burke, a stripper, alleged that she had given birth to Carmelo's child.
La La was understandably distraught over the betrayal and moved out. Two years later, Carmelo seems to have stepped over the line again.
"As La La and Carmelo have been living apart for quite some time, La La is proceeding with legal discussions as the next step in their relationship. They will remain loving and committed parents to their son," La La's representative stated.
Carmelo continues to claim that he is innocent and that there was no "wrongdoning" on his part.
TAKING THAT RING OFF
That stroll through LAX wasn't the first time La La Anthony was spotted without her wedding ring.
The actress recently posted a photo from a photoshoot in which she displays her luscious body in a snakeskin swimsuit, accessorized with bold sunglasses, an ankle bracelet...and no wedding ring.
Fans were quick to pick up on that tiny detail, and the general opinion is that Carmelo is definitely getting his walking papers this time!
Please fill in your e-mail so we can share with you our top stories!