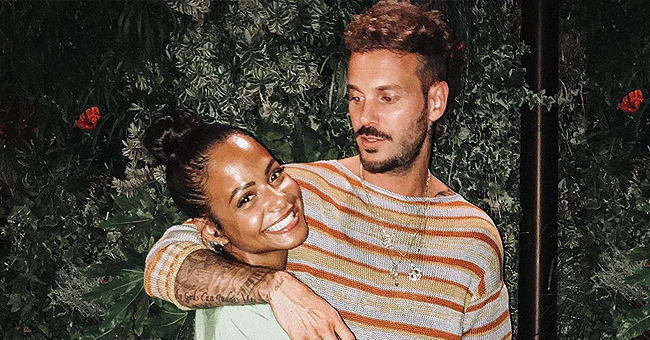 Instagram/christinamilian
Christina Milian Announces She's Pregnant with Second Child

Christina Milian has announced her latest release for 2020, and it isn't what fans imagined.
Christina Milian made an unexpected announcement on Instagram that had fans excited.
The 37-year-old actress/singer has revealed that she and boyfriend French pop-star Matt Pokora are expecting their first child together in 2020.
CHRISTINA MILIAN PREGNANT AGAIN
The happy future mom shared the cutest snap of herself and Matt captioned:
"New release 2020! What a blessing!" she captioned the image. "Let's do this babe @mattpokora ❤️!"
In the photo, Christina is wearing a tank top, and has her jeans unbuttoned, while Matt holds a sonogram over her baby bump.
Christina and Matt started dating in 2017, and according to the singer, the chemistry was instantaneous.
MATT POKORA CELEBRATES "LEGACY"
The proud father-to-be shared a black-and-white version of the same photo on his Instagram page and captioned it:
"La relève est en route! Legacy on the way! #happyman @christinamilian ❤️"
CHRISTINA MILIAN ALWAYS WANTED ANOTHER CHILD
Christina, who already has a 9-year-year-old daughter Violet whom she shares with her ex-husband, music producer The Dream, had always admitted that she wanted another baby sometime in the future.
"I definitely want to have another child in the future. I don't know when it would be, but I kind of feel like because I know I want two, I know that whenever it happens, I'll be ready! I'll let God handle that!" she said.
Christina and Matt started dating in 2017, and according to the singer, the chemistry was instantaneous.
"We got along so long so well from the very beginning. We have the best time together. I could spend every day with him, every moment and everything. It's been cool. We just have a good time," she said.
But the bond goes deeper than just having "a good time" reveals the singer, she believes their relationship was meant to be.
"He's honest and we have a really great relationship. This is different than anything I've ever experienced and I'm really happy the universe brought us together," she said.
We can't wait for more news from this happy couple and lots more photos of Christina's growing baby bump.
CHRISTINA MILIAN'S ADORABLE FAMILY
Christina Milian was spotted enjoying ice cream on the streets of Los Angeles with her daughter, Violet, and her boyfriend, Matt Pokora.
Christina has just announced that she's about to make Violet a big sister, but she and Matt have yet to reveal if they have wedding plans up their sleeve.
The singer and her little family looked deliriously happy, and she wore an oversized gree t-shirt that hid her baby bump.
Please fill in your e-mail so we can share with you our top stories!