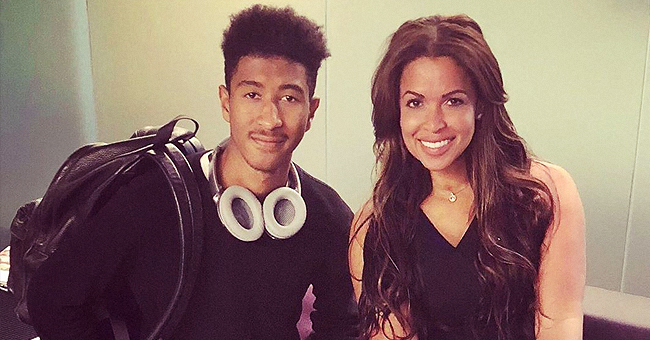 Instagram/traceyeedmonds
Tracey Edmonds Shares Photo of Her Son with Babyface Who's Her Summer Intern

Tracey Edmonds who is the former wife of music producer and songwriter, Kenneth "Babyface" Edmonds shows off their second child in a recent post.
Although Tracey and "babyface" are separated, both parents stop at nothing to share and spend quality time with their kids, Brandon and Dylan.
In a current upload, the mother of two shared a cute post that featured her and one of her sons. The adorable image had both mother and son sharing smiles.
Tracey had a much wider grin which showed off her white teeth and sat cross-legged in nude pants, and a modest black V-neck top. Young Edmonds had his lip-wide smile and tucked his hands in his blue jeans, which he paired with a black sleeve shirt.
Dylan crowned his look with his neatly trimmed afro, a backpack and headset dangling around his neck. The photo's caption signified that the pair had been seriously busy with business. She wrote:
"Happy Monday FAM!! At the office today brainstorming on TV ideas with my future producing partner/summer intern/SON Dylan!! Always great to hear what the youth think and want to see! Sending out fam #edmondsentertainment #familybusiness #collegefirst #startthemoffyoung."
The mom might be proud of her son and his achievements, but she is making it clear that he still needs to get a college education. Her messages were well read by her followers, who cheered both Edmonds on for holding onto the family's business.
Some fans couldn't take their eyes off the striking resemblance between Dylan and his daddy, "Babyface." It appears the apple doesn't fall far from the tree, as Mr. Edmonds' second son shares peculiar features with him, which makes him a spitting image.
The award-winning musician has a third child with his second wife, but still makes out time for his children with Tracey. Asides family time, he also dedicated time to talk about his relationship with their mother.
In the course of an interview with Oprah, the father of three opened up about how he and Tracey were not particularly "in love" with each other. Babyface claimed they both didn't have much of a connection and were not fit to last.
The iconic music star also addressed his ex-wife's relationships with other men. He explained how much he admired Deion Sanders and how he trusts him to take care of Tracey. That was not all, on the show "Oprah's Next Chapter," he commented on the relationship between the actor, Eddie Murphy, and Tracey.
Babyface stated that it was the wrongest move for his ex-wife, but he did respect her decision. Tracey's ex-husband is not the only one concerned about her relationships.
In a recent episode of the reality TV show, "Deion Family Playbook," her mother, Jackie is seen advising her about the time she spends with her beau, Deion. The mother of two instantly defends her man, stating just how "lucky" she is to have him in her life.
The pair who happen to live in different cities often tries to make out time for each other when they can. Tracey is as dedicated to her relationship with her kids, as much as she is with her man.
Please fill in your e-mail so we can share with you our top stories!