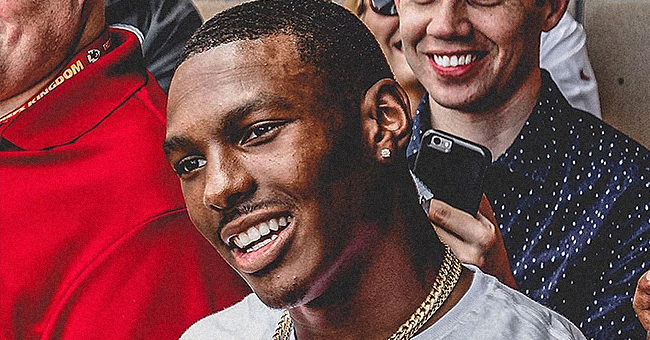 NFL Rookie Fulfills 13-Year Dream, Buys Mom House after Helping Her through Brain Tumor
Mecole Hardman Jr., a Kansas City Chiefs wide receiver, honored his parents with an unforgettable gift: a brand-new home. The NFL rookie said it was his dream to give his mother a house, especially after she had a health scare with a brain tumor years ago.
Hardman, 21, was selected in the second round of the 2019 NFL Draft in April and is now starting training camp. But before going away, he made sure to leave his family under a new roof.
THE SURPRISE
With the help of family and friends, Mecole made his mother, Danyell Hardman, hop into a van with the excuse of a fun bowling afternoon. However, before reaching their real destination, Mecole blindfolded Danyell.
Once she got out of the van, Danyell found herself in front of her new house, where the rest of the family and some neighbors waited with balloons and screams of delight.
Hardman shared the moment with a heartwarming Twitter video that shows Danyell's emotional reactions as she walks into the house and shares a hug with her son.
"I been dreaming of buying my mama a house since I was 8 and now to finally do it words can't explain how happy I am. I love you ma x1000000000. It's my turn to take care of you now," Mecole wrote on Twitter.
"I'm just blessed," Danyell says in the video. "I mean it just makes you feel good as a mother to know that your kids would go to this depth."
THE START OF THE DREAM
Hardman explained to CNN that he remembers always moving to different homes with his parents and five siblings while growing up. He said that his family was never financially stable, and they used to live from paycheck to paycheck and praying not to face any spontaneous financial burden.
"Money was tight, basically," Hardman said. "We didn't have money like that, but we made it work and just kept faith in God."
Since his family never really had a home, Hardman always promised his parents that one day he would buy them a house when he became a professional football player, and now he's fulfilled his promise.
"That's just been something that he's always wanted to do as a kid," Danyell told the Kansas City Star. "To show his mom and dad that he appreciates everything they've done for him."
A MAMA'S BOY
Mecole and Danyell have an exceptional and close relationship, one that got stronger after doctors found a tumor the size of an apple on her brain six years ago.
It was a meningioma, a rare, benign tumor located near the middle of her head.
When doctors first discovered the tumor in a CAT scan, it looked the size of a golf ball. Later, an MRI showed it was bigger, but when Danyell went under surgery to remove it, doctors were surprised to discover the tumor was so large it was pushing her brain against the back of her skull.
"They're not cancerous or anything, but they affect a lot of things, like your sight, sense of smell," Danyell explained. "The doctors didn't think I'd be able to see again or smell again. It caused me to have a couple of seizures."
Danyell needed several surgeries to remove the tumor on its totality, and Mecole was there by her side through the entire journey. "That's when he became a mama's boy," Danyell joked.
And Mecole added:
"When you go through a situation like that, it's kind of hard because you're thinking about all the worst thing that can happen. It's hard to think positive in situations like that. But all I remember, just hoping she'd get better and hope she'd be OK."
Hardman also had an additional gift for his father: a 2019 black Dodge Challenger with customized red leather seats.
The Chiefs rookie
said
his next goal is to help his parents retire and travel.
Please fill in your e-mail so we can share with you our top stories!