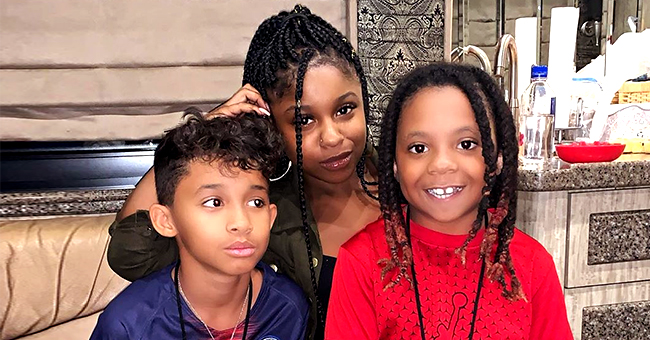 Instagram/colormenae
Reginae Carter Shares Photo of Younger Brothers & They're Dad Lil' Wayne's Mini-Mes

Photos of American rapper Lil Wayne's three children together has left the internet shell-shocked because of their eerie resemblance to him.
Reginae Carter, Lil Wayne's oldest child and only daughter shared two pictures with fans on Instagram, both are practically the same except for the difference in their poses.
As always, Reginae flaunted her swag wearing an army green jacket and matching boot cut pants. She left the long-sleeved coat open to show a fitted black tee that showed off her toned midriff and curvy bosom.
Every avid follower of the 19-year-old beauty knows she has a thing for trendy fashion. Her laid-back ensemble in this photo is indeed just the tip of an iceberg.
LITTLE NEAL AND DWAYNE GOT EVERYONE'S ATTENTION
There was no way little Neal and Dwayne would let their big sister drown them out! The youngsters, who are both ten years old, looked just as cool as pretty Reginae and they seemed to channel their sporty side.
Dwayne, who will clock 11 in October, wore a sports shirt atop short blue jeans while little Neal rocked a red hat had a sporty logo on it and black pants.
Dwayne and Neal cutely had on bright, toothy smiles. Going by their surroundings, the trio were in an elegant room where they posed for the shots while sitting on a large sofa.
Little Neal sat atop Reginae's laps while Dwayne sat close beside them. The second was most charming as Reginae put both of her arms around the boys, and they all had on a sweet smile for the camera.
"Freed the Carter, N*ggas need the Carters #Brothers," Reginae sweetly wrote in her caption.
THEIR EERIE RESEMBLANCE TO LIL WAYNE
The tight-knit bond between the trio is evident even though they are all born to different mothers. Thanks to the striking resemblance between all three, there is no mistaking that they are indeed siblings.
Little Neal, who rocks dreadlocks just like his famous dad, is, however, the one that bears an eerie resemblance to him. He is like a miniature Lil Wayne as he smiled excitedly while looking straight into the camera.
The photos quickly garnered attention for this, and so far, they have amassed nearly 150k likes and hundreds of comments. One fan, @ibensavage referred to Neal's striking resemblance to Lil Wayne saying:
"Why Lil bro looks like he gon kill da game in da future... Lil Weezy."
Another fan, @__tiearraj___, spoke directly to Reginae saying:
"I know you love being the only daddy's girl...I love how you love on all your younger siblings."
Judging from the All-Access passes wrapped around the boys' necks, the picture seems to have been taken at one of Lil Wayne's tour stops as he hit the road with Blink-182. Here is to hoping for many more like it!
Please fill in your e-mail so we can share with you our top stories!