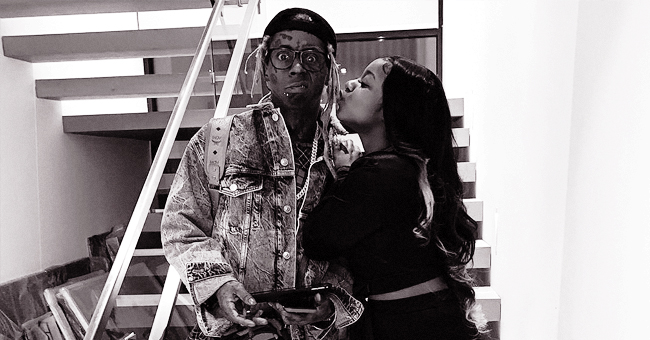 Instagram/theshaderoom
Reginae Carter Gives Father Lil Wayne a Kiss on the Cheek in Rare Photo
Among his many adoring fans, Lil Wayne's daughter is perhaps his biggest and certainly the most important fan in his life.
Reginae Carter and her father Lil Wayne, whose real name is Dwayne Michael Carter Jr., are a father-daughter duo who are not afraid to share their sweet bond with the world.
The two were photographed in a black-and-white picture in which Reginae showed a small display of affection for her rapper dad. The photo is found below.
In the shot, Reginae goes to give her dad a small peck on his check. The quirky rapper has a funny expression on his face as he looks straight into the camera.
Reginae, 20, is not just a daddy's girl, but she's also following in his footsteps. Earlier this month, she recorded and shared a clip of her rapping to Wayne's 2008 song, "La La."
Adding some of her own personality to the song, she revamped the verse in which her father rapped about her. Clearly, the gorgeous woman is ride or die when it comes to her pops.
In addition to inheriting some of his talents, some say that Reginae even looks like her father. She shared an almost bare-faced picture in May this year and fans could not help but notice the resemblance.
She captioned a picture of her sitting on a red couch with just the word "Loungin'." In the comments, fans had a lot more to say of the photo, many of them pointing out that she looks just like her father.
Though the two have always been close, a recent death in the industry made the reality star appreciate her loving dad even more. When Nipsey Hussle passed away, Reginae spoke up on the show "TI and Tiny: Friends and Family Hustle."
She told her mother that such things help you remember how quickly loved ones can be taken away. In light of Hussle's untimely death, she got a fresh outlook on her relationship with her father.
The death motivated her to spend more bonding time with him, and not just focus on the financial support he's always given her. Instead, she wanted to make more memories.
The show also forced her to reflect on her relationship with rapper YFN Lucci. Reginae's mother, Toya Wright, expressed her lack of support of her daughter dating a rapper back in October 2018.
However, as it goes with persons in relationships, Reginae found it difficult to agree. Still, Wright said she disliked the fact that Lucci is so much older, that he has four kids, and that he lives a typical rapper lifestyle.
Since Reginae's dad is indeed a rapper, it only makes sense that she'll still be open to dating them if she decides to officially split up with Lucci. Whatever she decides, she knows that her daddy will always be there for her.
Please fill in your e-mail so we can share with you our top stories!