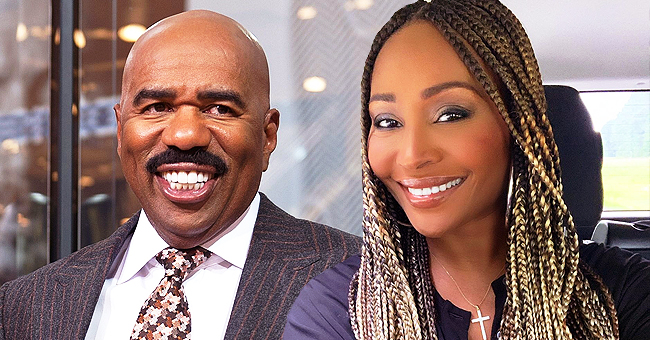 Instagram/cynthiabailey10 // Getty images
Cynthia Bailey Thanks Steve Harvey for Setting Her up with Mike Hill after Engagement

Cynthia Bailey thanked Steve Harvey for setting her up with the man of her dreams.
Cynthia Bailey, 52, took her search for love to Steve Harvey, and he introduced her to Mike Hill on his show, along with two other possible Mr. Rights.
Now Mike has popped the question, and an ecstatic Cynthia can't stop thanking Harvey.
MIKE HILL PROPOSES TO CYNTHIA BAILEY
Mike popped the question at the opening of Cynthia's new business The Bailey WineCellar in Atlanta with the help of her daughter Noelle, and his daughters Kayla and Ashlee.
Mike got down on one knee in time-honored tradition and placed a dazzling 5-carat princess cut diamond solitaire on Cynthia's finger.
"Never give up on love. we are all deserving of the best feeling in the trust God & go with your heart. God's plan, God's will & God's speed, not yours. always believe. never stop. never settle. be happy. and grateful. love can show up when you least expect it & in the unlikeliest of places. thank u my friend @iamsteveharveytv. and when it happens, don't walk, run toward it. and enjoy. life is too short" Cynthia wrote
Harvey is so happy about the match that he is thinking about making a few more
CYNTHIA WAS GOING TO PICK THE "WRONG MAN"
Harvey introduced Cynthia to Hill when she was a guest on his "Steve Harvey Show" as one of three eligible bachelors. Harvey revealed that Mike wasn't Cynthia's original choice.
"Cynthia Bailey was going to pick somebody else. I told her, 'You're not picking that guy. You're going to pick this guy,'" he said.
CYNTHIA BAILEY'S COMPLICATED LOVE LIFE
Before she met Mike, Cynthia had been married to Peter Thomas whom she divorced in 2017. Cynthia had previously been in a relationship with troubled NBA star Jayson Williams in 1996, but when he proposed, she said no.
CYNTHIA BAILEY TO SET THE DATE
Now that Harvey did the matchmaking, and Mike proposed, it's up to Cynthia to set the date and plan the wedding.
We can't wait to see the happy couple walk down that aisle. Congratulations Mike and Cynthia, we wish you all the happiness in the world.
STEVE HARVEY MATCHMAKER?
The one person who is as happy as the prospective bride and groom is Steve Harvey who not only introduced the two but made sure that Cynthis Bailey picked Mike Hill as "Mr. Right."
Harvey is so happy about the match that he is thinking about making a few more since he seems to be pretty good at it.
Harvey wrote a boke called "Act Like a Lady, Think Like a Man" in which he advises women on how to conduct a successful relationship.
It looks like Steve Harvey knows what he's talking about!
Please fill in your e-mail so we can share with you our top stories!