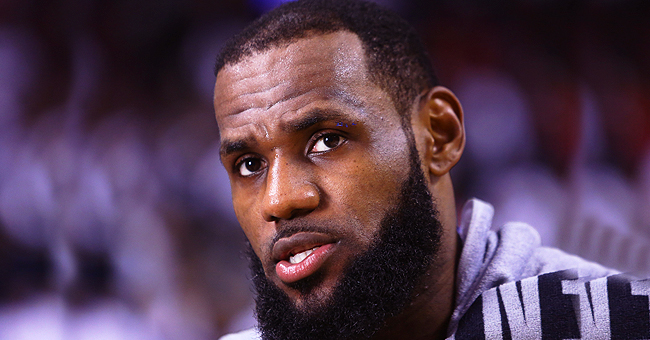 Getty images
LeBron James Slammed for 'Making a Spectacle of Himself' at Son Bronny's AAU Game
LeBron James was criticized for celebrating his son LeBron Jr. team's victories too enthusiastically, just like any other proud dad would.
LeBron James' may be an NBA star, but he's a father too, and very proud of his son and his achievements.
Just like any other dad, he expresses his joy courtside, but now he's being criticized for drawing attention away from the kids.
BEING FAMOUS ISN'T ALWAYS A PLUS
James is discovering that being famous isn't always a plus, especially since he is hounded by cameras and paparazzi wherever he goes.
Now that attention is interfering with his enjoyment of his 14-year-old son's success as an AAU team player, and social media has been criticizing his presence and even the way he applauds the team.
Le Bron Jr. and his teammates, and even their opponents love having James there
LEBRON JAMES' SIDELINE ACTIONS
Several clips have been shared, one showing James celebrating after his son throws down an in-game dunk. In another clip, James can be seen leaping into the court and losing a shoe after LeBron Jr.'s teammates throw an alley-oop.
SOCIAL MEDIA SLAMS LEBRON JAMES
Social media has come down hard on James, accusing him of stealing attention away from the young players with his antics, and of using his son's budding career to boost his own brand.
"LeBron is making a spectacle of himself, a circus of his son's early playing days, and using his son's game as another platform to build the LeBron social media brand," said sports journalist Jason Whitlock.
OTHERS APPLAUD LEBRON JAMES' CONTRIBUTION
Of course, there are always two sides to every argument, and while some dislike James' attitude and presence at the games, others applaud the way he is supporting and encouraging young players.
Le Bron Jr. and his teammates, and even their opponents love having James there and rubbing shoulders with an NBA great. And if the kids love it, who are we to judge?
LEBRON JAMES SHARES PHOTO OF HIS KIDS IN "UNIFORM"
When NBA star LeBron James signed a contract with the Los Angeles Lakers, he decided to celebrate the moment with a very special post on Instagram.
He took a photo of his three kids wearing black shorts and black shirts that read "James" and "23" in golden letters and numbers.
"The Migos! Bronvo, Bryset and Zhuroff. Gone miss this show while I hit the road for 2 week!! But when I return I know y'all concert will be even better and I can't wait to see it. Love y'all beyond life itself [sic]," he captioned it.
LeBron shares his three sons LeBron Jr., 14, Bryce, 12, and Zhuri, 5 with wife Savannah Brinson, his high school sweetheart.
Please fill in your e-mail so we can share with you our top stories!