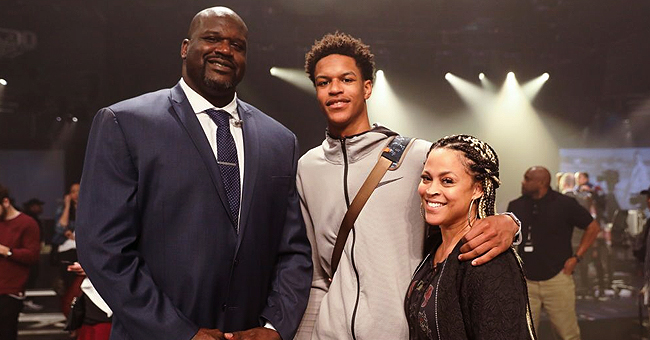 Getty images
Shaunie O'Neal Shares Video Showing Son Shareef Got Tattoo of Her Face

The star of the reality TV series, "Basket Ball Wives," shared a video on Instagram revealing an intriguing tattoo her son, Shareef O'Neal made of her face.
The ex-wife of the basketball legend, Shaquille O'Neal, expressed her excitement over the unbelievable tattoo.
SWEET MOMMA
In an Instagram video, reality television star, Shaunie O'Neal revealed a beautiful tattoo of her that her son Shaquille drew on his arms. The colorful tattoo was boldly drawn over her son's upper arm and was the replica of a photo of the "Basketball Wives" star.
In her video, the speechless mother of five displayed a full view of the artwork and then compared it with the real picture that inspired it. Such love shown by a son to his mother has undoubtedly crowned her the queen of her son's heart.
SHAUNIE WAS DELIGHTED
After sharing the video, the celebrity mom went on to share how she felt via her caption. She wrote:
"I am really speechless."
A series of emojis followed this before she added that it was lit, using a fire emoji.
FANS ARE THRILLED
Fans of the reality TV star took to the comment section to express their admiration for such an amazing gesture from a son towards his mother. One fan commented saying that
"a son's love is priceless."
Another comment lauded the mother of five for being an amazing mother to her children, saying:
"You are an intelligent, beautiful and amazing mother… It completely shows that you are raising kings and queens… That is a wonderful love between mother and son… God bless."
Others could not stop commending the creativity of the perfect artwork, which looked just like Shaunie.
HEART SURGERY
This gesture came after the young O'Neal recovered from a life-threatening condition that required him to undergo heart surgery. All through his period in the hospital during his trying moments, the single mother of five stood by her son.
This might be his way of showing his gratitude to her for being there for him when he needed her most. The love of a mother can never be matched; the UCLA basketball star learned this first hand after discovering that he was born with a defect in his heart, which needed to be rectified surgically.
The single mom revealed on her VH1 show that she felt her heartbreak after hearing the news. Even after the surgery was a success, the star still got emotional as she recalled the tragic discovery.
"It's an artery that just grows in the wrong place. He was born with it. He literally could have died from it."
That event marked the hardest thing the family ever had to face, and they came out stronger and closer for it.
SHAUNIE THREW A WELCOME PARTY
The Basket Ball wife threw a loving event afterward to welcome her son back home, and to thank family, friends, and well-wishers for their support during Shareef's health struggles.
She also announced that the 19-year-old athlete would be returning to UCLA to complete his degree, away from the comforts of Shaunie's home. In 2016, the reality show star introduced a new series, which was to give an inside view of how the star survived life as a single mother of healthy children.
In the series called "Shaunie's Home Court, " the star mom revealed her five beautiful kids to the world, and since then, the show has aired on VH1, following up on the lives of Shaunie and her beautiful kids.
Please fill in your e-mail so we can share with you our top stories!