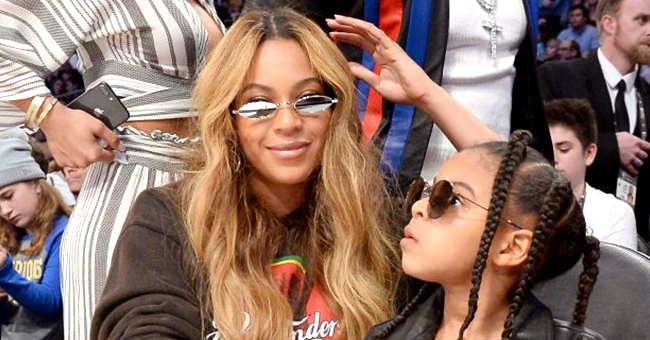 Getty Images
Beyoncé's Daughter Blue Ivy, 7, Lands First Billboard Top 100 Song with 'Brown Skin Girl'

At 7 years old, Blue Ivy Carter has just landed her first Billboard Top 100 hit with "Brown Skin Girl," a collaboration she had with her superstar mom.
Blue Ivy Carter just joined her mom and dad as music royalty, as she just accomplished something that no other child has: she's secured a spot on the Billboard Hot 100 chart, landing on its 76th spot.
Blue's song "Brown Skin Girl" is a collaboration she has with her mom, hip-hop artist SAINt JHN, and Wizkid.
The little girl stunned fans from around the world after harmonizing in the tune, which even brought about the "#BrownSkinGirl" challenge.
The powerful lyrics of the song read: "Brown skin girls, skin just like pearls, best thing in the world, never change it for anybody else." Towards the end of the song, Blue Ivy has a solo in which she sings the chorus.
Beyonce's New Album
The tune was a part of Beyonce's curated 27-song "Lion King" soundtrack, which of course, also landed on the charts. In fact, her album "Lion King: The Gift" went as far as No. 2 on the Billboard 200 chart, and No. 1 on the R&B\Hip-Hop chart.
Clearly, the eldest Carter daughter has got both her parents' genes flowing through her veins, and this collaboration is just the start of her long career.
Following Footsteps
The fact that Beyonce has been slowly integrating her daughter into the music industry proves that joining in on her parents' craft is something that people can expect from Blue in the next couple of years.
Her collab with "Brown Skin Girl" comes after her surprise appearance on her mom's music video for "Spirit," one of the tracks on "The Gift."
In the video, she is seen dressed in a lilac gown to match her mom's outfit. They have raging red hair, and the two of them appear together during the start of the video.
Please fill in your e-mail so we can share with you our top stories!