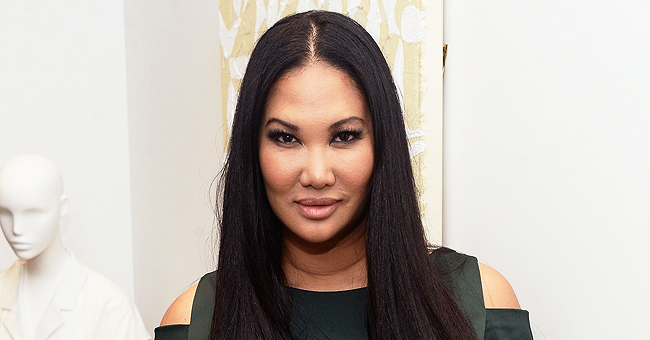 Getty images
Kimora Lee Simmons' Daughter Aoki Shares Poem, Says She's 'Sensitive to White Girls'

Kimora Lee Simmons' youngest daughter Aoki Lee Simmons opened up about being a young woman in a society that discriminates the color of her skin.
Aoki Lee Simmons is more than just the daughter of a celebrity, she is a thoughtful young woman, who is not afraid to speak about sensitive subjects in a loud, and poetic voice.
In a recent Instagram post, now deleted, 16-year-old Aoki shared a poem about her feelings with regards to White girls - girls just like her. Or are they?
BEING AOKI IN A WHITE-GIRL WORLD
Aoki's poem speaks feelingly about her experience as a mixed-race young woman in a society that still discriminates: sometimes subtly, sometimes with distressing crudeness.
The often cruel and vicious world of high school dynamics can be even harsher on girls like Aoki - bright, beautiful, sensitive...and not white.
"I am sensitive to white girls. When they get the boys, the jobs, the things I wanted- Even if they don't get them! those rare times, they never wonder if it is because of the color of their skin. And I am left to wonder if I lost out, because of mine," she wrote.
Aoki's famous mom, Kimora Lee Simmons is half Japanese and half African American
THE BITTER TASTE OF DOUBT IN A BLACK-AND-WHITE WORLD
Aoki admitted to envying white girls what she perceives as their lack of insecurity with regards to how the color of their skin impacts their lives.
"I am sensitive to white girls. Or perhaps the word is jealous! So aware of them, when they walk through the world free from those kind of doubts. One less thing on their shoulders, One less worry to bear," she wrote
SISTERHOOD BEYOND SKIN COLOR
But if Aoki's poem starts with her own unique doubts and struggles, it ends by acknowledging that white girls, black girls, mixed-race girls, all face discrimination as women in a patriarchal society.
"I am sensitive FOR white girls. For the doubts we all face, the glass ceilings we all try to break, the discriminations we all fight. But I can't help but wonder about white girls. How does it feel to not constantly be told, you are not beautiful or not enough, in this hurtful world," she wrote.
SISTERS OF ALL COLORS
Aoki dedicated her post to her sisters of all colors, and appealed to her readers not to take the poem "the wrong way."
"Summer of writing snippets! (Love to all my sisters of all colors so don't take this one the wrong way," she wrote.
Aoki's famous mom, Kimora Lee Simmons is half Japanese and half African American, which lends her an exotic beauty which her lovely daughter has inherited.
Keep writing your truth, Aoki. Your words touch many hearts.
AOKI LEE SIMMONS GOES IVY LEAGUE
Aoki Lee Simmons isn't just an extraordinarily beautiful and thoughtful young lady, she is also exceptionally bright.
Kimora Lee Simmons's daughter has been accepted into Harvard at just 16, and her reaction to the news was priceless.
In a clip posted on Instagram, she can be seen reading the acceptance e-mail with tears running down her face, while her excited mom screams in joy in the background. She captioned the clip:
"I'm going to Harvard baby! Insert emotional crying face. @kimoraleesimmons "thank god you got in on your own honey cause you can't row" thank you so much to every single person who helped me along the way. I am excited and honored and so so grateful. #harvard2023"
Aoki will be joining Harvard in 2023. Watch out world, this young lady is going to shake things up!
Please fill in your e-mail so we can share with you our top stories!