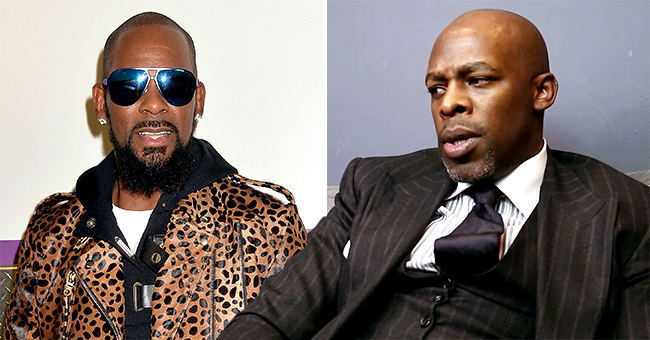 Youtube/djvlad // Getty images
Joe Reveals How R Kelly May Have Tried to Sabotage His R&B Career

R&B singer Joe reveals R. Kelly tried to sabotage his career thinking he was "more important" than other acts.
When Joe's career started kicking off, his fellow Jive Records label member tried to sabotage his career. During an interview with Vlad TV, he revealed that the convicted singer tried to threaten radio stations not to play Joe's music or else he wouldn't perform at any more radio events.
Unfortunately for Kelly, the ones he actually threatened are good friends of Joe who immediately told the artist about what his fellow record label member was trying to do to him.
Tearing Each Other Down
With both of them at the peak of their careers, it was one man trying to tear the other down. While it seems like such a horrible thing to do to someone who was just trying to make a living, Joe clarifies that he and Kelly are in good terms and he never brought up the situation to the singer.
If Joe ever decides to confront Kelly about it, though, he would have to wait as the singer is currently locked up in jail for multiple charges on child sex abuse, pornography, sexual assault, and a lot more.
Solitary Confinement
In fact, he has no contact with the outside world aside from visitations from his lawyer and closest allies. His lawyer, Steve Greenberg, even shared that his client is asking for a laptop to continue working on his music while in jail.
"He [Kelly] wants his computer so he can finish up the record album he has been working on. My client needs to make money and he has been precluded from doing so because of his legal situation," he said.
Conflicting Requests
This is quite an odd request especially since Kelly is known for not being able to read due to his learning disability. However, Green confirms that he was able to go to grammar school.
"Basketball got him through grammar school; and although he couldn't read or write, he had a high school music teacher who taught him to learn music and sing before he dropped out."
Kelly awaits his trial in jail, currently locked up in solitary confinement at the Metropolitan Correctional Center.
Please fill in your e-mail so we can share with you our top stories!