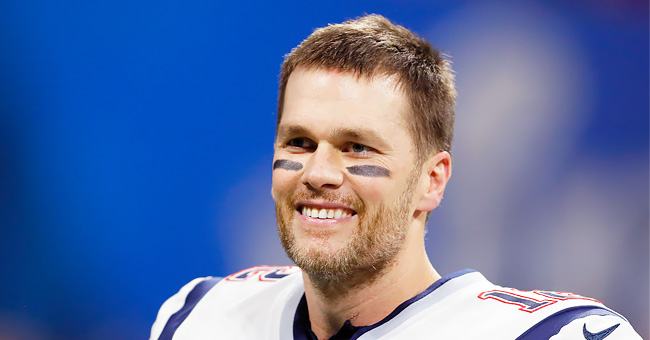 Getty Images
Tom Brady Has 3 Children from 2 Different Women - Meet All of Them
Tom Brady is known for his NFL adventures, his "Patriots" Super Bowl six-time winning streaks which made him the greatest quarterback of all time, and more importantly, his love for his three amazing children.
The four-time super bowl MVP award winner, Tom Brady might be the luckiest man alive, with his sports' achievements, athletic prowess, and his renowned connection to two beautiful women who are the mothers of his three children.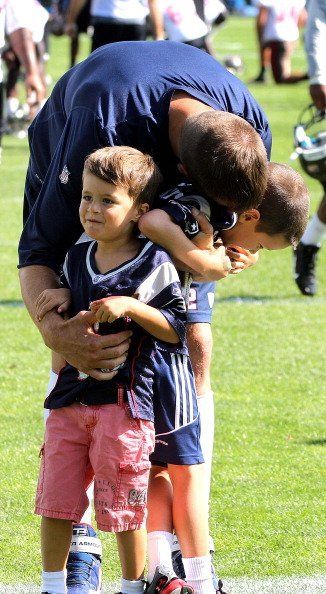 Tom Brady and his sons, John and Benjamin | Photo: Getty Images
Being the only quarterback to reach 200 regular wins even after age 40, the legendary athlete has played his way into the hearts of sports lovers. His many Super Bowling accomplishments has left many curious as to whether the undeniable talent has rubbed off on his kids.
Although the oldest of the children is only twelve, this has not stopped the trio from being widely sort after. Luckily, they are not far off, as they always occupy the front bench in all their father's games, continually leaving them in the spotlight. So what is known about the celebrity trio?
The iconic football player got his children from two different women, Bridget Moynahan, and Gisele Bundchen. His relationship with Bridget ended in 2006, but unknown to them, the 48-year-old actress was already pregnant for him before the breakup.
She bore him a son, John in 2007, as at then, he was already in a relationship with his model wife, Gisele. He has two children with the Brazilian supermodel, Benjamin, and Vivian. Together, they all make one big happy family.
Also known as Jack, John Edward Thomas Moynahan, is Tom's first son, and only child with his former sweetheart. The 12-year-old was born in Santa Monica, California, at Saint John's Health Centre.
His birth on August 28, 2007, was circumstantial, following his dad and mom's separation. The little boy has a passion for sports, just like his dad, and hopes to be a professional athlete in the future, as revealed by his mom.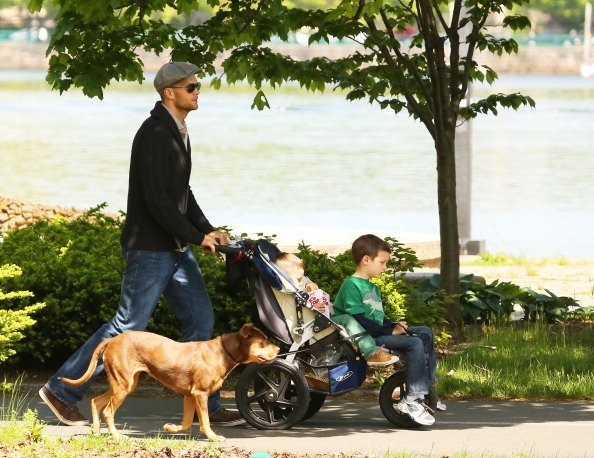 Tom Brady and his sons, John and Benjamin | Photo: Getty Images
This brown haired celebrity kid resides with his mom and stepdad, Andrew Frankel, in NYC, and is currently being homeschooled.
Benjamin Rein Brady is the ten-year-old son of Tom and Gisele, born to the couple on December 8, 2009. He has a nickname, Benny, and is a jolly good lad that brings joy to people, according to the Patriot's champion.
Fans witnessed his contagious joyful nature at the 2017 Patriots Victory parade, where he thrilled everyone with his amazing dance moves. The little celebrity also has an interest in sports, especially hockey and football.
He enjoys skiing, cycling, watching cartoons, and eating pizza. Like his half brother, he is being homeschooled.
This blond six-year-old, Vivian Lake Brady is the only daughter of the football legend, and admittedly, his favorite kid. She was born on December 5, 2012, in the USA.
Although not a sports lover like her male counterparts, she never misses an opportunity to cheer on her athlete father at his games. That, and her excellent throwing skills are her only links to the sports; being a girl, she is more in line with her model mom.
The star child showed interest in fashion and modeling, with her ever-stylish outfits that make her the cynosure of all eyes in all public appearances.
Cooking is also Vivian's thing, as she enjoys baking cookies. Although Tom is optimistic that his only daughter possessed his sports genes, and would someday develop an interest in tennis or soccer, the little girl certainly prefers enjoying a sunny day at the beach, to chasing after balls.
Notwithstanding his acclaimed personal favorite, this New England Patriots football captain has enough love to go round for all his children; maybe too much.
His love for his little ones has sparked controversies in the past, the most recent one being in 2018. He was captured on camera sharing a lingering kiss with his eldest son following a football win, and the appropriacy of such parental kiss roused debate among fans of the legendary champion.
If the family continue being this lovable, the amazing kids of the greatest quarterback player of all time are sure to storm the world soon, just like their famous parents, and the world can hardly wait to hear tales of their adventures.
Please fill in your e-mail so we can share with you our top stories!