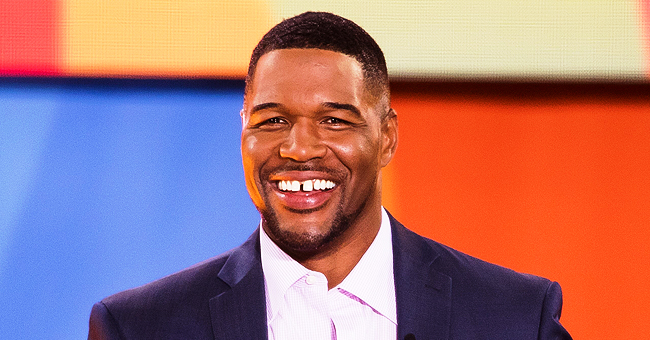 Getty images
Michael Strahan Shares Adorable Photo of His Twin Daughters Sophia and Isabella Rocking Matching Braids
Doting dad Michael Strahan shared yet another photo of his adorable identical twins Sophie and Isabella.
Former football star and "Good Morning America" co-host Michael Strahan proudly shared a photo of his twin daughters, Isabella and Sophia, that melted hearts on social media.
Strahan, who has 2 other grown-up children, is clearly besotted with his cute teen daughters and it's easy to see why.
"My kids give me strength. I love being with the kids. To me it's all about family, now more than anything." Michael Strahan
DADDY'S BABY GIRLS
Strahan posted a photo on Instagram that shows his lovely twins standing together, with their long red hair in plaits.
Although Isabella and Sophia are as alike as two peas in a pod, they dress differently, and according to Strahan have distinct personalities and temperaments.
FANS LOVE "BABY GIRLS"
The adorable pic of the two girls garnered dozens of admiring comments from his fans, who couldn't stop praising Isabella and Sophia's beauty.
"❤️beautiful girls u must be a PROUD dad."
"You have Very pretty girls I know that you are so proud. I can see your mom in there eyes. ??"
"Your an amazing dad. ♥️Your girls are so gorgeous."
"They're just adorable, love ve they're hair ❤️"
MICHAEL STRAHAN FATHER OF FOUR
For Strahan, fatherhood has always been the most important part of his life. His older children Michael Jr., 24, and Tanita, 27, were raised in Germany, which made for heartbreaking separations for the former football star.
"It was very important for me to be active, to be a part of their life. I was constantly on planes and phones. And it's very hard – of course it's hard with them being in Germany. But one thing I learned is, you make time for what you want to make time for," he said.
A LOVING BLENDED FAMILY
According to Strahan, even though the four weren't raised together, they are very close - and now they are all in the US.
Michael Jr. and Tanita are now both in college in Texas. Tanita is studying art, and Michael is pursuing a degree in psychology.
The twins Sophie and Isabella split their time between North Carolina and North Dakota, with lots of side trips to visit dad.
"The twins live a crazy life. One time they flew out to D.C. and interviewed the First Lady for GMA. Then the next day their mom was sending me a video of them riding horses and splashing around in a muddy corn field," Strahan said.
Looks like the twins' life is even busier and more exciting than their celebrity dad's!
MICHAEL STRAHAN'S TWINS TURN 14
Time flies! It seems like it was just yesterday that they were curly-top toddlers, and now Michael Strahan's twin girls are 14 years old.
The proud celebrity dad posted a special photo on Instagram to commemorate the special occasion, and captioned it:
"Happy 14th Birthday to my beautiful babies!! Love you more everyday and I'm so happy I was chosen to be your Dad!!"
Strahan is such a dedicated father to his 4 kids, that he received a Father of the Year award from The National Father's Day Committee in 2017.
Please fill in your e-mail so we can share with you our top stories!