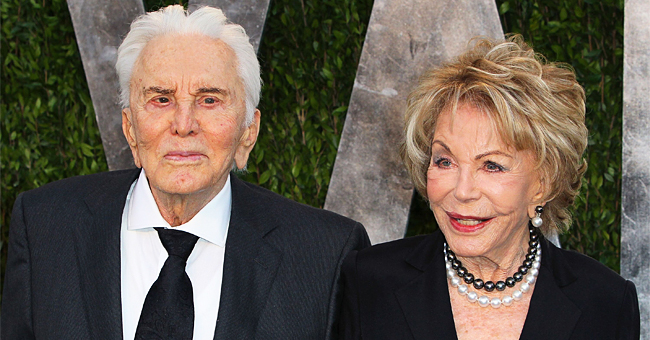 Getty Images
Kirk Douglas and Anne Buydens: Inspiring One-of-a-Kind Marriage of Six-Decades
The centenarian couple arrived at their 65th anniversary of marriage in May 2019, something than only a few Hollywood couples have achieved. Douglas might be Hollywood's Golden Era last living legend, but this is what he is most proud of.
102-year-old Kirk Douglas and his 100-year-old wife Anne Buydens have a romance that sounds like something out of the imagination of young lovers who dream of growing old and reach the end of their lives together.
Ever since they tied the knot on May 29, 1954, they have starred in a love story that had its ups and downs, like any of them. Today, they can look back and enjoy the memories of what has been an amazing ride.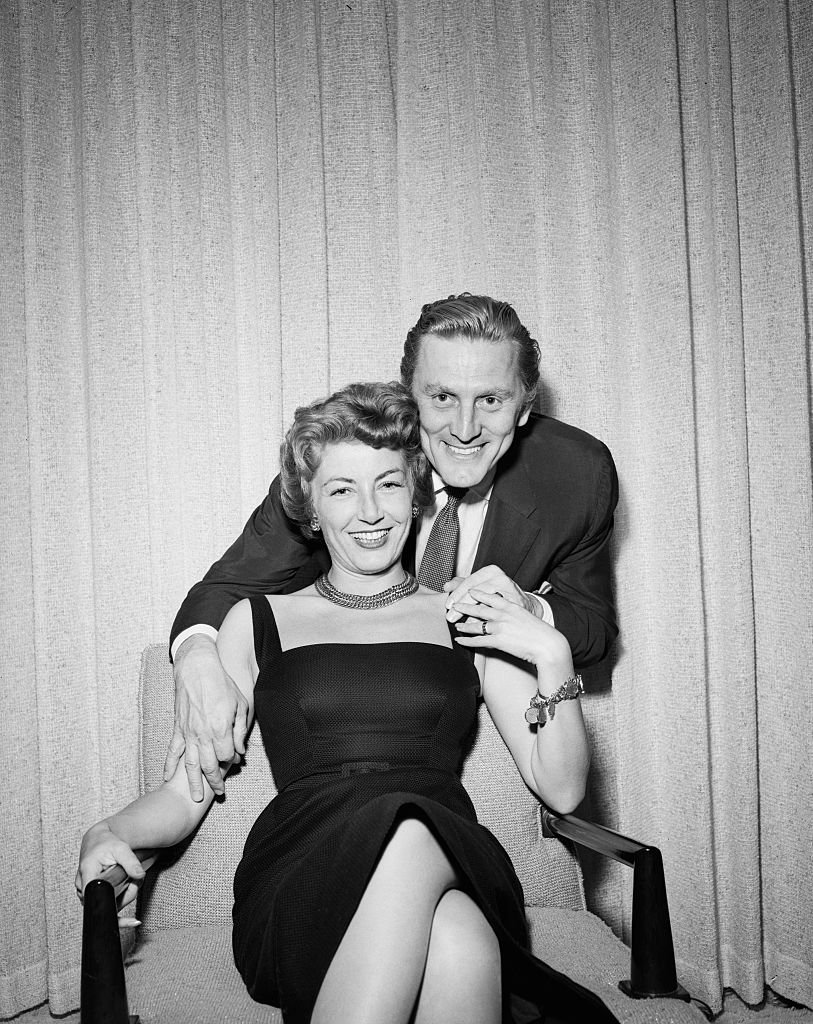 Back in the day. I Image: Getty Images.
MEET CUTE
Just like in any romantic movie, Douglas and Buydens have their own "meet cute," a remarkable first encounter that set the story forward and that the two will forever remember.
Even when Douglas was already a big star by the time he met Buydens during the shooting of a film in Paris, France, the man with whom thousands of women dreamed about was rejected by her when he first asked her out.
"She was the most difficult woman I ever met. I mean, I was a big movie star! And I invited her to dinner and she said, 'Oh thank you very much, but I'm so tired'," Douglas told USA today in 2017.
A CHALLENGE
Instead of feeling discouraged by Buydens' negative, the "Paths of Glory" star became even more attracted to her, and he knew he had to do something different that what he used to do to conquer a woman's heart until then.
"With no romance in the picture, I stopped trying to impress Anne. Instead, I stopped talking about myself and began to listen to her," Douglas wrote on "Kirk and Anne: Letters of Love, Laughter, and a Lifetime in Hollywood."
A NIGHT AT THE CIRCUS
Buydens gradually gave in and since the two had to work together for months –she was a film publicist in Paris and served as Douglas' translator sometimes during the shooting of "Act of Love"- they got to spend more and more time together.
Then, during one night, Douglas won Buydens' heart when he least imagined, as the two attended a charity gala held at a circus. It was then when she saw him jump into the fray and scoop elephant waste while wearing a tuxedo.
"That's what got me. It was not only funny, it was showing me that he was able to do things that are not expected from him," she admitted.
A LONG DISTANCE RELATIONSHIP
In 1955, two years after "Act of Love" was released and one year since Douglas and Buydens exchanged vows in what was the actor's second marriage, the couple became parents of Peter.
But both Douglas' and Buydens's jobs forced them to continuously travel, sometimes spending months apart and away from home.
"I am so sad and depressed — I don't think I ever wanted to be near you as much as right now," Buydens wrote Douglas in 1956, while working abroad at the Cannes Film Festival.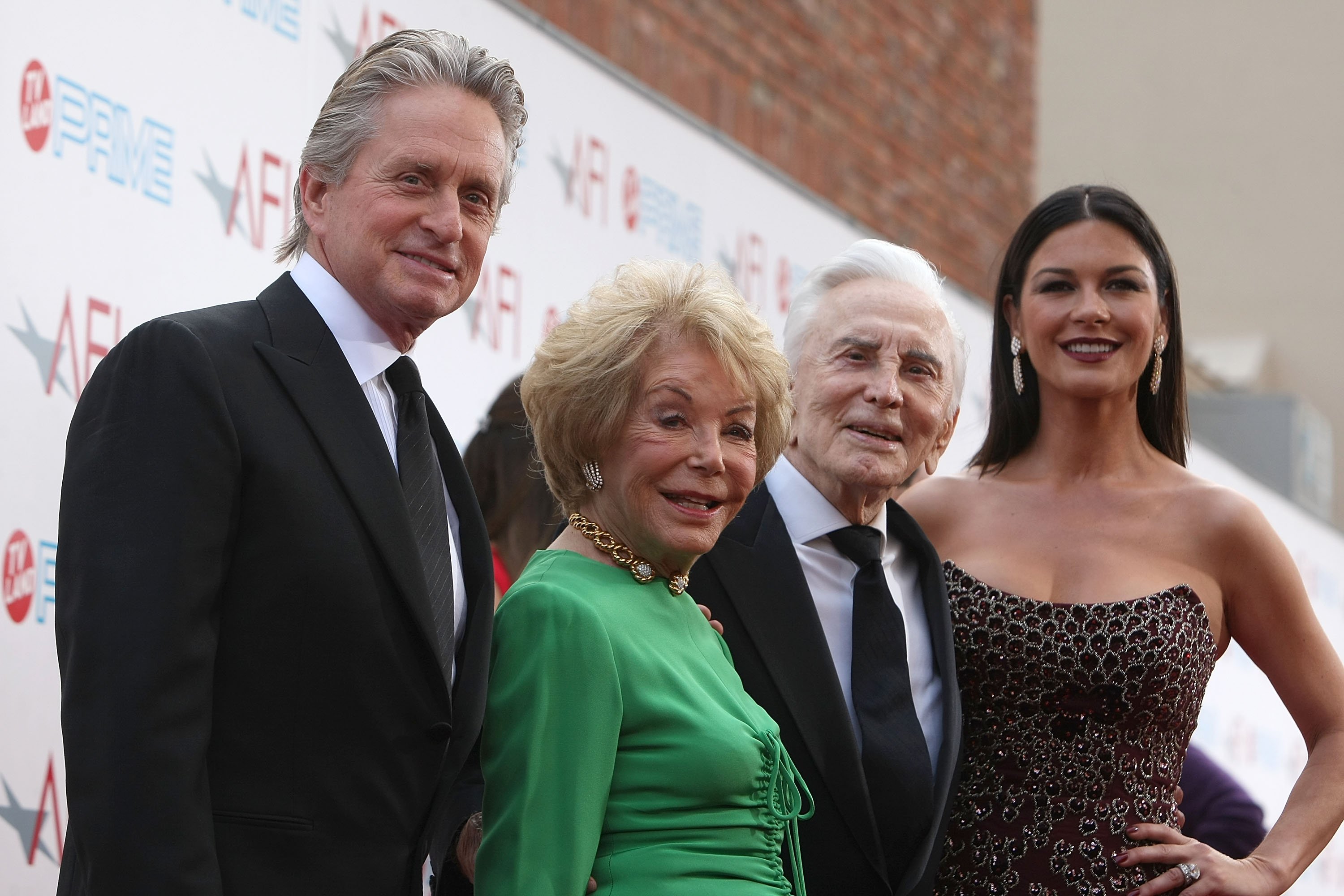 Michael Douglas, Anne Buydens, Kirk Douglas, and Catherine Zeta-Jones. I Image: Getty Images.
INFIDELITY WAS NOT A PROBLEM
Douglas' frequent travels and celebrity status also gave him many opportunities to have extra-marital affairs, sometimes with his female co-stars. But if it was too much for Douglas' first marriage, Buydens had a different way to deal with her husband's escapades.
"As a European, I understood it was unrealistic to expect total fidelity in a marriage," German-born Buydens wrote.
The only condition she established was that Douglas had to let her know about his adventures. "I wanted to hear it from him directly, not via an idle piece of gossip," she added.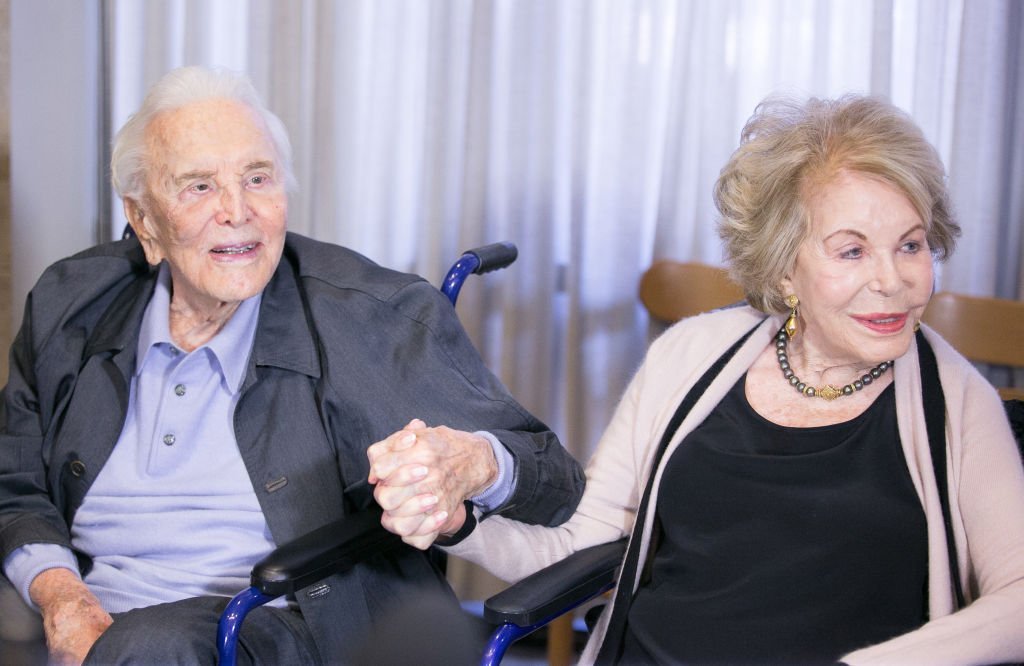 Kirk and Anne. I Image: Getty Images.
PRESENT DAY
The couple's longevity has allowed them to be present to see the family they started keep growing for a fourth generation, with Douglas having the privilege to meet his first great-grandaughter Lua.
Lua is the daughter of Kirk's grandson Cameron, son of Kirk's most famous son Michael, an acclaimed actor in his own right.
Kirk was there when 74-year-old Michael was honored with a star on the Hollywood Walk of Fame, making the moment even more meaningful for the "Basic Instincts" star, who was visibly touched and proud during the ceremony.
But even more impressively, Kirk and Anne have witnessed first-hand what unconditional love is like, and they have been lucky enough to feel a love mature throughout the decades.
"Romance begins at 80/ And I ought to know/ I live with a girl/ Who will tell you so," reads a poem by Kirk featured in his collection of poems and stories titled "Life Could Be Verse," released in 2014.
Please fill in your e-mail so we can share with you our top stories!