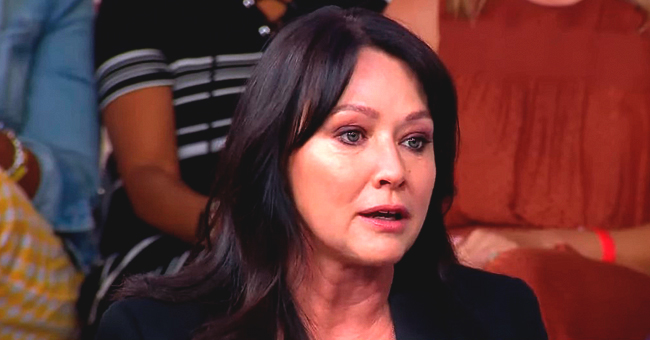 Youtube.com/Good Morning America
Shannen Doherty Talks about Late Co-Star Luke Perry while Promoting 'Beverly Hills 90210'

Shannen Doherty will be reprising her role as Brenda Walsh in a reboot of the hit 90s show, but she knows there will be "some heart" missing in the series.
The "Beverly Hills 90210" reboot will feature most of our favorite cast members who appeared in the original teen show back in the 90s. Sadly, Luke Perry has left us.
Doherty, 48, went on to "Good Morning America" to talk about her former co-star's felt absence in the filing of the revival. The interview clip is found below.
The dark-haired actress explained that she returned to the show because of what she and Perry had created with their "characters" and relationship," as well as the "love between the two" of them.
"It felt like the right thing to go back and do a show that I know meant so much to him," said Doherty. Dressed in a white camo underneath a black blazer, she looked quite fashionable for the occasion.
She also donned a pair of dark jeans and polka dot heels as she carried a black crossover bag. The star accessorized with a gold watch and two gold necklaces.
When hosts Michael Strahan and Robin Roberts further inquired about working without Perry, Doherty described it as "surreal," and continued, "all of us together again and sort of realizing that you're missing a key component, you're missing some heart."
She went on to say that "Luke was all heart and all humility and beauty and grace and humor and just grounding, earthy human being. So, he was missed sorely for sure."
The actress also updated the "Good Morning America" cast and viewers on her battle with breast cancer, which she was diagnosed with in the year 2015.
In September 2018, she appeared on the show and revealed her struggles as well as the treatments she had undertaken to combat the disease.
On Monday she told them: "I'm doing good. It's a roller coaster and some days you're up, some days you're down but I think the most important thing is that you always go, 'I'm alive' and I'm so blessed and I'm so grateful for every single second that I'm here."
Going back to the show, Doherty explained that its apparent success can be attributed so the nostalgia people get from it, especially as a getaway from everything that's currently going on in the world.
Doherty will also be paying tribute to Perry by guest appearing on "Riverdale," which Perry had wanted her to go on for a long time according to showrunner Robert Aguirre-Sacasa.
Speaking on Monday, Doherty admitted that she "bawled [her] eyes out" when she saw the script. She said it would be "a beautiful episode that is nothing but a tribute to his character and to Luke himself."
Aguirre-Sacasa said Doherty's presence on set was "very emotional" and that the tribute would "reflect Perry's enduring legacy and the indelible imprint his character left behind."
When Perry passed away due to a stroke on February 27, Doherty was among many friends who were left devastated.
She took to Instagram to share a picture of her and Perry smiling and said in the caption that she was "struggling with this loss and [...] having a hard time with [her] thoughts."
The two, who dated on "Beverly Hills 90210," never lost touch with each other over the years. Doherty's first tribute post would be followed by many, including one about her "Riverdale" appearance.
Our hearts go out to her as she continues to deal with the loss.
Please fill in your e-mail so we can share with you our top stories!