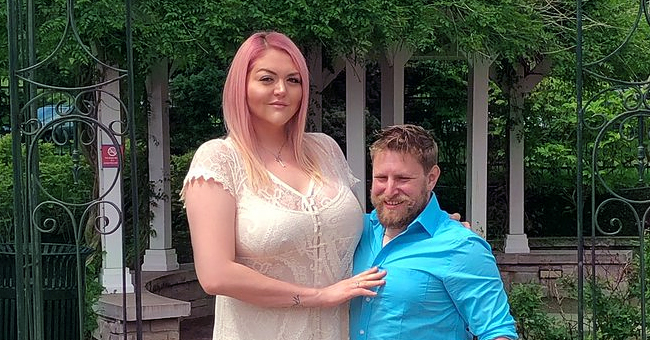 Twitter/LindsayKHayward
Where the Cast of 'My Giant Life' Is Two Years after the Show Ended

Stars of TLC's reality show "My Giant Life" gave people an insight into the unique challenges they face daily. The show may have ended, but their hope for a more accepting future continues.
Since the show first aired on July 2015, the cast consisted of Colleen "Coco" Smith, Haleigh Hampton-Carvalho, Lindsay Kay Hayward, and Nancy Mulkey, who got replaced by Katja Bavendam in the second season.
When the show ended two years later, their lives continued to unfold while they hoped their time on the show made a change to people's perceptions.
HALEIGH CARVALHO
The reality star wed her longtime boyfriend, Bryan Carvalho in Los Angeles after a three-month engagement on June 25, 2015, almost a month before the series premiered on July 14, 2015.
When Haleigh got pregnant the following year, her dreams of homebirth got canceled due to pregnancy complications that required her to give birth in the hospital.
After the couple welcomed their daughter Kaia James Kamalei Carvalho on Valentine's Day in 2017, Haleigh's parents started nagging them to move closer to help take care of their granddaughter.
However, two years later, on April 2, 2019, Haleigh gave birth to their second child and son, Owen "Olly" Alexander Kaleo Carvalho. Born two weeks early, Haleigh described their newborn son as "pure magic" as she posted a picture of herself and Bryan with their son shortly after his birth.
"He was born 2/4/19 at 1:10 pm. 8 pounds 1 oz, 20.5 inches long after 21 hours of labor. His birth story was full of redemption, hope, healing, and Jesus. This little boy has been pure magic," she wrote.
LINDSAY KAY HAYWARD
As the tallest of the bunch, Lindsay is also the tallest actress in a leading role according to the Guinness World Records.
Standing at 6 feet 9 inches tall, she has a few acting credits under her belt that includes shows like Grey's Anatomy. However, Lindsay is mainly a professional wrestler under the names Isis the Amazon, and Aloisia.
COLLEEN SMITH
At 6 feet 6 inches tall, Colleen had to make her food preparation tables 13 inches higher than usual for her part-time food catering business. She worked at Trader Joe's in Liberty Station when asked to star in "My Giant Life" after she got spotted at a soda fountain on Rodeo Drive.
"My goal was to be myself and have the opportunity to be shown in an accurate light," Colleen said.
KATJA BAVENDAM
Katja only joined the show in its second season and standing at 6 feet 8 inches tall she towers over Julia, her wife only 5 feet 2 inches in height.
Wanting to start a family, the couple adopted two animal children, a terrier mix, and a beagle- chihuahua mix while waiting to have children of their own.
However, Julia is having trouble getting pregnant, and according to Katja, it has everything to do with the fact that Julia eats but eggs.
When it comes to expressing herself, Katja feels more "eloquent" in doing so through writing. In 2018, Katja announced her return to writing because it allows her to connect with her emotions far better than she had previously in her life.
"I've learned a lot about myself, and some of the revelations have happened while writing. So that's why I write – to connect with my essence, the stripped-down version of myself that has nothing to do with where I live, what I do for work, what I like to eat, and who my friends and family are," Katja wrote.
KRISTA KAY
A woman of diverse talents, Krista had an already thriving business as a life coach before she starred on the reality show. After dipping her toes in stand-up comedy, Krista also turned to writing, but not for the same reason as Katja.
In June 2019, Krista's children's book, "A Head Above the Rest" got published. As a story about a giraffe and its struggles with being different, Krista hopes that it would bring a positive message to youngsters.
"I just think it's a good book for kids because I guess I reflect on me growing up. And I grew up in a really small town in South Dakota in Mobridge where I kind of felt alone. So, I kind of think it's something to help people not feel like they're alone. If a tall kid or any kid that's different reads that book, it's like okay, even if it's just illustrated there, that they don't feel alone," she said.
Relatedly, Aeva Andersson from Donegal, Ireland didn't let unsavory comments about her height get her down either.
Standing tall at 6 feet 2 inches, young Aeva often got called a "monster" and bullied during her childhood, but she rose above the ridicule and became a beautiful model.
Please fill in your e-mail so we can share with you our top stories!