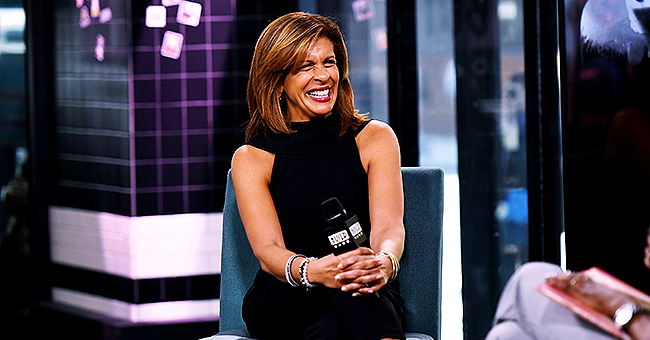 Getty images
Hoda Kotb Shares Photo of Her Daughter Playing in Sand on the Beach

Co-host of "Today Show," Hoda Kotb is a proud mother of two children and loves spending time with them. She showed a glimpse of this with a shared picture of her daughter, Haley Joy, playing at the beach.
Hoda Kotb may be nearing the end of her maternity leave but isn't backing out of having fun with her children. The television host posted an Instagram picture of her two-year-old daughter, Haley looking cute as she played in the beach sand.
HODA KOTB'S PICTURE POST
The beautiful 54-year-old has been spending the last few weeks of her maternity leave with family members and friends. A recent post last week on her Instagram page showed her with her brother, sister, and nieces, as well as her baby daughter, Hope Catherine.
Her latest post didn't have many faces, as it showed Haley Joy have some fun playing at the beach, and a new friend, smiling close by. Hoda captioned the post thus:
"My Mermaid found a new friend."
It was referring to her daughter and her newfound friend, who she may have met at the beach.
Hoda's fans who commented on the picture attested to Haley's fast growth, as they felt she was getting bigger. Some fans also pointed out that the little tot looked like Hoda.
Noticeably, there were no negative comments, unlike when Hoda posted about spending time with her family members, and some of her fans asked her to return to the "Today Show."
HODA KOTB MAKES SWIFT RETURN TO THE TODAY SHOW
While many of her fans want her back full time, Hoda Kotb will take a day break from maternity leave to make an appearance on the show.
The Friday episode of the morning show will see the co-host talk about her two daughters and the experience she is having raising them. She would also speak about her upcoming book.
HODA'S MATERNITY LEAVE
Hoda has thoroughly enjoyed her maternity leave, spending time with her two adopted daughters, boyfriend, Joel Schiffman, as well as her mom and siblings.
Though it has been a great time, she is excited to be getting back to the show. Her fans would also be delighted to have her again, as they have been waiting patiently for her return.
The television star's maternity leave for Hope is much more extended than the one she took for Haley in 2017.
Please fill in your e-mail so we can share with you our top stories!