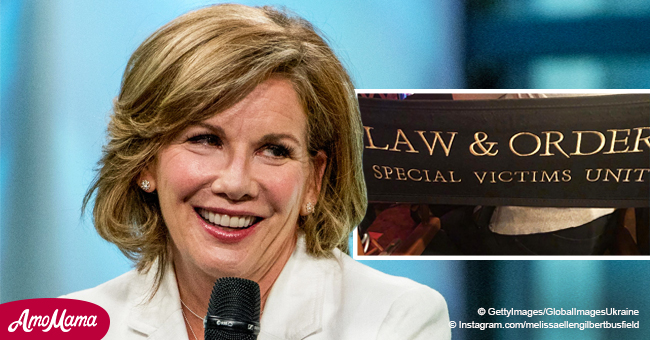 Getty Images
Melissa Gilbert's Fans Want to See Her on 'Law & Order: SVU' after She Visits Her Director Husband Timothy Busfield on Set

Melissa Gilbert recently took to her Instagram page to let her fans and followers know that she paid her husband, Timothy Busfield, a visit on the set of "Law & Order: Special Victims Unit."
As proof, the actress posted a photo of a studio chair that had the name of the famous and beloved television show on the back, written in bright golden letters.
Fans, of course, didn't miss the opportunity to ask Melissa to star on the show, at least in one episode, but the 55-year-old is yet to issue a reply.
A SPECIAL REQUEST FROM THE FANS
According to some viewers, who have been watching the show since day one, it would be nice to see her play a role in a future episode.
Melissa, however, has been keeping herself busy with a couple of projects here and there, such as the television films "Ternure" and "Hometown Christmas," as well as the upcoming "When We Last Spoke."

Photo: Instagram/melissaellengilbertbusfield
MELISSA AND TIMOTHY'S RELATIONSHIP
The couple has been together since 2012 and tied the knot in 2013, only six months after they started dating. It has been reported that the couple got engaged in a private ceremony with friends and family.
Having two children of her own, Melissa adopted the 62-year-old actor's children - Samuel, Wilson and Daisy, who seem to have a good relationship with their stepmother.
THE HOUSE'S UNOFFICIAL CHEF
A few weeks ago, Melissa took to social media to share a few intimate snaps with her fans, depicting her husband in the kitchen getting ready to cook a meal for her biological son, Michael Garret.
Timothy's enthusiasm drove female fans to praise him for being such a great husband and ask Melissa if he could teach their husbands how to cook as well.
The outcome of the meal is uncertain, but the family seems to have had a great time, especially the actor, who can be seen with a wide smile on his face while talking to Michael.
Please fill in your e-mail so we can share with you our top stories!