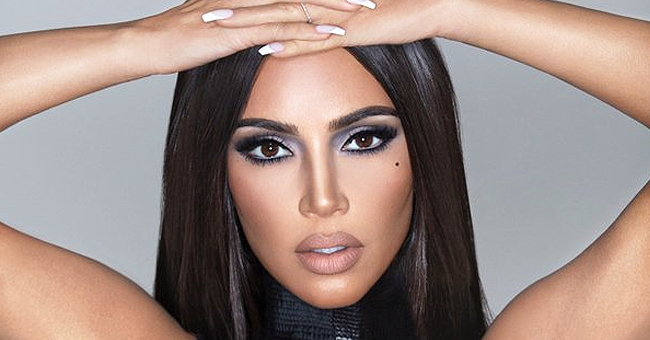 twitter.com/KimKardashian
Kim K. Slammed after Promo Pics of New '90s-Inspired Makeup Line: 'Who Is This?'
Oops! She did it again... Photoshopping, or cultural appropriation?
Kim Kardashian is being slammed on Twitter for her latest makeup promo shoot. Kim was criticized for not looking like herself in the latest photoshoot, and also for "copying" Aaliyah's look.
'"White eyeliner is one of my favorite looks with a 90's inspo black smoke eye!" Kim Kardashian
WHO IS THAT? KIM? REALLY?
In the maligned photo, Kim is posing with a gloved hand over her head and wearing a bold and dramatic green jasper choker and a satin bustier.
But what confused fans was that Kim's features seemed noticeably altered. Her nose looks thinner, and her mouth poutier.
"Maybe I'm still drunk but wtf. How's that Kim?" Comment on Twitter
KIM KARDASHIAN SLAMMED FOR CULTURAL APPROPRIATION
Other Twitter users lashed out at Kim for copying the look of the deceased Aaliyah and accused her of "stealing" from black women without giving them credit for the inspiration.
"I KNOW I'VE SEEN THAT FACE BEFORE..."
Once again, Kim is under fire for heavily photoshopping her photos, this time to the point of making herself practically unrecognizable to her more than 145 million followers.
'So photoshopped you don't even look yourself anymore, Kim.' wrote a commenter.
The whole point of the shoot, which was to promote Kim's new line of matt-finish makeup seems to have failed miserably, with the photoshopping and the comments overwhelmingly her message.
Kim's caption read: "I'm so excited to announce my new 90's inspired collection of all matte formulas- The Matte Smoke & Matte Cocoa Collections!!!"
Maybe it's time to go back to basics, to true natural beauty. Drop the Photoshop, Kim!
KIM KARDASHIAN REINVENTS HERSELF
Kim Kardashian has reinvented herself yet again. This time the bold beauty didn't just changer her hair and her makeup, she changed the color of her eyes.
Kim, whose natural eye color is dark brown, posted a photo of herself with smoky green contacts.
The photo proved to be extremely popular with the reality star's followers and garnered more than 2,8 million likes.
Please fill in your e-mail so we can share with you our top stories!