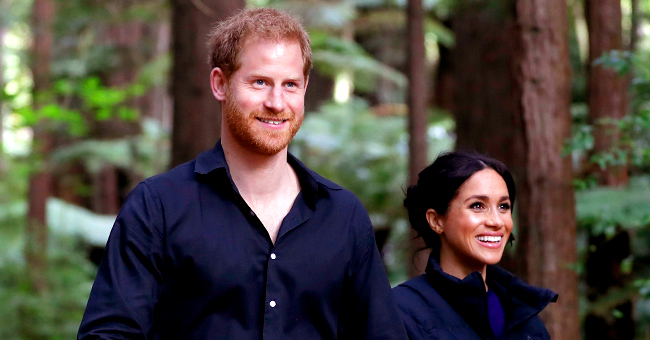 Getty Images
Here Are the Instagram Accounts Meghan Markle & Prince Harry Are Following in August

Prince Harry and Meghan Markle proudly revealed the 15 accounts representing "Forces of Change" which they now exclusively follow on Instagram after taking in suggestions from their followers.
After encouraging their followers on Instagram for suggestions on worthy accounts to follow, Prince Harry and Meghan have revealed those they chose from the many recommendations they've received.
Coinciding with the announcement of Meghan's collaboration with British Vogue as guest editor for its September issue, "Forces of Change," the Duke and Duchess, through their official joint Instagram, @SussexRoyal invited their 9.2 million followers to identify accounts with inspiring causes which they intend to follow if they deem noteworthy.
"We want to know who YOUR Force of Change is," read the message posted on their page a week ago.
"Over the next few days please add your suggestions into the comments section: someone you look up to, the organisation doing amazing work that we should all be following, an account that inspires you to be and do better (or that simply makes you feel good), or the handle that brims with optimism for a brighter tomorrow," it added.
The couple pledged to select 15 accounts from the public's recommendations after one week and to follow them.
A week has passed and true to their word, Harry and Meghan revealed the lucky accounts that made it to their page.
A collage of nine photos representing the chosen 15 accounts was uploaded along with their message of thanks to their followers who contributed.
"Many of you have suggested that we use this month as an opportunity to highlight lesser-known organizations and shine a light on those working hard behind the scenes that may not get the level of attention that they so rightly deserve," the couple wrote.
"These accounts showcase those persevering at the grassroots level, connecting our global community through a shared lens of giving back and helping one another. We were so happy to learn about them and are now able to share them with you!"
The exclusive 15 accounts currently being followed on the page include a Kenyan charity called Rafiki Mwema which helps sexually abused children and the Art of Hope which provides assistance to Syrian refugees who are victims of trauma and PTSD.
The children's heart charity, Tiny Tickers, the non-profit marine organization, Love the Oceans, and the non-profit living well organization, Global Wellness Day also made it to the cut along with the humanitarian organization, Plan International UK, the bees charity, BeesCause, and dog shelter, Pawsitive Change.
An advocate for mental health, Harry must have had a hand in the selection of Australian mental health support group, Beyond Blue.
The lion conservation group in Kenya called Lion Guardians, California-based wheelchair charity, Free Wheelchair Mission, an organization that supports a school in Nepal, BlinkNow Foundation, Earth Day Network, Children International, and Waves for Change completed the 15.
Meghan's Vogue collaboration also featured 15 Forces of Change represented by admirable women from across the globe and from various fields.
A collage of these women comprises the cover of the special issue. Meghan had been working on the project since January while pregnant with Archie. She celebrated her 38th birthday shortly after Vogue announced the collaboration.
Please fill in your e-mail so we can share with you our top stories!