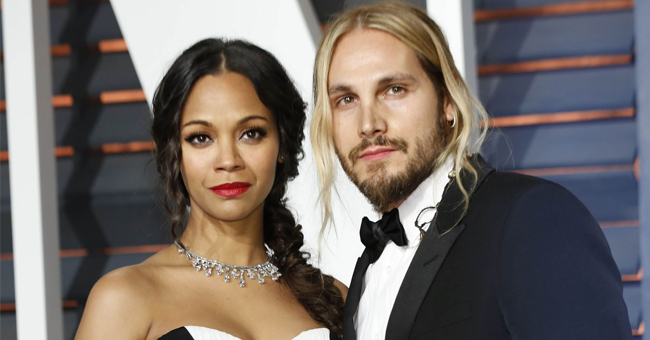 GettyImages
Inside Zoë Saldana and Husband Marco Perego's Sweet Love Story
Zoe Saldana and Marco Perego's love story is one for the books. Not because it's a fairytale, but because many couples could follow their example, especially when it comes to parenting and breaking stereotypes.
Although it's not clear when or how Zoe Saldana and her husband met, the "Guardians of the Galaxy" star once confessed that she knew Perego was The One when she met him.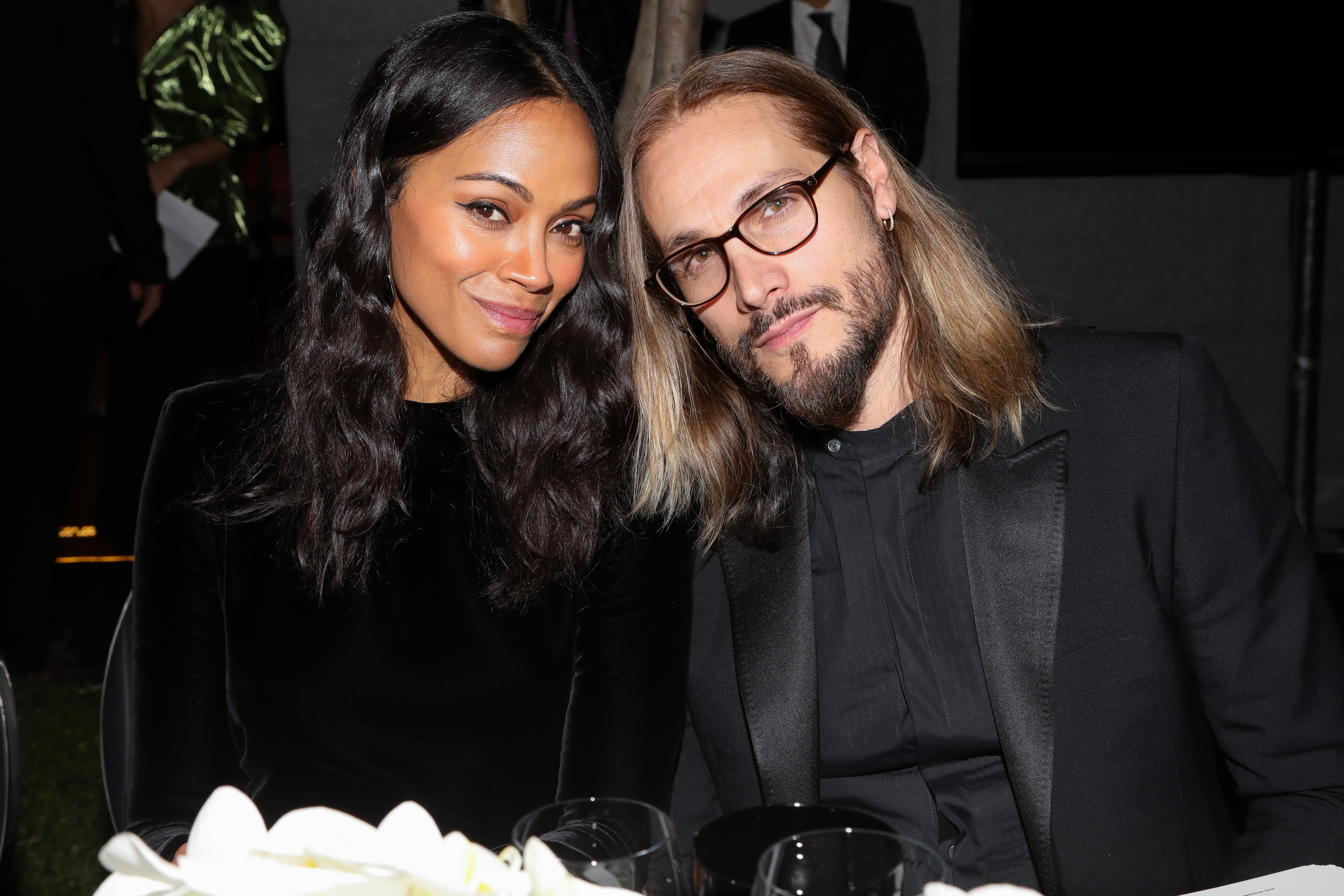 Zoe Saldana and Marco Perego pose during the amfAR gala dinner at the house of collector and museum patron Eugenio López on February 5, 2019. | Photo: GettyImages
"I don't do the ABCs, I do what my heart says, what my heart feels. So, from the moment I met my husband, we were together. We knew," the actress told Marie Claire in 2014. "I met my husband. I wasn't going to try it out and see if it works. No, I felt it. I went with the feeling."
The couple tied the knot in July 2013 but kept the marriage a secret until September of the same year, when paparazzi caught them sporting gold bands on their ring fingers.
TAKING HER LAST NAME
Perego, an Italian soccer player, turned artist, took Saldana's last name when they married.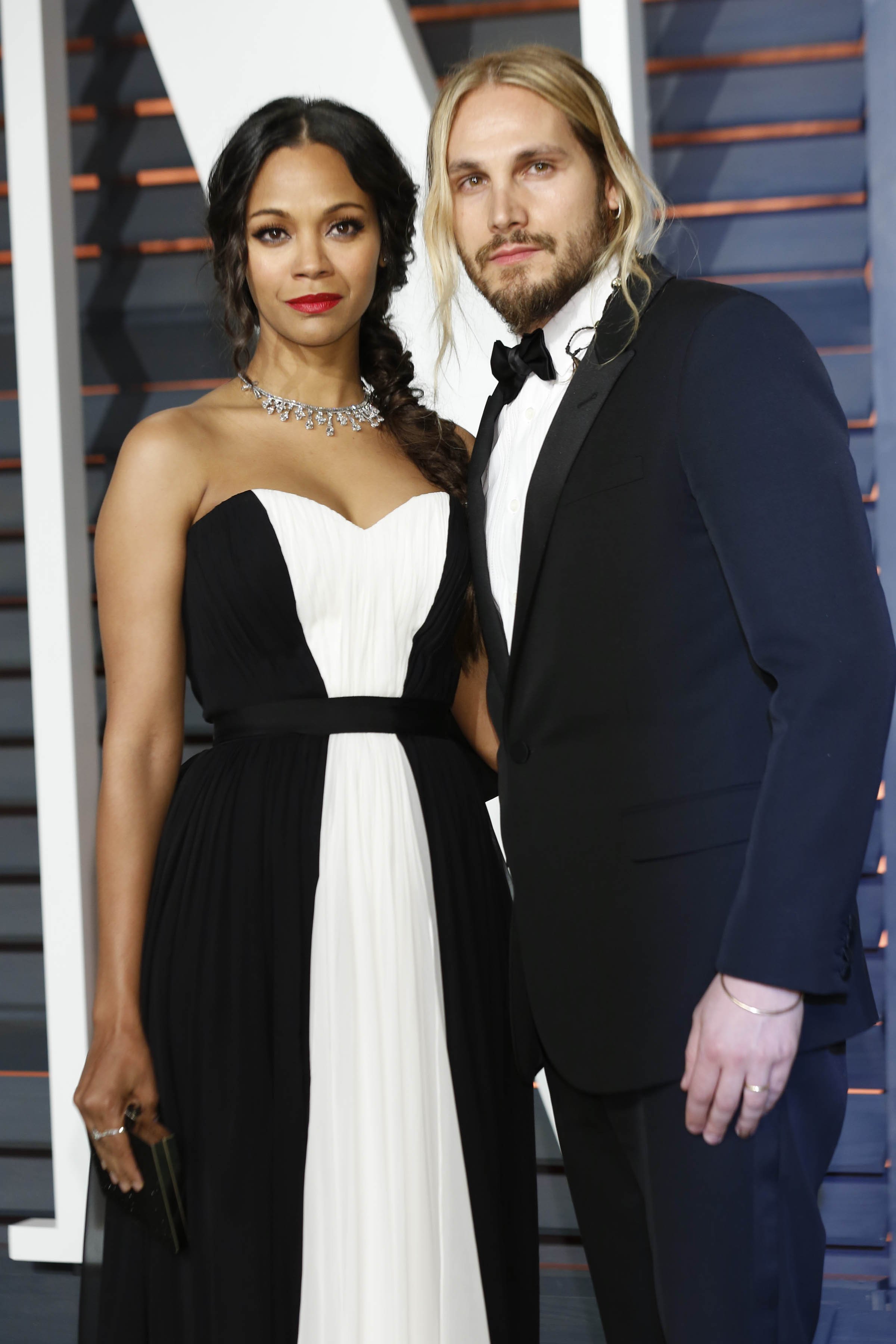 Zoe Saldana, Marco Perego at the Vanity Fair Oscar Party on February 22, 2015. | Photo: Shutterstock
The move caused a heated debate on social media about men who refuse to take their wives' last names because they're afraid their "legacy" will disappear with it.
Saldana, aware of that kind of mentality, tried to talk her husband out of the decision.
"I told him, 'If you use my name, you're going to be emasculated by your community of artists, your Latin community of men, by the world," she told InStyle in 2015. "But Marco just looks up at me and says [she puts on a cute Italian accent], 'Ah, Zoe, I don't give a sheet.'"
Saldana also addressed the controversy with a Facebook post where she encouraged men to "think outside the box" and redefine masculinity, explaining that "you will not cease to exist by taking your partner's surname. On the contrary — you'll be remembered as a man who stood by change."
PEREGO'S BIG BREAK
Perego-Saldana grew up in Salo, Italy. The child of a stay-at-home mom and a waiter dad, he had a humble beginning as a promising football player that earned a spot on Venice's professional team at age 17.
Sadly, an injury took him out the game at 21, and even though he moved to Brazil to try and recover and play there, he eventually abandoned the sport and moved to New York to follow his next dream: being an artist.
"I was living in Spanish Harlem without money, and I was living on 104 Street," he told the Observer in 2007. He got jobs as a busboy, waiter, and even a soccer teacher to pay rent, all while he worked on his art.
His big break came after film producer Gilda Moratti bought one of his paintings. "One day what happened was, I come to her, and I say, 'Listen, look at my work, tell me what you think. If it is a joke I will try to find something else," he recalled.
But Moratti saw his potential, and after selling his first painting, things quickly escalated for Perego.
"I say okay, I will do one little show in Italy, I put 30 pieces, and the first day I sell everything," he recalled of his first exhibit. Giorgio Armani was among the buyers. "It was incredible," he said, "I live in Spanish Harlem, you know, and now Giorgio Armani would like to buy a painting."
As word swirled around the art community about Perego's works, he started to bump his prices, selling pieces for $15,000 and having major sold outs every time.
FAMILY LIFE
Saldana and Perego welcomed twins Cy and Bowie in 2014, and son Zen in 2016.
The couple has agreed to raise their sons in a gender-neutral environment to break the stereotypes of what men or women should or could do.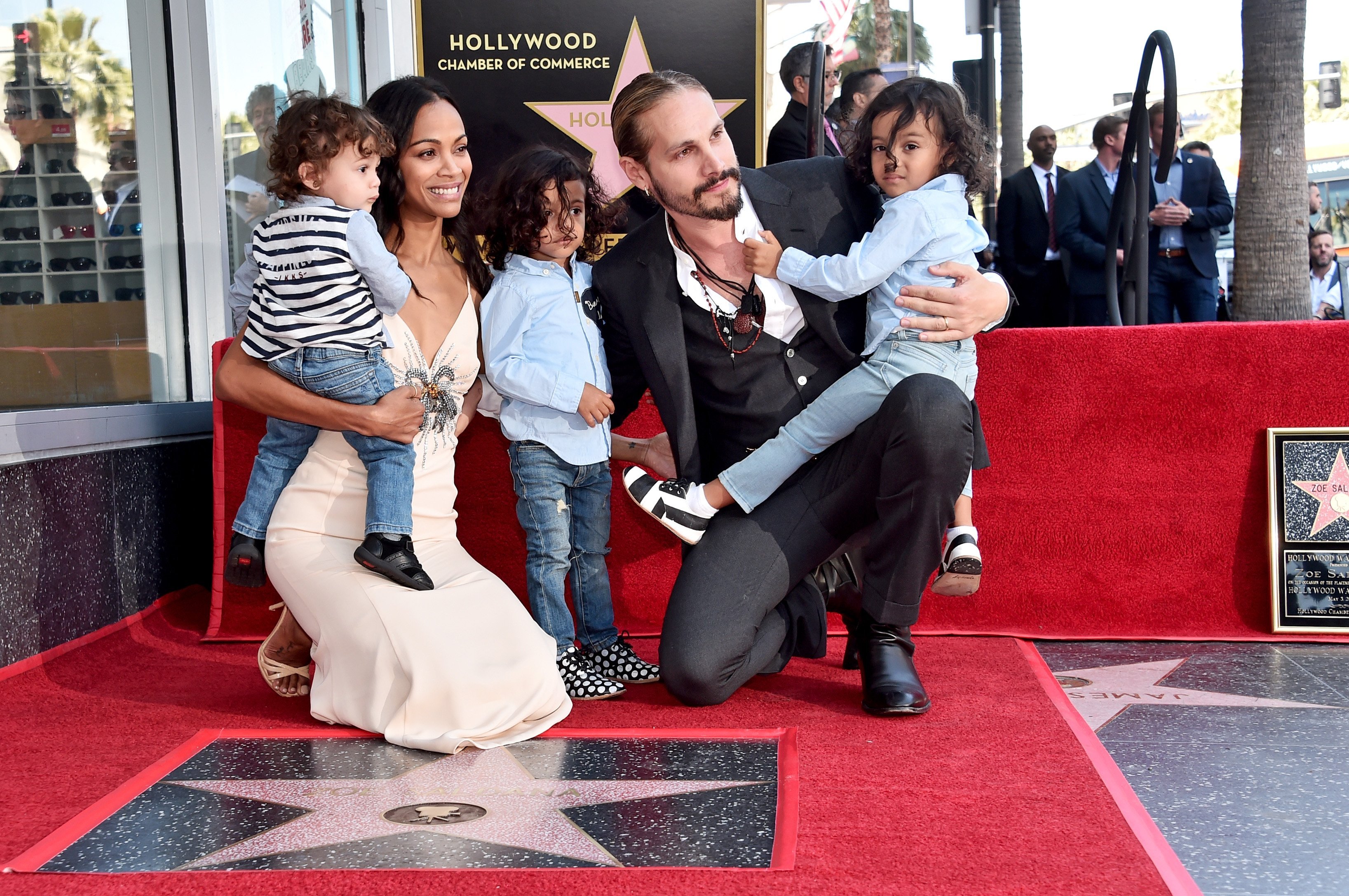 Zoe Saldana, Marco Perego, and children at the Zoe Saldana Walk Of Fame Star Ceremony on May 3, 2018 in Hollywood, California. | Photo: GettyImages
Aside from including toys marketed for both boys and girls in their home, Zoe and Marco also make sure their kids can see them engaging in activities that would usually be targeted as something only one gender can do.
"We have a very gender-neutral environment where my husband participates in a lot of tasks that were normally given to women and vice versa," Saldana told US Weekly. "I get to do a lot of male things, which is, I don't know, put the TV together, fix things that break. We're sort of a very gender-fluid household. I think it's important to raise boys in that environment, and girls as well."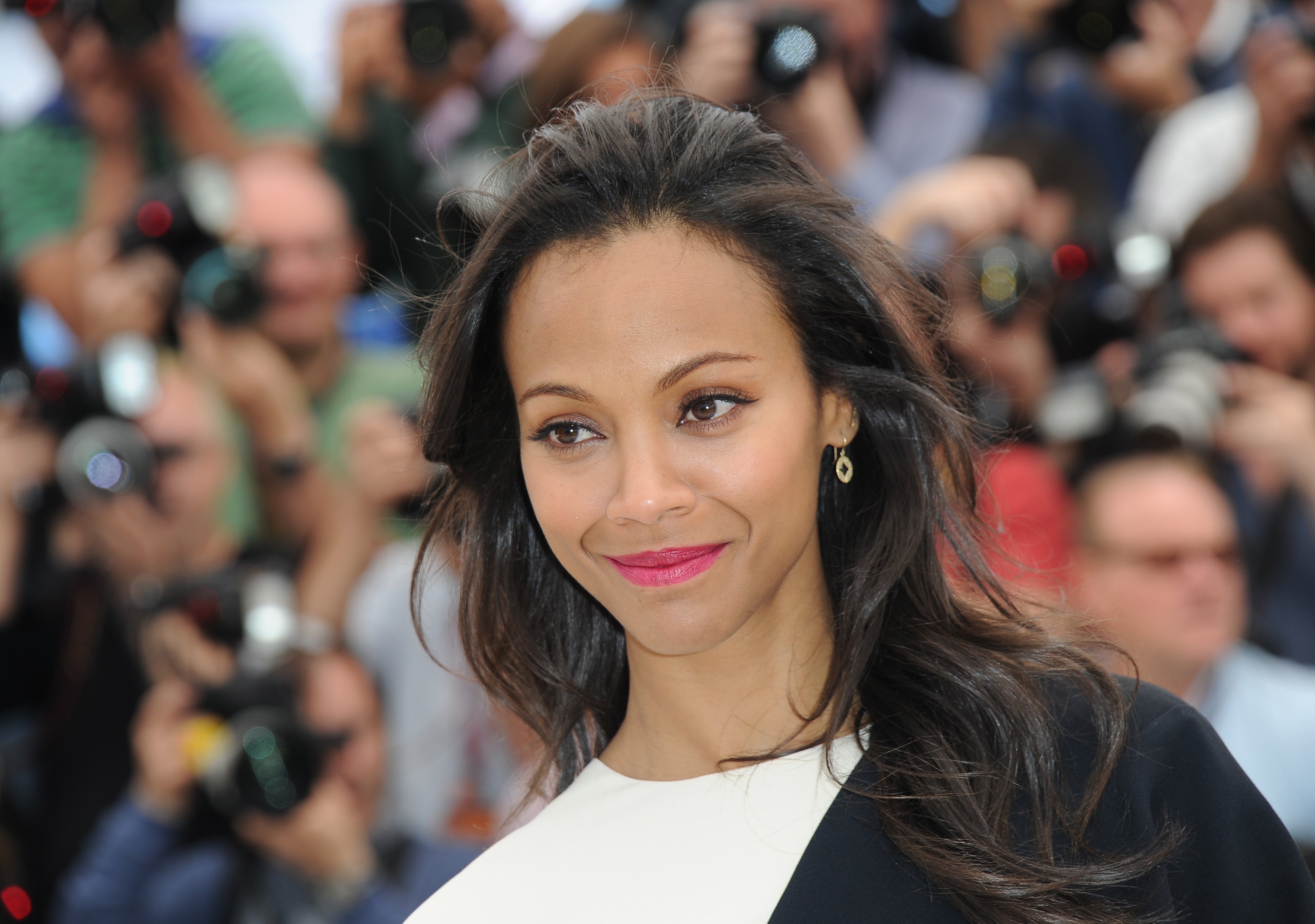 Zoe Saldana attends the photocall for 'Blood Ties' at The 66th Annual Cannes Film Festival on May 20, 2013. | Photo: GettyImages
Despite their efforts, Saldana recalled that on one occasion, one of the twins made a comment stating that "boys are stronger than girls." Instead of reacting harshly, Zoe took the time to craft an answer that would help her debunk that stereotype.
Her goal, she explained, is "[to] not bring all this charge that you have as an adult and as a woman into their lives. They're a blank slate."
Six years into their marriage, Zoe and Marco couldn't be happier. They're continually supporting each other in their endeavors, and they're also socially aware and raising their kids to be strong and kind human beings.
Those are some of the reasons why so many fans consider this duo as "couple goals."
Please fill in your e-mail so we can share with you our top stories!