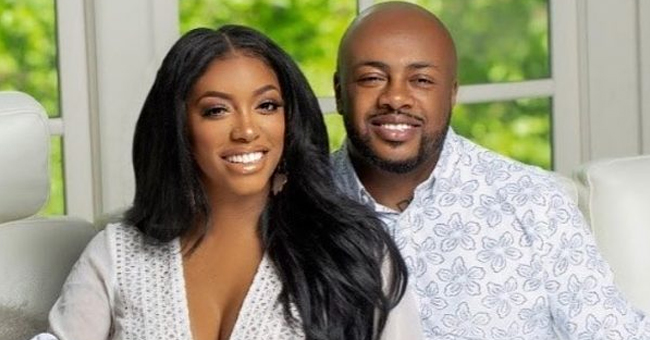 twitter.com/thatgrapejuice
Porsha Williams Confirms She's Back with Dennis McKinley
The ring is back on Porsha William's finger, but is the engagement with Dennis McKinley back on?
"Real Housewives of Atlanta" star Porsha Williams showed up at an interview on August 6 with Dennis McKinley's massive diamond engagement ring on her finger again.
So is the engagement back on? Porsha's fans had been saddened by their breakup, but it looks like there are some good news for the hopeless romantics.
TO BE OR NOT TO BE TOGETHER
Although the couple had officially called off their engagement back in June, suspicions were aroused when Dennis traveled to Canada with Porsha.
It was immediately reported that Porsha had taken Dennis with her, but her version is slightly different.
"I didn't take him. He got his flight and he wanted to come," Porsha said.
Porsha has confirmed that she and Dennis are reconciled
CHEATING ALLEGATIONS LET TO BREAKUP
Porsha and Dennis got engaged at the end of September 2018 and welcomed a daughter, Pilar Jhena in March 2019. They broke up after YouTuber Latasha Kebe accused Dennis of cheating on Porsha with actress Sincerely Ward.
PORSHA WILLIAM'S POST HINTS AT RECONCILIATION
It looked like the romance was over, even though Sincerely and Dennis denied the cheating story until Porsha shared photos from her ex's birthday party with a laconic caption:
"Happy 39th ? Dennis 7/25"
PORSHA WILLIAMS CONFIRMS RECONCILIATION
Porsha has confirmed that she and Dennis are reconciled and that things are back on track, although she refused to name a date for the wedding.
"We're taking it one day at a time. We working on it," she said.
So all you true romantics out there, keep those fingers crossed, and might be looking forward to another spectacular celebrity wedding on RHOA.
DENNIS MCKINLEY'S ROMANTIC PROPOSAL
When Dennis McKinley asked for Porsha William's hand in marriage, he did it with style.
The businessman asked Porsha to accompany him on a helicopter ride to a glamorous charity event.
Porsha didn't know was that there was no event...It was all part of Dennis' big plan.
He led her into a large room strewn with rose petals, and there was rapper Lil Mo singing "4ever," one of her favorite songs.
Then Dennis got down on his knees and asked the big question.
"Would you like to be Mrs. McKinley?"
Porsha said "Yes!" and he slipped a spectacular diamond ring on her finger.
We are so glad to see that ring back where it belongs!
Please fill in your e-mail so we can share with you our top stories!