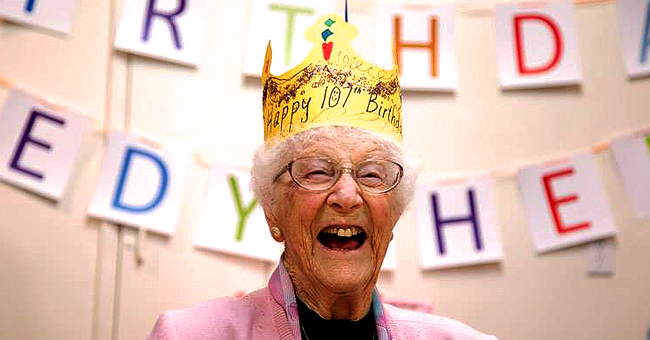 facebook.com/edythekirchmaier105
Billy Baldwin Shares Photo Taken with Friend Edythe Kirchmaier Who Was a Volunteer until She Died at 107

Actor Billy Baldwin posted a picture of himself and his late friend, Edythe Kirchmaier as he remembers her good works four years after her death.
She died at a hundred and seven years, after being a volunteer at Direct Relief International for over forty years.
IN MEMORY OF AN UNSUNG ICON
Other than his work in the movie scenes, and his Netflix series, "Nothern Rescue," Billy Baldwin is also known for his good works, as a philanthropist.
He spends his time off-screen volunteering in several charity foundations to achieve a better world for the upcoming generation.
It was in one of such volunteering organizations that he met his friend, Edythe Kirchmaier, who was renowned as the world's oldest Facebook user before her death in 2015.
The television star took to social media to introduce her to the world, and to acknowledge all her many good works while on earth.
He posted a picture he took with her way back and the both of them looked happy in the pic, with the older woman laughing as Billy put his arm around her shoulders. There must have been such great friendship between them.
A REMARKABLE WOMAN
The actor captioned the picture with a lengthy post detailing the life of Edythe as he knew her. He started:
"This is my friend Edythe Kirchmaier. We became friends through this incredible organization called Direct Relief International."
He went on to explain the role the organization played in disaster relief support and affirmed that he was a volunteer in the organization as well. He also availed their website before speaking up more on his lost friend. He finished:
"Edythe DROVE HERSELF there every week to volunteer… all the way up until she passed away at 107 years old!!! A remarkable woman doing wonderful work for an amazing organization."
A PAINFUL EXIT
Although tales of her works did not reverberate during her lifetime, her death did not go unnoticed, as it was reported by several media outlets in 2015, with most tagging her as the oldest Facebook user.
She passed way in October, about nine months after celebrating her 107th birthday. She was born in Ohio and moved to Santa Barbara with her husband later on, where they both joined the Goleta-based organization as volunteers.
After touching lives for over forty years, the iconic philanthropist left the world, surrounded by her family, friends, and love from all the lives she has touched. The world certainly needs more people like Edythe.
Please fill in your e-mail so we can share with you our top stories!