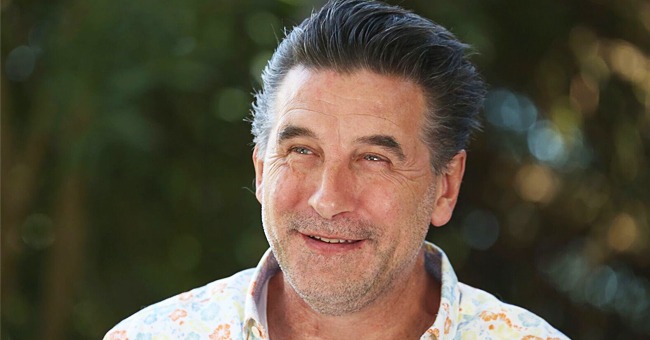 Getty images
Billy Baldwin Shares New Photo of 19-Year-Old Daughter Jameson Who Looks like Her Mom Chynna Phillips

Actor and television personality, William Baldwin showed off his daughter, Jameson, in an Instagram post. The 19-year-old has a striking resemblance to her mom, Chynna Phillips as she twins up with another girl in a new photo.
PARENTING GOALS
Billy Baldwin, the star of the Netflix series, "Nothern Rescue" is a proud father of three beautiful children, just like his fantasy family in the series.
He takes pride in sharing pictures of his real family on Social media, comprising his wife, Chynna Phillips, and his three teenagers, Jameson, Vance and Brooke.
In a recent post, the actor shared a photo of his nineteen-year-old daughter, Jameson, who is also his first child, and looks like his wife. The girl could be seen embracing another girl intimately as they rocked matching face stickers.
Her friend, identified as Natasha, wore a black crop top, and skirts, with glittering ornaments on the edges, while Billy's daughter wore a simple denim mini skirt and a white, tiny sleeved top.
The post was an old pic taken by the nineteen-year-old, as evidenced in his caption. It read:
"My daughter, @JamesonBaldwin a few years back, tearing it up at #Coachella with her girl Natasha."
JUST LIKE HER MAMA
Following the post, fans left their comments about how beautiful the teenager looked, and her resemblance to her mom. One of the fans wrote:
"She really looks like her mom."
Another opined that the teenage girl looked exactly like her mom, but with her dad's smirk. Amidst all the remarks, her mom, Chyna dropped her little comment as she simply wrote: "My Girl."
BILLY HAS TWO FAMILIES
It is near impossible to star in a movie for years with a group without forming a heartfelt family bond. In his recently premiered Netflix series, "Nothern Rescue," the actor features as a single father of three teenagers, who was a widow, and a search and rescue commander.
The movie replicates his real-life situation, as well as his real-life parenting challenges with raising three adolescents.
Unlike his fantasy family, his wife is always present to support him and the kids; he's not a search-and-rescue operative off the screen, although he admittedly has a few incidental experiences in that field in the past.
The Netflix star once revealed that he and his family were survivors of the Thomas Fire, which ravaged some Californian neighborhoods in 2018. Right after that, another disaster struck; this time, it was a mudslide, from a nearby mountain, which wiped out his neighborhood.
Hundreds of homes were destroyed in the disaster, and about 23 lives were lost. Thankfully, his family was unharmed, but they lost their home, forcing them to move to a safer residence in Santa Barbara, which they stay till date.
These series of natural disasters, coupled with his family experiences with his kids, gave him the inspiration behind his hit Netflix movie.
Please fill in your e-mail so we can share with you our top stories!