Barbra Streisand Poses in the Company of Her Three Dogs (Photo)
Fans of Barbra Streisand know how she adores her little pooches. Yet again, the singer melted fans' hearts with a photo of herself with her cute little dogs on Instagram.
Streisand's pooches frequently make an appearance on her Instagram account, and when they do, fans are always mesmerized by their cuteness.
This time, her little furry friends gave her company during one of her photoshoots. The actress took to Instagram to share some glimpses of her adorable puppers.
"Me and my girls!" she captioned the post. 
The little pooches' cuteness skyrockets with every post, and it is pretty evident that Streisand takes care of them pretty well. 
THE EMOTIONAL TIME WHEN THE POOCHES LOST THEIR MOTHER
When Barbara shared a picture of her adorable little pets sitting on the headstone of their mother's grave, her fans got pretty emotional. Some of them even shared that they cried after seeing the post. 
Streisand had the dog, Samantha, for fourteen years. When the beloved pet died in 2017, the actress was devastated beyond words. 
The singer loved Samantha so much that she took cells from the dog's mouth and stomach to clone Violet and Scarlet, two of her adorable puppies. 
SOME OF BARBARA'S FANS WERE DISGUSTED BY HER MOVE
Streisand might have cloned the dogs out of love, but not everyone was happy with her move. Some of her fans on Instagram were upset when they found out that the singer had cloned Violet and Scarlet out of their mother's cells. 
"So creepy," one of her fans wrote.

"What a positively gross display of wealth!" another fan commented.

"All dogs are cute but it's hard to wrap my head around this when literally millions of dogs (many just like this) are sitting in shelters patiently waiting to be adopted—many of which are euthanized simply because there's not enough room. I would love to see you ladies including @barbrastreisandsupport rescue publicly. By any of you speaking out, literally thousands of dogs would be saved. That's a pretty powerful use of your important voices. Thanks for hearing me out!" a third fan opined.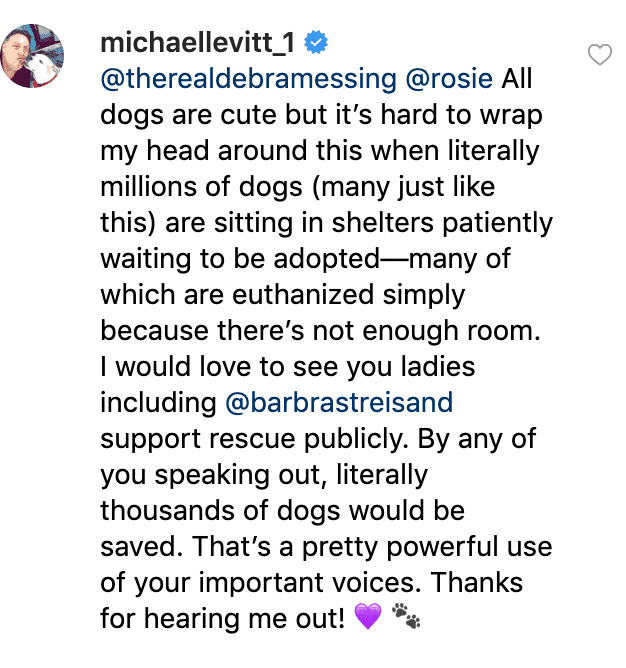 Another comment from a fan read: "Dear Barbara they're sweet. But mother earth is overflowing with countless orphans- humans babies and puppies..how about giving them homes?"

Despite the backlash, Streisand adores her dogs and cares for them like they are her own children.