Maureen McCormick Poses with 'Property Brothers' and Christopher Knight in a new Photo
As the countdown for the highly anticipated HGTV series "A Very Brady Renovation" goes on, "The Brady Bunch" cast continues to tease fans with sneak peeks from the set of the series.
This time, actress Maureen McCormick shared a picture with the "Property Brothers" and she is excited about the show's premiere.
Fans can witness the iconic Brady family on TV again! Set to release on September 9, "A Very Brady Renovation" will take fans on a nostalgic trip as the Brady house gets a total makeover.
"The Brady Bunch" stars sure know how to keep fans hooked with their posts about the much-hyped series that will give fans a closer look into the transformation of the Brady house. 
Previously, actor Christopher Knight who plays Peter Brady in the show delighted fans with a photo of himself with the "Property Brothers" stars Drew and Jonathan Scott. McCormick followed by posting a picture of herself with the duo.
"Soooooo EXCITING!! It's getting closer to @verybradyrenovation on @HGTV," the 63-year-old wrote. 
FANS CANNOT WAIT FOR THE SERIES
Fans are already hyped about the series, and the Brady family only makes things more exciting for them with their posts. Many fans took to the comment section to express what the show means to them. 
"Wouldn't miss it. It's a time capsule to (many of) our youths," one of the fans wrote.

Even singer Donny Osmond could not hide his excitement.
"Looking forward to this!" he commented.

"I've been obsessed with the Brady bunch since I was little. I always thought it would be so cool to visit the Brady house! So satisfying to see this come together," another fan wrote.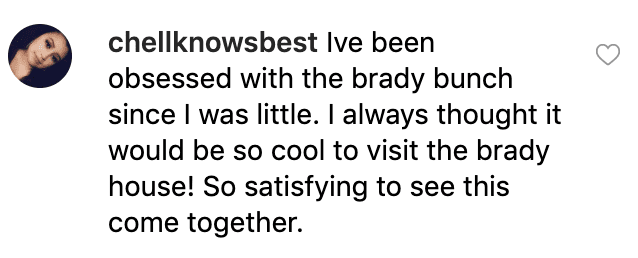 THE BRADY KIDS WERE HAPPY TO HELP DURING RENOVATIONS
According to Loren Ruch, the senior vice president of HGTV programming and partnership, the renovation team had no idea that the Brady kids were skilled at the task. Speaking about how it was a pleasant surprise to the team, she said:
"It turned out to be this incredibly happy accident that they were much more skilled than we thought. And more than skilled, they were just interested in participating. We didn't expect them to be experts."
Ruch further explained how the cast members were passionately involved in the project. 
"If we gave them 30 days they would have asked if they could be there for 40 — they just were really involved in the process."
Their passion goes on to show how much fun they had as the on-screen family for the popular sitcom.