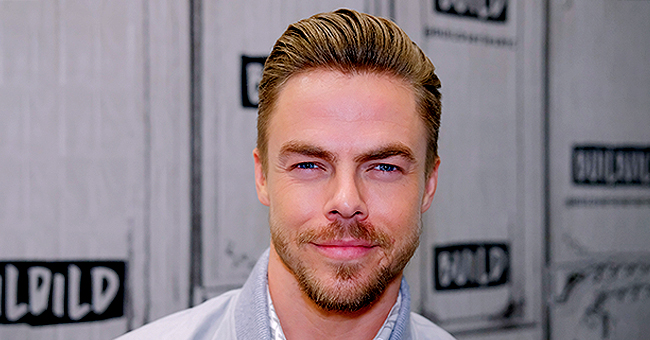 Getty Images
Derek Hough and His Four Beautiful Sisters Sunbathe in a New Family Photo
All of the Hough siblings came together for a group photo taken during a casual afternoon while enjoying sunbathing.
Julianne Hough took to Instagram to share a picture that sees her brother, Derek Hough, surrounded by his sisters, including Julianne, during a sunbathing session.
She captioned her post by making a joke on herself as well as her sisters. She wrote, "Story of [Derek Hough's] life… Sitting there waiting for the [picture] to be taken while all the girls fix our hair."
BLONDE AND BEAUTIFUL
The photo actually sees all the ladies fixing their appearance while Derek stares into the camera with a smile.
The six-times "Dancing With The Stars" winner showed no signs of frustration for having to wait for her sisters and looked gorgeous as usual.
Fans were quick to notice how perfect he looked in the snapshot. Instagram user "mamacheechio" quipped with a humorous comment, "Meanwhile his hair looks the best."

Fan's comment on Derek Hough's post. | Source: Instagram/derekhough
One fan also brought up the fact that each one of the Hough siblings was blonde. Meanwhile, beloved actress Kate Hudson was also one of the commenters, who simply added three laughing emojis.

Fan's comment on Derek Hough's post. | Source: Instagram/derekhough
Julianne's post has gathered a little less than 107,000 likes just under three days of being shared.
AN EXPLOSIVE INTERVIEW
Julianne also talked about opening up to her husband, Brooks Laich, about not being "straight" and his instrumental support in her journey.
"I [told him], 'You know I'm not straight, right?' And he was like, 'I'm sorry, what?' I was like, 'I'm not. But I choose to be with you."
EVER SO COURAGEOUS
Following her revelation, Laich was also quick to support her with an Instagram post, where he stated that he is proud of Julianna for "the woman she is, and her courage to share her journey of trials and triumphs."
Previously, Julianna also showed bravery by opening up about her diagnosis of endometriosis. Moreover, she continues to encourage others as well to speak more about the painful disease.
Please fill in your e-mail so we can share with you our top stories!