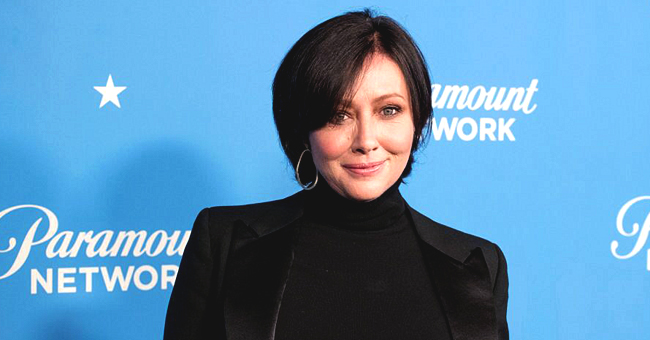 Getty images
Shannen Doherty Reveals She Is Still Figuring out How to Accept Her New Self Post Breast Cancer
Popular American actress, Shannen Doherty, is still coming to terms with herself after her gruesome fight with breast cancer.
Shannen Doherty has enjoyed a very successful career that spanned over three decades; however, in March 2015, she was diagnosed with breast cancer.
According to her, she was shocked upon receiving the initial diagnosis. Doherty who later accepted her fate fought cancer as bravely as she could and now reportedly, is in remission.
However, the actress says her recovery remains a work in progress as she is still coming to terms with who she is now after the painful battle.
After her diagnosis in 2015, Doherty reportedly had a mastectomy which was swiftly followed by consistent chemotherapy and radiation. These went on until 2018 when she had a reconstruction surgery where her breast was rebuilt using her tissue.
After the surgery, the American actress opened up about the struggles she faced, her new outlook on life, and how glad she is to go back to doing some of the things that bring her joy.
However, even though she's in remission Doherty has revealed that she is still coming to terms with the changes her body went through while the battle lasted.
"I'm trying to figure out how to accept who I am now," she candidly stated, going further to speak about how her body would never feel the same anymore and how she struggled to cope with the knowledge.
Speaking about her new outlook on life, Doherty seems to have found a fresh zest for things but also expressed caution as she admits that she's "trying to be kinder" to herself.
When asked about her hesitancy to sign on for the Beverly Hills 90210 reboot, Doherty revealed that she had been hesitant for a myriad of reasons with the primary being that she was merely undecided about revisiting the show.
"I was hesitant for all different reasons, where I was at my life and being unsure if I wanted to revisit 90210," Doherty told Us Weekly.
The famous actress also admitted that she had no interest in being the reboot queen. However, after much deliberation on her part, she changed her mind and signed on.
When asked why, she stated that she wanted to honor the memory of Luke Perry, a close friend, and late crew member.
"I felt like it was a great opportunity to honour him, and I'm really glad I made that decision because now I get to sit up here with a lot of people that I respect and love," Doherty confessed.
Please fill in your e-mail so we can share with you our top stories!