Getty Images.
Meet Billy Ray Cyrus' Six Children

With six children who made the most of their talents, there is no "Achy Breaky Heart" for their proud father, the singer turned actor, Billy Ray Cyrus.
After Billy Ray Cyrus' divorce from his first wife, Cindy Smith, a brief relationship with Kristin Luckey resulted in the birth of his first son, Christopher Cody.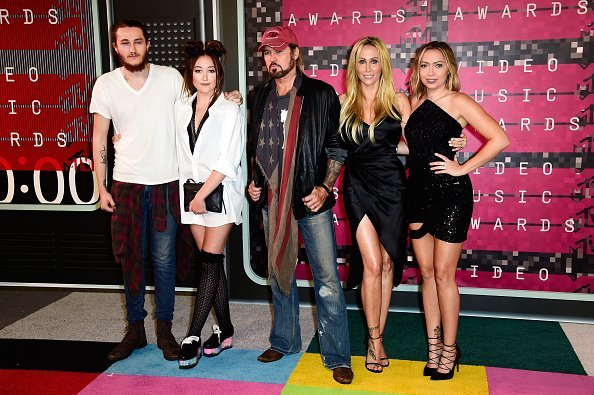 Braison Cyrus, producer Tish Cyrus, actress Noah Cyrus, recording artist Billy Ray Cyrus and actress Brandi Glenn Cyrus attend the 2015 MTV Video Music Awards at Microsoft Theater on August 30, 2015, in Los Angeles, California. | Source: Getty Images.
When the songwriter turned actor married Tish on December 28, 1993, he became stepfather two her two children Brandi and Trace. Together, Tish and Billy have three biological children of their own, Miley, Braison, and Noah Lindsey.
All grown up, the siblings carved out their respective careers in the entertainment industry, except for Christopher Cody.
CHRISTOPHER CODY CYRUS
Born on April 8, 1992, Christopher didn't grow up with the rest of the Cyrus family. When Billy Ray got involved with Tish, Kristen raised Christopher as a single mother. Billy Ray did, however, give monetary support and paid Kristen's medical bills along with child support.
"I love this baby son," Billy Ray said at the time. "His mother and I are friends. I respect her, she respects me, and we created a beautiful baby together."
Christopher grew up in South Carolina and attended the University of Texas where he studied law. While the outcome of his time at the university remains unknown, he worked at an electronics store to make ends meet.
In 2007, Christopher had the opportunity of meeting his famous half-sibling, Miley, when she had a concert in Fort Worth, Texas.
"I met her on a private bus. She doesn't play the superstar in private. She's a normal teenager having fun, and she can laugh at herself. She's the same now as she was before all this fame. She's still my goofy sister," Christopher recalled during an interview on March 2018.
MILEY CYRUS
Born Destiny Hope Cyrus, her cheery disposition soon earned her the nickname "Smiley," which eventually got shortened to Miley. In January 2008, the singer/actress legally changed her name to Miley Ray Cyrus.
The family moved to Toronto, Canada in 2001, where Billy Rae took a role in the series "Doc." The same year, with Miley eight years old, she decided to become an actor like her father, and soon her first role alongside her father in the series came along.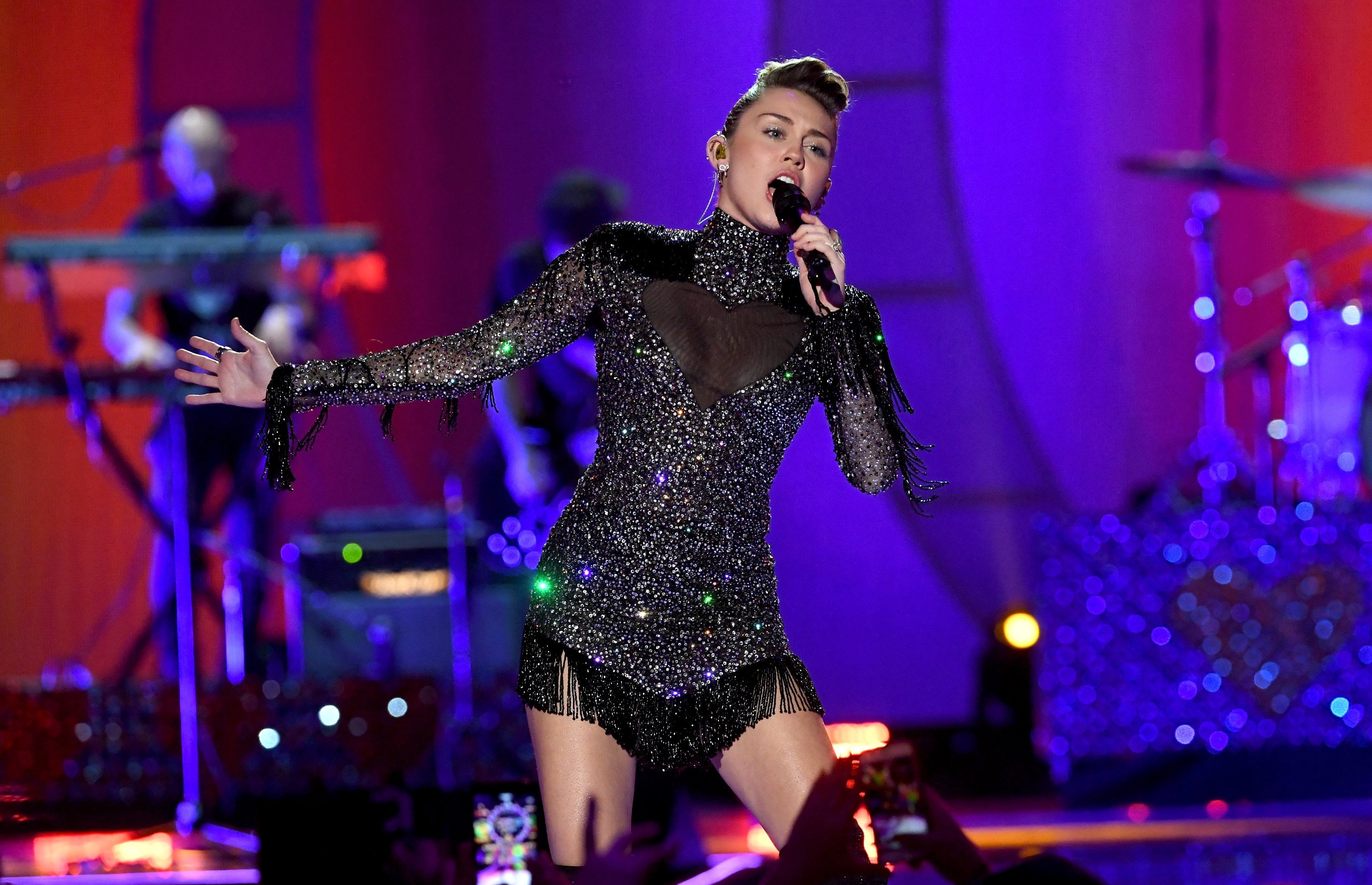 Miley Cyrus performs onstage during the 2017 iHeartRadio Music Festival at T-Mobile Arena on September 23, 2017, in Las Vegas, Nevada. | Source: Getty Images.
Two years later, Miley snagged a bit role in "Big Fish," followed by her rise as a teen star in 2006 with the Disney series "Hannah Montana," also with her father.
Since Miley's time on "Hannah Montana," she wrote more than 1000 songs and starred in productions such as "The Last Song" in 2010, followed by "LOL" with Demi Moore two years later.
While working on "The Last Song," Miley met and fell in love with her co-star, Liam Hemsworth, and marked the beginning of an on-and-off relationship with the actor.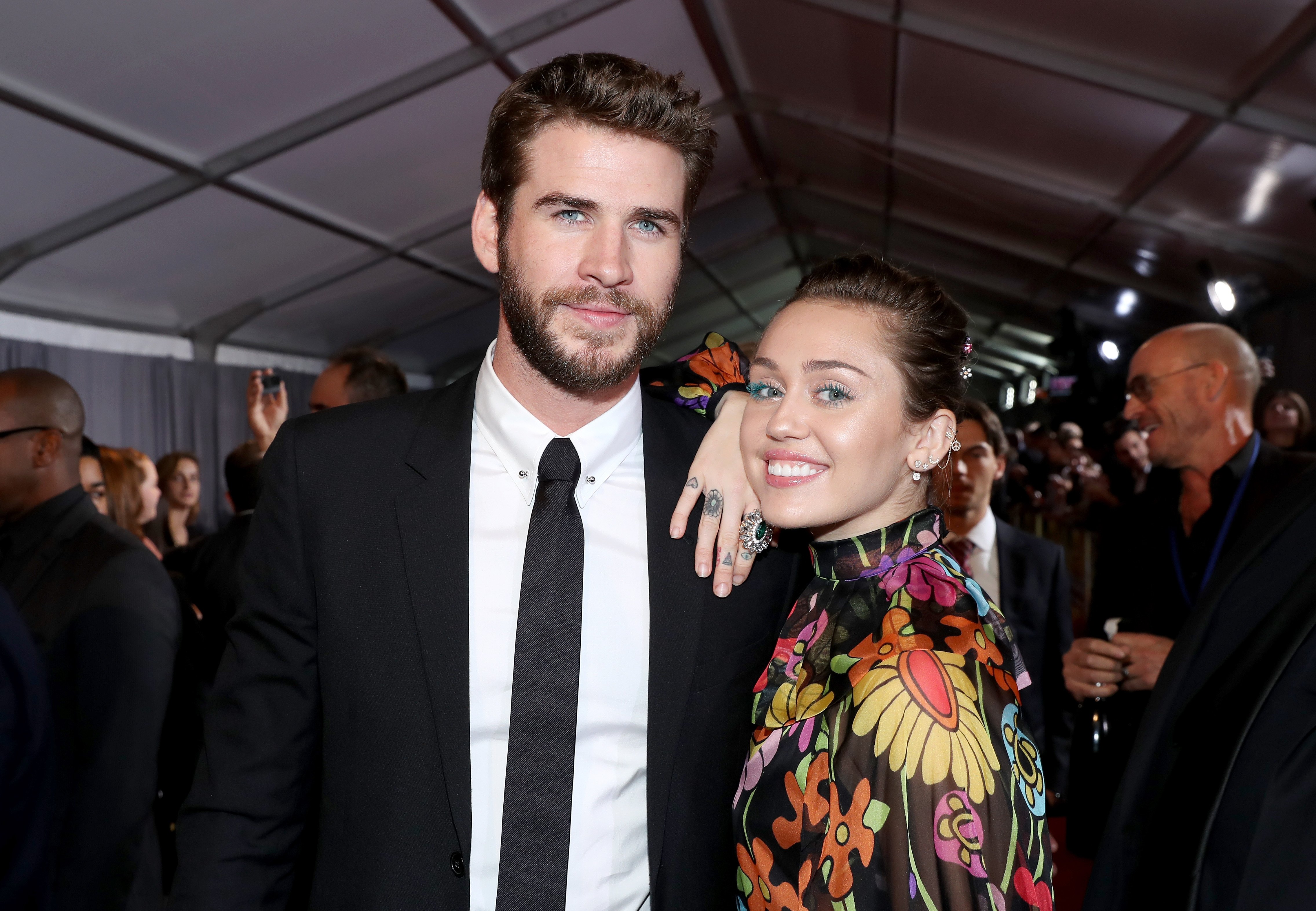 Actor Liam Hemsworth (L) and Miley Cyrus at The World Premiere of Marvel Studios' "Thor: Ragnarok" at the El Capitan Theatre on October 10, 2017, in Hollywood, California. | Source: Getty Images.
In 2012 Liam proposed to Miley, but a year later they broke off the engagement and their relationship. Three years later they got together again and finally tied the knot on December 23, 2018. However, on August 10, 2019, the couple separated after seven months of marriage.
BRAISON CHANCE
Born two years after Miley on May 9, 1994, Braison became an actor and model. While he got known for his role alongside his father in "Doc" in 2001, he later starred in "Heels" in 2016, and the 2015 MTV Music Awards with PEOPLE Magazine.
A Pasadena School of Arts graduate, Braison's creative flair shows in his sketches, but it's his work as a model that makes the most headlines. At the age of 18, Braison got signed by Wilhemina Models and made his debut in 2012.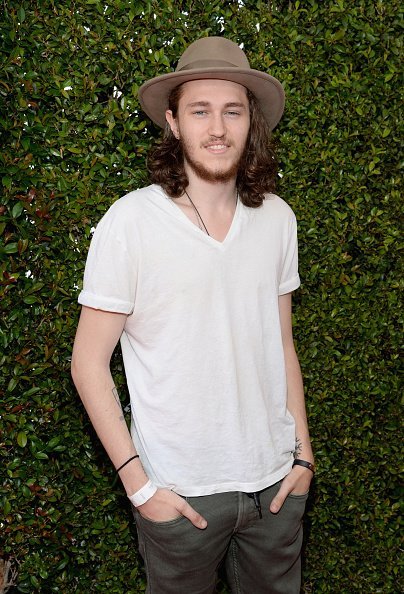 Braison Cyrus attends Chrysler John Varvatos 12th Annual Stuart House Benefit at John Varvatos on April 26, 2015, in Los Angeles, California. | Source: Getty Images.
In 2018, Braison's runway debut followed with Dolce & Gabbana's Spring/Summer show held in Milan, Italy. During Miley's Bangerz Tour in Australia, Braison went along, and the siblings got tattoos together while in Melbourne.
NOAH LINDSEY CYRUS
As the youngest of the paternal siblings, Noah came into the world on January 8, 2000. The singer/actress began acting at the age of two when she made an appearance with Billy Rae in "Doc."
Later on, Noah made her debut in film "Ponyo," wherein she voiced the title character, and then starred as a background dancer in "Hannah Montana: The Movie" in 2009.
Turning her attention to music, Noah signed a record deal with Records on November 15, 2016, but later signed a management deal with Maverick. The same day Noah signed the management deal, she released her debut single "Make Me (Cry)," featuring Labrinth.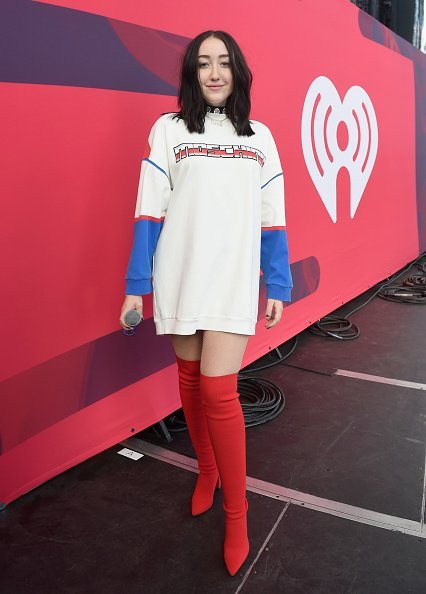 Noah Cyrus backstage during the Daytime Village Presented by Capital One at the 2017 HeartRadio Music Festival at the Las Vegas Village on September 23, 2017, in Las Vegas, Nevada. | Source: Getty Images.
Also involved with matter close to her heart, Noah used her 13th birthday to start a campaign t ban horse-drawn carriages in the city of New York.
For her "Tweet13 Birthday," Noah requested that people give $13 or more to New Yorkers for Clean, Livable and Safe Streets, or signing a petition to ban carriages instead of traditional birthday gifts.
BRANDI CYRUS
While Brandi's career started as an actress, it later took another turn. Born on May 26, 1987, Brandi starred in "Zoey 101" in 2005, followed by a stint in "Hannah Montana" the next year, and "Death Call" in 2015.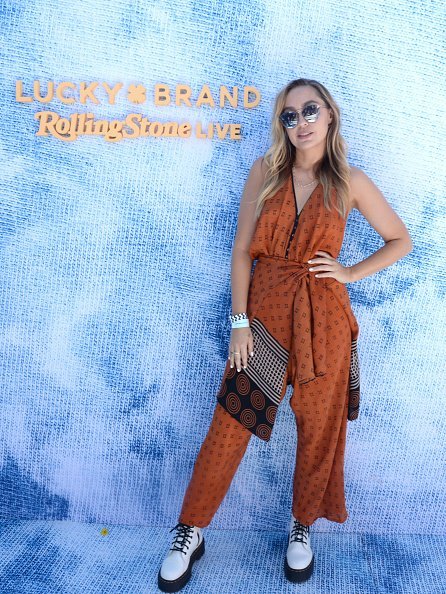 Brandi Cyrus attends Lucky Brand And Rolling Stone Live Present Desert Jam at ARRIVE Hotel on April 13, 2019, in Palm Springs, California. | Source: Getty Images.
In 2017, Brandi and her mother Tish announced the collaboration on a home design show. Called "Cyrus vs. Cyrus: Design and Conquer," the show allowed Nashville homeowners to pick one of them to restyle their homes on a set budget.
"We've developed quite the reputation in Nashville for our interior design. Being a Cyrus means you're extremely competitive," Tish told The Daily Dish blog. "We're teaming up and doing it for clients in our amazing hometown."
TRACE CYRUS
Brandi's brother, Trace, on the other hand, focused his attention on his music career. Born Neil Timothy Helson on February 24, 1989, Trace legally changed his name to Trace Dempsey Cyrus after Billy Rae adopted both him and Brandi.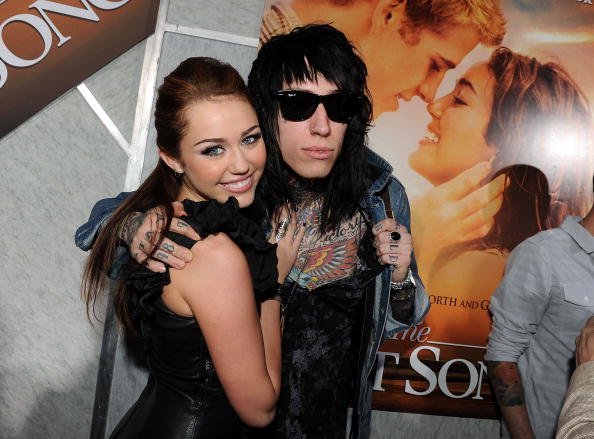 Miley Cyrus (L) and musician Trace Cyrus arrive at the premiere of Touchstone Picture's "The Last Song" held at ArcLight Hollywood on March 25, 2010, in Los Angeles, California. | Source: Getty Images.
As the lead guitarist for the synth-pop group Metro Station, the band struck a deal with Columbia Records after one of their interns came across their MySpace page.
Their debut album "Metro Station" hit the shelves in 2007 and sold over 87,000 copies in the US. Their single "Shake It" from the album became a double-platinum, Top 10 hit, while their album made it to the top spot on the dance charts
The band has also toured with the likes of Forever the Sickest Kids, Motion City Soundtrack, and Panic at the Disco.
Trace got into music while he spent summers on the road with Billy Rae and got to learn the inner workings of the music business firsthand.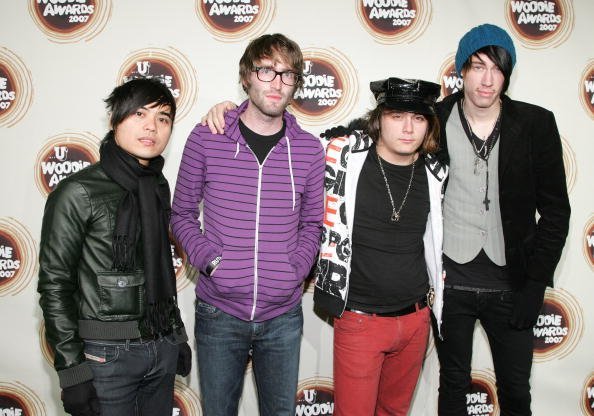 Blake Healy, Anthony Improgo, Mason Musso, Trace Cyrus of the band Metro Station attend the 2007 mtvU Woodie Awards at Roseland Ballroom November 8, 2007, in New York City. | Source: Getty Images.
"I never had my mind set on being an entertainer in the music business. I've been playing my guitar, and I've been on tour with Dad every summer since I was a kid," Trace told MTV. "And I've seen mistakes he's made and the stuff he went through with labels, and I know that the music business is scary."
While the band initially broke up, they got together again and resumed bringing out albums and touring. Also the protective big brother, Trace couldn't help but comment on Liam Hemsworth after he married Miley.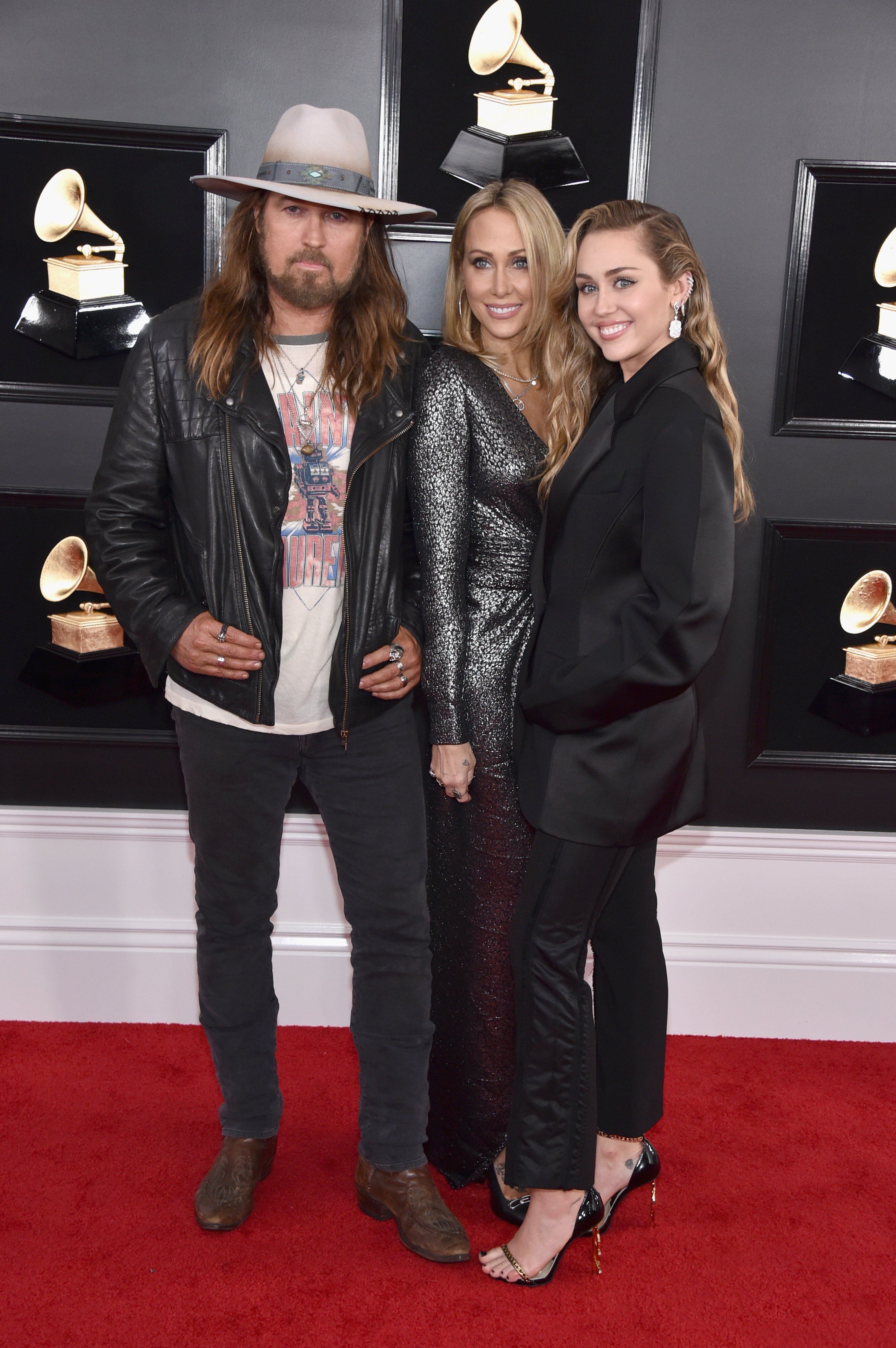 Billy Ray Cyrus, Tish Cyrus, and Miley Cyrus attend the 61st Annual GRAMMY Awards at Staples Center on February 10, 2019, in Los Angeles, California. | Source: Getty Images.
"I mean, any time you have some guy dating your sister, you want to be the big brother — the bully — and hate on him, but he such a great guy. I love him. He's awesome," Trace told US Weekly in March 2019.
Barely a month before Liam and Miley separated, the couple celebrated their 10th anniversary since they started dating while Miley made every effort to shut down rumors of their breakup.
Please fill in your e-mail so we can share with you our top stories!