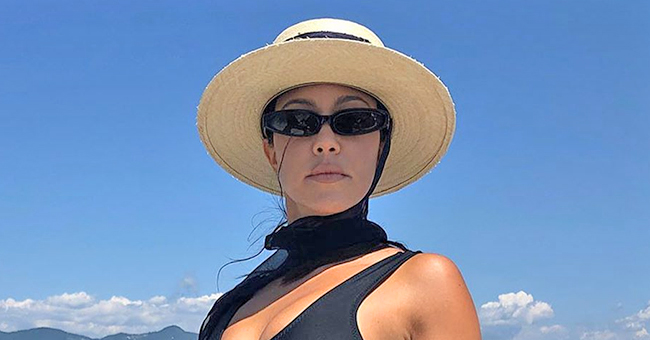 instagram.com/poosh
Kourtney Kardashian Praised by Fans for Revealing Her Stretchmarks in a New Unedited Swimsuit Photo
The oldest Kardashian sibling, Kourtney Kardashian, gets stunning reviews for showing off stretchmarks on social media.
The Kardashians are known for their enviable curves, delicate features, and flawless skin tone, so when a member from the great household shares a photo showing off her stretch marks, it attracts a lot of attention.
The picture featured her relaxing on a boat dressed in a black, revealing one-piece swimsuit with a plunging neckline and a high cut back.
While the outfit looked great on her, what drew the attention of virtually everyone who saw the post was the fact that the one-piece flaunted not only her perfect curves but also her stretch marks.
In a world where stretch marks are not wholly welcome, fans of the "Keeping Up With The Kardashians" reality TV star have praised her for showing hers off.
The comments section was brimming over with praises and flattering comments considering that she could have just had the photo edited before posting.
"Thank you for not blurring out the stretch lines! The realest thing I've ever seen from you guys!"
"Thank you so much for not editing out your stretch marks!!"
This comment got a reply from Kourtney as she admitted that she loved her "little lines."
More often than not, the Kardashian-Jenner household always gets called out for editing their shots with the most recent incident recorded last month when Kylie Jenner was criticized for outrageously editing her snaps during a luxury trip with her friends.
In this photo, she struck a pose alongside a friend on a daybed with a striped pillow behind her, the stripes on the pillow reportedly appeared to bend, giving her fans the impression that the photo had been digitally altered.
Immediately fans pointed out the fatal flaw, and the comment section was abuzz with criticisms. A fan stated:
"Next time you Photoshop your pictures make sure you're not sitting in front of a pillow with stripes ;)"
"Look at the lines on the pillow behind her torso."
Earlier in April, Kourtney also took significant heat for overzealously editing her snap as her ever-observant fans allegedly spotted something weird going on with her toes in a KUWTK promo shot.
Kim Kardashian was not left out as fans pointed out a glaring editing mishap in a promo shot for her perfume collaboration with Kylie Jenner, her thumb supposedly looked unusual.
Please fill in your e-mail so we can share with you our top stories!