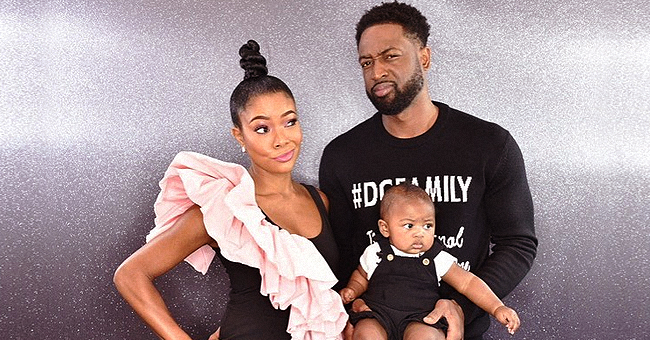 Instagram/gabunion
Gabrielle Union Explains Why She Doesn't Have Mom Guilt Working 9 Months after Kaavia's Birth

Gabrielle Union puts mom-shamers to shame and revels in her role as a working mother.
Actress Gabrielle Union is proud of the way she balances her 9-month-old daughter, Kaavia's needs, and the demands of her successful career.
The actress has refused to listen to the trolls and the mom-shamers who have attacked her for working, and she explains why.
GABRIELLE UNION - A HAPPY AND FULFILLED WOMAN
Gabrielle is happily having her cake and eating it too. She has a busy and successful career, a happy marriage, and the baby she has always dreamed of in her arms.
Gabrielle, who stars in "L.A.'s Finest" and is also on the panel of "America's Got Talent" is also a full time doting mom to her 9-month-old daughter Kaavia.
"I don't have mom guilt, and I'll tell you why. Being able to have the job that I love and the baby that I dreamed of [is great]. I'm a better mom because I'm able to go away and do what I love," she said.
Gabrielle and her husband Dwyane Wade announced that they had welcomed their first child together, Kaavia, via surrogate.
GABRIELLE UNION BELIEVES WOMEN SHOULD SUPPORT EACH OTHER
Rather than attacking women who are fulfilling their dreams and their potential, Gabrielle feels that mothers should be supportive of each other and their ambitions.
"We all grew up like, 'Go, Mom, go. Go, Mom, go!' Not like, 'Why are you missing things?' but, 'Way to go, I'm glad you're living your dream. We're all kind of rooting for each other," she said.
GABRIELLE UNION'S STRUGGLE WITH FERTILITY ISSUES
In 2017, Gabrielle published her memoirs, "We're Going to Need More Wine," in which she admitted that she had suffered eight or nine miscarriages, and had almost given up hope of having a baby.
AT LAST, A DREAM COME TRUE
Then, in November 2018, Gabrielle and her husband Dwyane Wade announced that they had welcomed their first child together, Kaavia, via surrogate.
"[Kaavia's] just amazing I'm so glad that me and my husband and our family just kept trying and plugging away and hoping and praying. She's all of our dreams come true," Gabrielle said.
Little Kaavia is already a social media star and quite outshines her famous mom at red carpet events. Dad Dwyane has three more children from previous relationships, big brothers Zaire, 17, Zion, 12, and Xavier, 5.
KAAVIA ROCKS THAT RED CARPET
Fans lining up to catch a glimpse of their favorite celebrity at the Nickelodeon Kids' Choice Sports Awards were dazzled by Kaavia "Shady Baby" Wade's presence.
Kaavia was making her first red-carpet appearance with mom actress Gabrielle Union and dad, basketball legend Dwyane Wade.
Mom and dad ended up being mere accessories to their dazzling celebrity daughter, who enchanted one and all with her now-famous scowls.
Please fill in your e-mail so we can share with you our top stories!