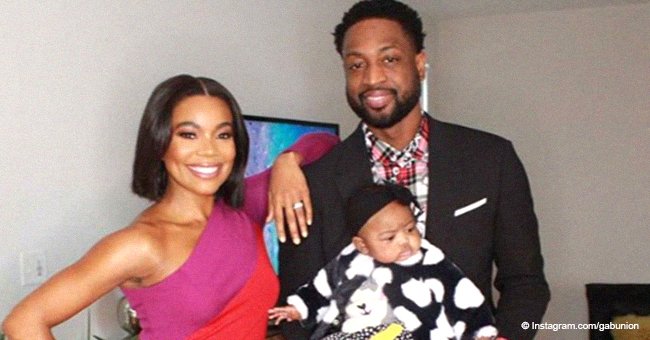 Gabrielle Union and Dwyane Wade flash wide smiles with 'shady baby' daughter Kaavia in family pic
Gabrielle Union and husband Dwyane Wade are bona fide celebrities but it's their daughter, baby Kaavia James, who steals the spotlight in this photo.
Gabrielle Union and Dwyane Wade tied the knot in an intimate ceremony that included John Legend singing one of his hit songs, "You & I." The August 2014 nuptials took place at a castle in Miami and was officiated by actress Essence Atkins and her then-husband, Jaime Mendez. There were no bridesmaids, lots of celebrities in black and white, and plenty of love and laughter to go around.
Since then, the couple has been serious relationship goals. And it's not just their carefully curated Instagram feed showing off their jet-set life. It's the love and joy that radiates from each photo. "He's my best friend," the "Being Mary Jane" actress admitted to People magazine. "All we do is laugh when we're together," she added.
Walking down the aisle for the second time at the age of 41, Union didn't have kids of her own. "So far it's not happened for us, "she told Redbook magazine in 2015 when talking about her family. "A lot of my friends deal with this. There's a certain amount of shame that is placed on women who have perhaps chosen a career over starting a family younger," Union confessed.
The "Bring It On" actress hadn't envisioned children as part of her future. "I never wanted kids," she confessed to People magazine in 2017. "Then I became a stepmom, and there was no place I'd rather be than with them."
Wade was raising three boys at the time of his marriage to the star. There is his nephew Dahveon Morris, 17, and two sons from a previous marriage – Zaire, 16, and Zion, 11. All three were groomsmen at their wedding. The NBA player has a third son - 5-year-old Xavier - with "Basketball Wives" star Aja Metoyer, conceived when he and Union had broken up. He lives with his mother.
What Union didn't know was how hard it would be to get pregnant. In her book, "We're Going to Need More Wine," the actress revealed her struggles to have a child of her own and the lengths she had gone in trying to conceive. "I have had eight or nine miscarriages," she wrote. "For three years, my body has been a prisoner of trying to get pregnant – I've either been about to go into an IVF cycle, in the middle of an IVF cycle, or coming out of an IVF cycle."
She discovered that her infertility was caused by a problem that had been with her since her early 20s. "The reality is I actually have adenomyosis," she bravely told the crowd at last year's BlogHer conference in New York City. Adenomyosis occurs when the tissue that normally lines the uterus grows into the muscular wall of the uterus, according to the Mayo Clinic. Side effects include an enlarged uterus and extremely heavy and painful periods.
"AM I DEFECTIVE IN SOME KIND OF WAY?"
Wade grew concerned for his wife after the multiple miscarriages and the "dangerous" things she was doing in an effort to get a child. "I'm watching her do things to her body and to herself that it's getting to the point where it's not healthy," he told Oprah during an interview after the birth of their baby girl. "And as I always told her: 'I want this baby just as much as you do, but I married you, and you are the most important thing to me,'" he added.
The couple eventually decided to use a surrogate, but Union struggled with the decision. "Did I miss – did I fail in some kind of way? Did I – am I defective in some kind of deep, you know, just – am I defective in some kind of way? Am I less than in some kind of way? Am I less worthy in some kind of way?" These are the questions that she asked herself as she dealt with the reality of not being able to carry her own child.
On November 7, 2018, the couple welcomed Kaavia James Union Wade and from the get-go, it was clear that she was the apple of her parents' eyes. In a set of photos shared from hospital hours after Kaavia was born, the first-time mom wrote, "Welcome to the party, sweet girl!"
Sadly, the trolls came out to play as they bashed her for the photos, which had Union lying in a hospital bed as she cradled baby Kaavia. "Only confusing part about Gabrielle Union & her baby are the pics. Why is she wearing a hospital gown? Why are her & her husband laying[sp] in a hospital bed like she just got outta labor?" These were the sentiments of one Twitter user, and others felt the same.
"Our surrogate went into recovery and we were able to go immediately into another hospital room," Union explained to Oprah during the interview. "I had one of my New York & Company sweaters on, but skin-to-skin was kind of hard. And because the doctors kept coming in, it was easier to have skin-to-skin in a hospital gown."
"THE SHADY BABY" IN ALL HER GLORY
That wouldn't be the only time the actress would face backlash before baby Kaavia was 3 months old – she once faced heavy criticism for kissing her baby daughter on the lips. Union has faced each issue with the grace of a protective mama bear.
Kaavia James has become an internet sensation in just 3 short months – the duration of her entire life. With an Instagram account that has nearly 500,000 followers, she's been dubbed the "shady baby" because of her comical facial expressions and witty captions.
Maybe Union and Wade will add to their brood in the not-so-distant future. One thing's for sure – baby Kaavia is definitely a welcome and much-loved addition to the Wade family.
Please fill in your e-mail so we can share with you our top stories!