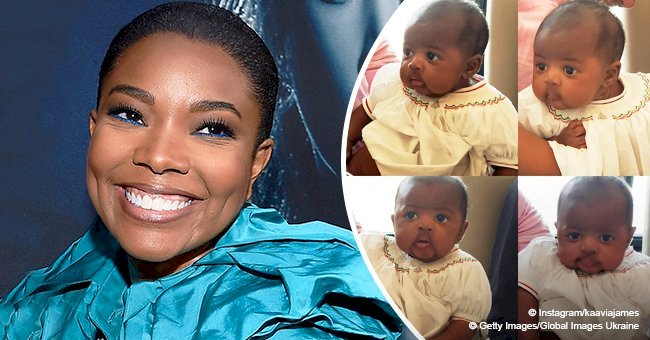 Gabrielle Union shares cute photos of daughter Kaavia making adorable 'shady baby' expressions
If by now you don't know that Gabrielle Union's daughter is the queen of memes, then you must have been living under a rock. Her latest "Shady Baby" pictures are hilarious.
Kaavia James Union Wade is only one month old but already has an Instagram account where she entertains her over 370,000 followers with epic facial expressions.
The verified account is run by her mom, Union, and her dad, NBA player Dwyane Wade. Her latest picture is a four-pic collage of Kaavia making faces, and the hilarious caption sheds more light on the image:
"A live look at Christmas tables everywhere as folks bring their "little friends" for the 1st time around their wacky families. Which #ShadyBaby are you?"
KAAVIA HAS THE BEST FANS
As usual, fans of the cute tot flocked the post with comments:
"Her personality is everything. Hey #shadybaby" ~ @mickeymarley
"Definitely 2 & 3. Freaking love it." ~ @azucar_moreno_to_u
CHRISTMAS ON WATER
Kaavia herself had quite the Christmas celebration. She spent the holiday with her famous family on a yacht in Miami and Union and Wade shared moments from the day on social media.
The "Miami Heat" player, 36, posted an Instagram photo of Kaavia napping in his lap against a picturesque background of the clear skies.
"I prayed for moments like this! #daddyslilgirl #christmaseve #notoleranceforstupidity," wrote Wade.
The "Being Mary Jane" actress also shared pictures of the duo on her Instagram stories, including one where Kaavia raised a hand as though saying she's not in the mood for photos.
KAAVIA'S TASTE IN MUSIC
Union, who has always been open about her infertility struggles, revealed even more on Sunday during an Instagram Live session where she shared details about the surrogacy journey that resulted in the November 7 birth of Kaavia.
The "Bring It On" star said she, her husband, and his three sons from previous relationships, taped themselves speaking and had the surrogate "play it with headphones on her belly so Kaavia could get used to our voices."
Little Kaavia also heard songs from various artists including Beyoncé, Travis Scott, and Earth Wind and Fire, a band that originated in the 70s.
TROLL TROUBLE
When Kaavia was born, Union, 46, faced backlash after sharing pictures of herself in a hospital gown. Trolls accused her of pretending to have given birth to her daughter, but the screen diva shot that down during an interview with Oprah.
Union explained:
"Our surrogate [who had just had a C-section] went into recovery, and we were able to go immediately into another hospital room. I had one of my New York & Company sweaters on, but skin-to-skin was kind of hard. And because the doctors kept coming in…it was easier to have skin to skin in a hospital gown."
"Baby, I just showed my abs in a bikini the other day for a reason. I wasn't hiding a pregnancy," she added. "I was trying to do skin to skin in the available space that was sterile and available."
Please fill in your e-mail so we can share with you our top stories!